2011 Mumbai Blasts - Who Benefits?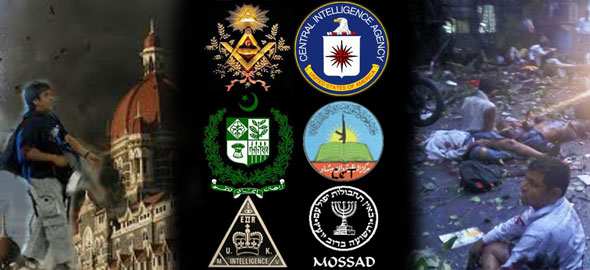 Mumbai Blasts Kill At Least 21 in Financial Capital (Jul 13, 2011)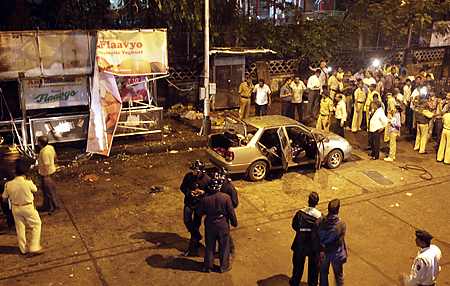 Police inspect the site of an explosion at Dadar in Mumbai, India, Wednesday, July 13, 2011.
(Photo: Rajanish Kakade - AP)
Three bomb blasts hit Mumbai, killing at least 21 people, in the biggest attack on India's financial capital since a November 2008 terrorist rampage.

The blasts injured 141 people, the Home Ministry said in a statement. The explosions occurred around 7 p.m. yesterday in the Dadar, Zaveri Bazar and Opera House neighborhoods, Home Minister P. Chidambaram said in a briefing in New Delhi.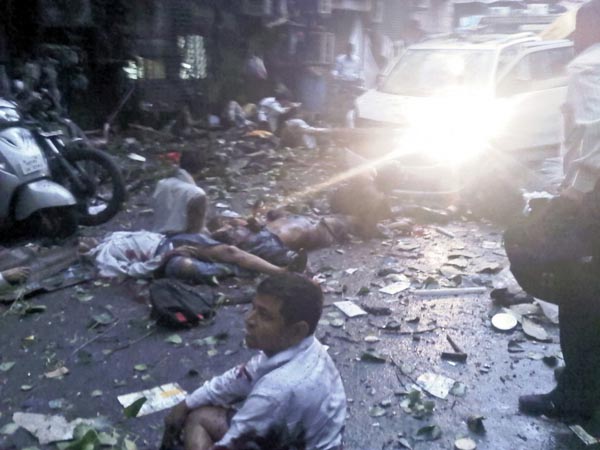 In this photo taken with a mobile phone, injured people lie on a street at the site of an explosion near the Opera House in Mumbai July 13, 2011. Three bomb blasts rocked crowded districts of Mumbai during rush hour on Wednesday, killing at least 17 people, a senior official said, in the biggest attack on India's financial capital since 2008 assaults blamed on Pakistan-based militants.
Source: REUTERS

India's two largest stock exchanges that are based in Mumbai will function as normal today. The city of more than 18 million people is also home to Reliance Industries Ltd. (RIL), which runs the world's largest refinery complex, and Tata Sons Ltd. which controls the nation's biggest business group by value. Yesterday's attack is the first in the city since Pakistani gunmen killed about 160 people in 2008.

"Attacks of this magnitude do not deter foreign investors or have any lasting economic impact," said Seema Desai, analyst with the New York-based risk consultant Eurasia Group. "Most investors know that terror attacks can and do happen but these do not impact the functioning of the economy."

The National Stock Exchange of India Ltd. and the BSE Ltd. will trade as normal from 9:15 a.m. local time, according to BSE Deputy Chief Executive Office Ashishkumar Chauhan and NSE spokeswoman Diyva Malik Lahiri.

Bomb in Car
A bomb exploded around 6:50 p.m., Jayesh Labdhi, a resident in the Opera House area, said. The blast damaged cars and motorcycles parked along the street. The bomb that exploded in Dadar in central Mumbai was planted in a grey colored Maruti Suzuki car, Times Now television said, citing eyewitnesses.

India's home ministry confirmed that the blasts were terror attacks, according to U.K. Bansal, secretary for internal security. No one has yet claimed responsibility for the explosions.

"The nature of the attack points to a group that has the competence and confidence to carry out such an attack because these were timed explosives and took place within minutes of each other," said C. Uday Bhaskar, director of New Delhi-based National Maritime Foundation, a research group. "This should narrow it down to a handful of organizations."

Source: Bloomberg.com
---




Militant Groups Would Benefit if Pakistan is Blamed for Latest Mumbai Attacks


By Tony Karon | TIME.com

There's no reason yet to believe the latest Mumbai terror attacks bear the same signature as the 2008 massacre that left 164 people dead.

Wednesday's multiple explosions appear from early reports to have involved small-scale and relatively crude bombs, even though they appear to have inflicted substantial casualties. That might point to some local perpetrator, although terror attacks in India almost inevitably raise suspicions of involvement by a Pakistani hand. And, of course, in the case of the Mumbai Massacre, the perpetrators turned out to have been the Pakistani outfit Lashkar e-Taiba (LeT), which was believed by U.S. intelligence to have longstanding links with Pakistan's Inter-Services Intelligence (ISI).

There's no evidence thus far pointing the finger at any Pakistan-based group -- and any such suspicions, as raised by India's Home Ministry in the wake of the bombings, may well prove unfounded. But the political impact of such a strike, were Pakistan to become the focus of suspicion, would play dangerously into the increasingly precarious U.S.-Pakistan relationship.

The Mumbai Massacre raised India-Pakistan tensions to boiling point, and the Bush Administration had to force Pakistan to crack down hard on LeT to deter India from taking direct action against the group on Pakistani soil, at risk of full-blown hostilities breaking out. (The crackdown on LeT proved to somewhat illusory and the group remains active in Pakistan.)

The immediate effect of the 2008 crisis was that Pakistan withdrew thousands of troops deployed against Taliban elements on the border with Afghanistan and moved them to the border with India. While the U.S. has tried in vain for a decade to get the Pakistani security establishment to prioritize the fight against jihadists over the strategic rivalry with India, the militants and their allies in the Pakistani security establishment seek to do the reverse: Stoke tensions with India, in order to keep the generals focused on what the Pakistani military has seen as its existential conflict.

U.S.-Pakistani tensions reached a new low this week with the announcement that the Obama Administration is withholding military aid designated for the Pakistani Army in order to pressure it to do Washington's bidding against jihadist groups in the tribal wilds along the western border, and against the Afghan Taliban which is headquartered on Pakistani soil.

But just as Washington is putting the squeeze on Pakistan's generals to do more to help the U.S. war effort in Afghanistan, the Pakistani public -- and even much of the middle-ranking officer corps -- is pressing for a sharper break with the Americans, following the humiliation of the Abottabad raid that killed Osama bin Laden, and mounting anger over U.S. drone strikes and other covert operations on Pakistani soil. If the latest terror outrage in Mumbai is deemed by India to have originated in Pakistan, the result will be an escalation of tensions that would further distance the Pakistani military from the U.S. and its priorities. (Even before the latest Mumbai attack, Pakistan's Defense Minister warned that it might withdraw troops from the Afghan border zone in response to the funding cuts.) And widening the breach between the U.S. and the Pakistani military -- and ease the pressure on the ISI's longtime jihadist proxies -- would be a prized goal of the militants themselves, and of their allies within the Pakistani security establishment.

The motive, then, for LeT or any other Pakistan-based jihadist group to launch a new strike on Mumbai is plain to see. But that's hardly enough to pin the blame on Pakistan. In the proverbial "land of a million mutinies", there could be any number of "usual suspects" with the motive and means to carry out the latest round of bombings.

Article from: globalspin.blogs.time.com


---




Webster Tarpley: Mumbai and False Flag Terrorism, What WikiLeaks is Hiding (Jan. 5, 2011)


By Gordon Duff | VeteransToday.com

Webster Tarpley exhibits a broad understanding and great personal courage in his analysis of the upcoming nuclear war, yes, it can come to that, between India and Pakistan. Though you don't hear it screamed out, Tarpley takes the trail to Tel Aviv. In this 6 minute segment, Alex Jones and Webster Tarpley touch on CIA complicity in terrorist recruiting, India's terrorism in Afghanistan and Pakistan, things carefully censored by Julian Assange from Wikileaks, and how Pakistan is under attack.

What is made clear is that it isn't just Iran being scheduled for destruction but India and Pakistan as well. Veterans Today will be following up today with a detailed study of the Mumbai attacks, blamed on Pakistan but clearly an act of war against, not only India but Pakistan as well, not just by Israel, as so many are now aware but the CIA and MI-6 of Britain as well.



For every terror attack in Pakistan and India, how many in Afghanistan? America estimates 200 RAW terror trainers in Afghanistan but numbers may be in the thousands. The RAW, an organization partnered and supported by Israel's Mossad, is active, not just in Afghanistan, and not just against Pakistan, America's primary ally in the region. Americans are being attacked too.

How many American troops have been killed by CIA recruited terrorists, how many Israeli designed and built IEDs, planted by terrorists recruited by the CIA, trained by India's RAW? The deaths are real and happening every day, part of the nexus of regional destabilization involving tens of billions of dollars in drug trafficking and corruption of every kind.

The proof is all there, it is in our intelligence reports, it is in those from Pakistan. I have seen them, I have been briefed in Rawalpindi on all of this, including access to maps and documents, as has General Petraeus and Secretary Clinton. These intelligence reports, outlining all that Jones and Tarpley are discussing and more, much more, were carefully edited from Wikileaks.

When Jeff Gates and I went over these issues in detail, this and the death of Osama bin Laden, discussed them with Major General Abbas, Brigadier Syed Azmat Ali and their staff at Pakistan's ISPR, issues all brought to the US so many times, we saw the frustration.

It was clear to our allies in Pakistan that America's "war on terror" was a lie, though they couldn't say it.

Read the full article at: veteranstoday.com