America's Newest Christmas Tradition: Black Mob Violence at Malls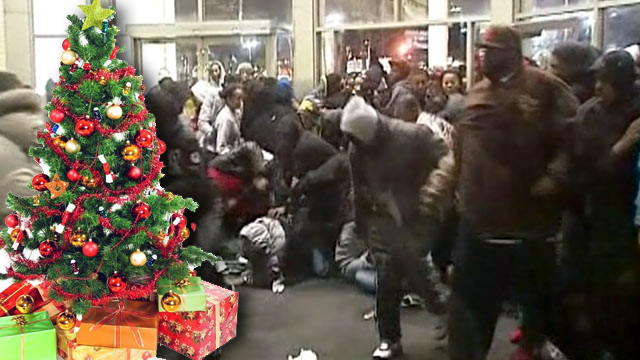 Two black people died.

A survey of the mayhem from around the country.

In Louisville, 2000 black people "rioted" at the Mall St. Matthews. In addition, shoppers report several gunshots. "Riots unfolded at Mall St. Matthews today," reported WHAS TV news of the day after Christmas mob action. "That violence, beginning around 7, forcing mall officials to close early. It actually spread to multiple locations," (outside the mall.)

"Why was this whole mayhem involving black kids," asked one viewer of WHAS. "My wife and I were there plus vids show it."

The police spokesman said the violence was "random."

In the Stonecrest Mall in a suburb of Atlanta, video from inside the mall shows a group of black people fighting and pulling each other's hair. Soon after, the group of about 10-15 moved outside, where the video shows fighting, gunshots, and at least one person hitting the ground wounded, while the other participants shrieked with glee.

At the Orange Park Mall near Jacksonville, 200 black people had to be dispersed from a movie theater on Christmas Day. "100's of teens & young adults were at/outside movie theater at OP Mall when fights erupted," said local reporter Tennikka Smith Hughes,

Eight black people were arrested, three for possession of concealed weapons.

"This happens every Christmas (in Jacksonville), first at River City, now Orange Park," said one viewer, referring to a 2013 incident also on Christmas Day in Jacksonville, where 600 to 1000 black people stormed a movie theater and rampaged through the parking lot."

At the Eastland Mall near Detroit, one black person was shot and killed after two groups of black people started fighting in the food court. The shooting took place as the violence moved towards the exit.

In Towson, Maryland, two hundred black people threw rocks at police trying to break up a large crowd at the local mall. Dozens of police responded, one was hit with a rock. On Twitter, TariqToure sent out the word of black victimization: "Tonight, dogs were sent out for black kids in "Baltimore Towson Mall." He compared it to a Chicago shooting earlier that night.

Others said the riot was a long tradition in Towson and the result of black people in Baltimore not having enough free recreational opportunities, so they go to the mall and create havoc instead.

On Christmas night in Mobile, Alabama, four black people were shot at a movie theater.

At the Mall in Wellington Green in Wellington, Florida, police responded a large brawl at the shopping center the day before Christmas.

At the Park Plaza Mall in Little Rock, "a fight led to a large and rowdy crowd gathering in the food court," said the ABC affiliate. 200 black people interfered as police tried to break up a fight. One person was arrested.

At the Southland Mall in Chicago, ten black people fought throughout the mall on video. No one died.

In a popular neighborhood shopping district in Chicago, the headline tells the story: "Ho Ho Hold Ups Galore: 4 robbed, 1 pistol-whipped during Christmas Eve armed robbery spree in Lakeview."

Police are looking for four black suspects.

"The same crew is believed responsible for eight armed robberies on the North Side on Tuesday and Wednesday," police told CWB Chicago.

Is that a mall? Or something else? We report. You decide.

At the North Riverside Park Mall, also in Chicago, "Fights Close Suburban Mall During After-Christmas Sale," said the ABC affiliate. Readers of that scintillating best seller Don't Make the Black Kids Angry, who are also members of the Chicago Police Department, said the rioters were black. And the mall has a history of black mob violence.

At least it did until 2013, when "North Riverside Park became the first shopping center in Illinois to implement what is known as a youth escort policy. It restricts anyone under 17 years old from entering the mall after six p.m. on Fridays and Saturdays unless they are accompanied by an adult over 21."

After that, no more "teen fights." At least until now.

At the Deptford Mall in South Jersey, police herded a crowd of 500 "teens" into the parking lot after they were creating mayhem in the mall. Police and mall officials were closemouthed about why they kicked so many shoppers out of their place of business. But NJ.com did report lots of violence in the parking lot, and mall employees said theft was a problem too.

Lots of people on Twitter and other social media figured it out: "Young niggas love coming to the deptford mall (not to shop) but to stand around and be hype."

At the Roosevelt Field Mall in Long Island on the day after Christmas, a large fight in the food court caused large banging noises when chairs went flying. Shoppers panicked, thinking it was gunfire. It was not.

At the Patrick Henry Mall in Newport News, the Daily Press reports large groups of people fighting throughout the mall:


James Alford, a Cricket Wireless employee, said the mall was jam packed when the fights broke out. He said it felt like at least 20 smaller groups of people fighting, spanning from the food court, past his booth, which is about 100 feet away.

"There was running, jumping, skipping, everything," he said.

A Kay Jewelers employee across from Alford's booth, whose supervisor did not allow him to give his name, said he saw scattered pairs of people throwing punches at each other. He said his store closed up for an hour during the incident.

Meg Gorski Albertson, a shopper, said she had "never experienced anything like this" left the mall when the fighting broke out, fearing someone would pull a gun.


"It was like riots," a shopper told WAVY TV.

Video shows the combatants were black. The mall has a history of black mob violence throughout the year.

The day before Christmas in Charlotte, North Carolina, a gun battle between black people attracted the attention an off duty cop and security guard. He shot Dequan Westbrook, a local rapper known as Donkey Cartel, after Dequan pointed a gun at him.

Dequan's mix tape is called Convicted Felon with a Gun, and features all the usual lyrics about killing people, selling drugs, and killing more people. Dequan's parents told local T news he was a good boy and was going to college. Dequan had been arrested 10 times in the last three years, reported Channel 9 News. Last year, he was convicted of shooting a 12-year old, and his probation for that ended in October.

The violence and riots began the same day that a spokeswoman for Black Lives Matter appeared on CNN to say that black people are under constant threat from white racism and police harassment.

Safety for black people is "an illusion."

"Especially." she said, "at airports."

Source: americanthinker.com



River Oaks Center Mall