Another $1m pay day for Blair as the former PM lands a job as a climate change guru
Tony Blair has landed a lucrative job advising an American billionaire on how to make money out of tackling climate change.

The former Prime Minister is expected to be paid at least a million dollars (£700,000) a year to act as a 'strategic adviser' to Khosla Ventures, a firm of venture capitalists based in California's Silicon Valley.

The firm, set up by Indian-born dollar billionaire Vinod Khosla, backs firms looking to make a fortune out of developing technology to tackle climate change.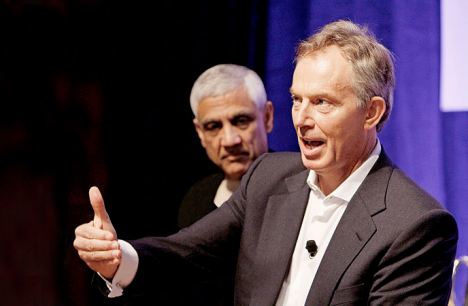 New partnership: Khosla Ventures founder Vinod Khosla looks on as former Prime Minister Tony Blair speaks during the Khosla Ventures Cleantech Discussion in Sausalito, California



Mr Blair, who recently told friends he needs to make £5million a year to get by, already has an international role advising world leaders on climate change.

In his new job he will be expected to cash in his contacts to help open doors for the firm, further blurring the boundaries between his public roles and private earnings.

Mr Khosla said that 'with Tony's advice and influence we will create opportunities for entrepreneurs and innovators to devise practical solutions that can solve today's most pressing problems'.

Khosla Ventures declined to comment on Mr Blair's salary, but industry sources suggested he was likely to earn at least £700,000 a year.

The money will be channelled through Mr Blair's secretive network of companies, which make it impossible to pinpoint exactly who is employing him and how much he is earning.

In a statement yesterday Mr Blair insisted that his work for the firm could make a contribution to saving the planet.

He said: 'Solving the climate crisis is more than just a political agenda item, it's an urgent priority that requires innovation, creativity and ambition.
'I share a clear vision with Vinod, one of the earliest leaders in clean-tech investment, that entrepreneurs in Silicon Valley and beyond will have a tremendous impact on our environmental future.'

Mr Khosla, 55, said the arrangement with Mr Blair would allow him to 'ask Tony for advice' on environmental policy and other topics.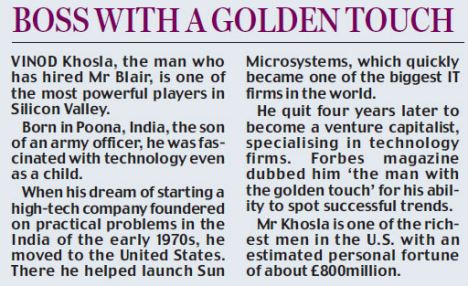 He told the Wall Street Journal: 'Tony's going to help us in many areas that techie nerds like us in Silicon Valley don't understand.'

The new job is the latest in a string of lucrative posts taken up by Mr Blair since he left office in June 2007.

Earlier this year he was accused of cashing in on his Iraq War contacts after it emerged that his deals included a lucrative contract to advise South Korean oil firm UI Energy Corporation, which has extensive interests in Iraq.

He also has a £1million deal to advise the ruling royal family of Kuwait, which borders Iraq.

He has been paid a £4.6million advance for his memoirs and is thought to have earned at least £9million from public speaking, commanding fees of £100,000 a time.

He has a number of financial consultancies worth at least £2.5million a year and has set up Tony Blair Associates to bid for lucrative consultancy work with foreign governments, particularly in the Middle East.
Aides insist that he and his companies pay tax in the UK.

Article from: DailyMail.co.uk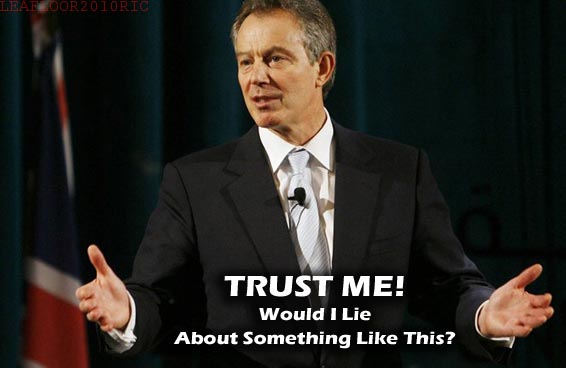 [Ed Note: Ahh, 'Climate Change'. Where powerful has-beens go to die.]