Aratta Civilisation of Ukraine Dating to 22000 BCE - Presentation by Dr. Tim & Heatherlee Hooker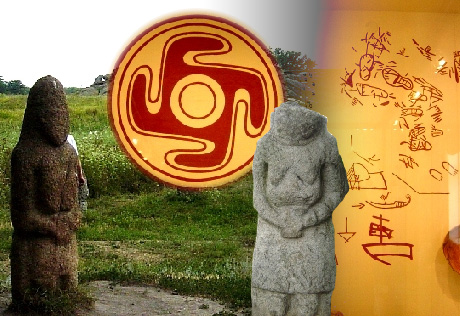 Megalithic Discoveries in Ukraine. Intro to the Trypillian civilisation in the Ukraine area with neolithic Vedic serpent graves, the Serpent's Wall, the megalithic temple sanctuary of Stone Grave & the granite sanctuary-observatory of Steppe pyramid.



arattagar.co.uk

This lecture is filmed at Megalithomania 2009 by Nautilus AV and is copyrighted. Higher-quality DVD is available from www.megalithomania.co.uk.

Several locations have been suggested as probable idenfications of Aratta. Samuel Kramer placed it in northwest Iran near the Caspian Sea, and Georgina Herrmann (1968) put it south of the Caspian, while S. Cohen (1973) favoured the Anshan-Hamadan area of western Iran. Hansman (1978) and G. Gnoli (1980) have suggested the Shahr-i Sokhta as a potential candidate. (See Refs.) Now, there is firm evidence that it was in the region of modern Ukraine, north of the Black Sea and Sea of Azov.

Whether Aratta was located in eastern Asia Minor, or modern-day Ukraine, the general implication of the Aratta cycle of myths is that Aratta played a seminal role in the development of religion in Sumer, as well as in the construction of its cult structures; and that trade and diplomacy between the two states was of such importance that writing was developed specifically for them.

Aratta


Enmerkar and the Lord of Aratta

Kamyana Mohyla translates as Stone Mound but it is commonly called Stone Grave. It is a colossal mound of huge sandstone slabs that stand as a sanctuary hill above the flat southern Ukrainian Steppe near Melitopol. Here, in its multitude of grottoes are more than 62 locations containing Palaeolithic petroglyphs, reflecting the cultural origins of Man's earliest myths, together with proto-cuneiform characters that have lead to this being called the Stone Library. While many Western texts still refer to Sumer as being the oldest civilisation with writing, Ukraine has something far older. This was Aratta, recorded in the Sumerian epic tale Enmerkar and the Land of Aratta. Here, on the top of Stone Mound, the Zaporizhian Cossacks perform their ancient Druidic ceremonies, honouring their ancestral origins with their blessings for the energies and elements of our eternal mother Earth. This was the cradle of civilisation and Kamyana Mohyla was its most significant sanctuary. This is a very special place. It is the oldest known sanctuary-observatory in the world.