Bin Laden Like Image Of "alleged September 11 mastermind" Released One Day Before 9/11 Anniversary
Never before seen images of Khalid Sheikh Mohammed looking almost exactly like Osama Bin Laden have been released just days before the eighth anniversary of 9/11.

The images originate from Guantanamo Bay and were taken by Red Cross delegates. They have been released with the consent of US officials.

Given that no one is buying the fake Bin Laden tapes anymore and many experts are on record as saying he is dead, it is not surprising to see a change in the psyops tactics.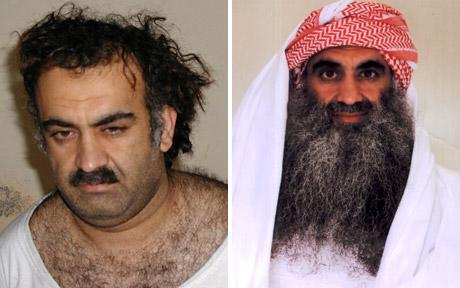 Purportedly Khalid Sheikh Mohammed, on March 1, 2003 (Left)
and again July 2009 (Right)
---



Photos released of terrorist mastermind at Gitmo


By Mike Melia | YahooNews.com

The first photographs of the self-proclaimed 9/11 mastermind at Guantanamo Bay have cropped up on the Internet, and experts say the images of Khalid Sheikh Mohammed are being used by terrorist groups to inspire attacks against the United States.

The photographs, taken in July by the Red Cross at the detention center on a U.S. naval base in Cuba, show Mohammed sitting serenely wearing a white robe, a red-patterned headdress and a long salt-and-pepper beard.

They are the first known images of Mohammed since a widely distributed shot taken upon his capture in Pakistan in March 2003 showing him in a stretched white T-shirt, with disheveled hair and a mustache. Since then, only courtroom sketches from his war-crimes trial have been available.
The International Committee of the Red Cross, which photographs Guantanamo prisoners as part of its mission to monitor their treatment, confirmed on Wednesday that it took the images in July and sent them to his family. Spokesman Bernard Barrett did not identify the location of the family or specify their relationship.

Barrett said the photos were given only to the family and were not intended for public release, but the organization does not impose conditions on detainee families.

The military began to allow the Red Cross to photograph Guantanamo detainees in February and the group has taken pictures of 107 inmates. Detainees are allowed to select two shots and the ICRC sends five prints to their families, along with personal messages.

Mohammed's photos began appearing in recent days on Internet sites that have previously been used by al-Qaida and sympathizers to communicate with each other, said Jarret Brachman, the former research director at the Combating Terrorism Center of the U.S. Military Academy at West Point.

Brachman, now an independent terrorism researcher based in Fargo, North Dakota, said he fears the photos could breed sympathy for a man who has proudly proclaimed his role in the Sept. 11 attacks, as well as other incidents of terrorism, while also alleging he has been tortured by the U.S.

"What's problematic for me is it really humanizes the guy," Brachman said. "I understand the value of these photos for family members, but at the same time this is the guy who planned 9-11."

An Australian counter-terrorism expert, Leah Farrall, said she first noticed one of the photographs on Sept. 3 on an Internet forum that al-Qaida has used to communicate messages. She said it has since "gone viral," with some users posting online statements of support for Mohammed.
"'We'll come and get you' is one message that I saw," said Farrall, a former terrorism analyst with the Australian federal police.

Navy Lt. Cmdr. Brook DeWalt, a spokesman for the prison where the U.S. holds about 225 men, said the military is not concerned with distribution of the images and takes no position on how families of prisoners handle their photos.

Mohammed faces the death penalty if convicted by the military tribunal at Guantanamo. But his trial has been suspended as President Barack Obama, who said he wants to close Guantanamo in January, decides how to proceed with the war crimes prosecutions begun under his predecessor.

The terrorist leader, who is from Pakistan and believed to be in his mid-40s, is held in Camp 7, an ultrahigh security section of Guantanamo reserved for "high value detainees." Even the location of the unit on the base in Cuba is classified and not publicly known.

Article from: YahooNews.com