Black Churches in the South are Burning, Echoes of the 90's Black Church Burning Hoax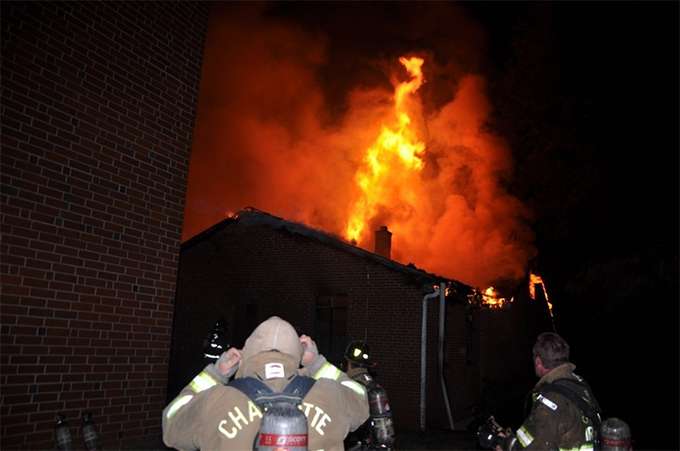 As in the 90s, here we are again as "progressive" news outlets such as the Daily Kos set speculation and accusation ablaze regarding recent black church burnings.

The media is trying to fan the flames of racism, as they are reporting that the south has a long history of black church burning. Well they won't tell you about the black church-burning hoax of the 1990s that was started in 1996 and received nationwide attention. The flames of the hoax were fanned by USA Today writer Gary Fields and by the leftist extremist group Center for Democratic Renewal (CRD), whose mission is to work "with progressive activists to counter right-wing rhetoric." They viewed anyone conservative as racist criminal.

The CDR held a press conference and released a report showing a tremendous surge in black church arsons from 1990 to the present. From there it snowballed in the media, speculations and accusations ablaze. The CDR report claimed there were 90 arsons against black churches in nine southern states, with each culprit being White. Rev. Mac Charles Jones claimed it was a well-organized white-supremacist movement, terrorism. President Clinton proclaimed that "racial hostility is the driving force" behind the church burnings. Jesse Jackson put it, "a cultural conspiracy."

But when reporter investigator Michael Fumento got involved with numerous law enforcement agencies, a different picture emerged. The CDR, it turned out, regularly ignored fires set by blacks. In the end they learned that, of the 90 churches they listed, only one was a confirmed arson. All the others were accidental, undetermined, or weren't fires at all but vandalisms. But as it turns out there were numerous authentic White church arsons.

That didn't stop The Center for Democratic Renewal and the National Council of Churches from taking advantage of the hoax for fundraising as they raised MILLIONS of dollars for their subversive, communist activities.

Could the recent church burnings in Charlotte, NC, Macon, GA and Tallahassee, FL and Aiken, SC be part of a coordinated, false flag church burning hoax? The timing is all too perfect considering the Charleston church shootings and Obama's sermon on race in Charleston today.

Mother Emmanuel AME church has a long history of being at the forefront of political advocacy strictly along racial lines. The US Justice Department of Justice recently fast tracked $29 million dollars for the families of the victims in Charleston, which is unheard of. Millions more are pouring into AME churches from corporate and private sources. Could these millions of dollars be used to fund subversive, controlled opposition activities, such as church burnings?  We know that when the Ferguson riots broke out, it was the AME church network who were at the forefront of the advocacy. When the Baltimore riots broke out, it was again the AME church network, Reverend Jamal Bryant a flashy businessman, who was at the forefront of the advocacy.

And let's not forget the recent NAACP bombing hoax in Colorado Springs where they passed off old soot marks as a recent explosion.

George Soros spent $33 million to fund Ferguson protests. Now a George Soros and State Department funded organization, the New America Foundation, has released a report that states White Americans represent the largest domestic terror threat.

Whitey, you are the new terrorist boogieman and the government along with their sanctioned elite will go to incredible lengths to set you up, especially since we know that nearly all of the high-profile domestic terrorism plots in the United States featured the "direct involvement" of government agents or informants, as written in a recent 214-page report by Human Rights Watch called, Illusion of Justice: Human Rights Abuses in US Terrorism Prosecutions.

Look out, there may be a White supremacist hiding around any corner! Oogieboogie.