Brazil Club Fire Kills 245, Police Make Arrests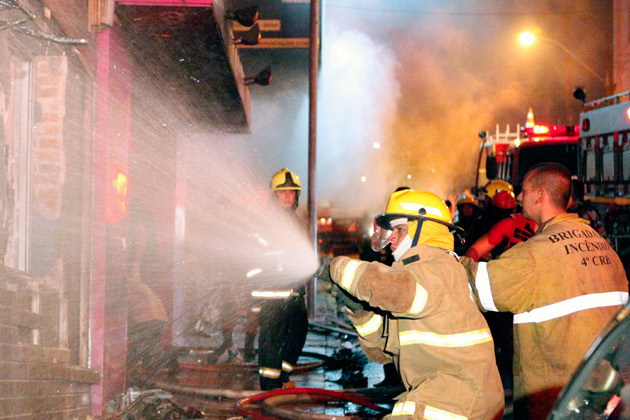 A fire swept through a crowded nightclub in southern Brazil early Sunday, killing at least 245 people and leaving at least 200 injured, police and firefighters said.

Police Maj. Cleberson Braida told local news media that the 245 bodies were brought for identification to a gymnasium in the city of Santa Maria.

That toll apparently would make it the deadliest nightclub fire in more than a decade.

Braida said the club had only one working exit, and the majority of victims died trampled in an attempt to flee.

The cause of the blaze was still under investigation but authorities told local reporters that fireworks, perhaps shot off by the band, erupted in the midst of the performance and one hit the roof.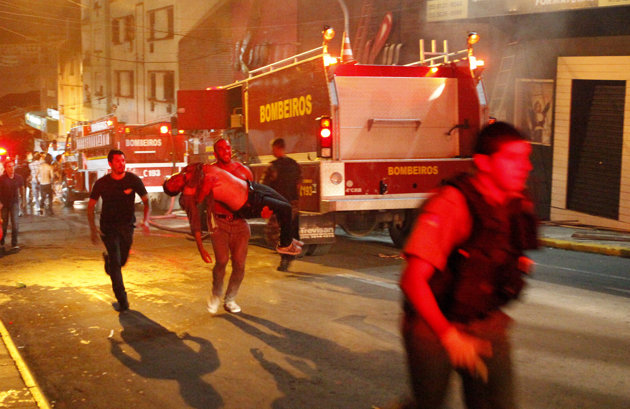 A man carries an injured man, victim of a fire at the Kiss club in Santa Maria city, Rio Grande do Sul state, Brazil, early Sunday, Jan. 27, 2013. Firefighters say that the death toll from a fire that swept through a crowded nightclub in southern Brazil has risen to 180. Officials say the fire broke out while a band was performing. At least 200 people have been injured.



Michele Schneid, a 22-year-old cashier, told local news media that people began to shout "Fire!," setting off the stampede.

"Many people ran for the bathrooms and wound up dying suffocated," he said.

The newspaper Diario de Santa Maria reported that the fire started at around 2 a.m. at the Kiss nightclub in the city at the southern tip of Brazil, near the borders with Argentina and Uruguay.

Ezekiel Corte Real, 23, was quoted by the paper as saying that he helped people to escape. "I just got out because I'm very strong," he said.

Police estimated 900 people were in the club when the fire broke out.

[...]

Read the full article at: news.yahoo.com





---
Police make arrests after Brazil club fire that killed over 230 people
Police have arrested an owner of a Brazilian nightclub where 231 people were killed in a blaze early Sunday that survivors said was set off by a musical group's pyrotechnics, a police official said Monday.

Two members of the musical group also were arrested, and an arrest warrant was issued for another owner of the club, Kiss, said police official Michele Vimmerman. "There were three temporary detentions," Vimmermann said.
Source