Britain ratifies EU treaty - The Queen signs goatskin "instruments of ratification"
Ed Comment:
Three questions to keep in mind while reading this article:
1: What is the symbolic significance of signing goatskin?
2: Why are the documents tied in a blue ribbon and bound in blue leather?
3: Why are the documents lodged in Rome?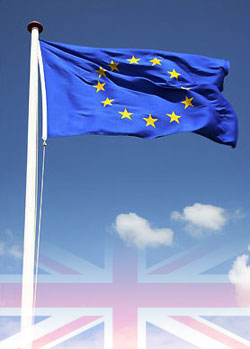 Britain has officially ratified the controversial Lisbon Treaty, it was announced today.

The Government confirmed that the final stages of passing the agreement have been completed.

But the future of the deal is still in doubt as EU leaders consider how to respond to Ireland's surprise referendum "no" vote last month.

Under the UK's ratification process, both houses of Parliament must pass the treaty.

The Queen then gives Royal Assent, and signs goatskin "instruments of ratification" along with the Foreign Secretary.

These are then sealed, bound in blue leather, and deposited with the Italian ministry of foreign affairs in Rome.

A spokesman for the Foreign Office said all these stages had now been completed.

"The documents were lodged in Rome yesterday," he said.

Foreign Secretary David Miliband is due to deliver a statement to Parliament on the matter later.

The process had been stalled while a High Court challenge was considered over the Government's refusal to hold a referendum on the treaty, but that was dismissed last month.

Under EU rules, all 27 member states must ratify the Treaty before it comes into effect.

Article from: http://www.thesun.co.uk/sol/homepage/
news/article1434919.ece