Case Closed? Police: Lone gunman responsible for Hollywood Publicist slaying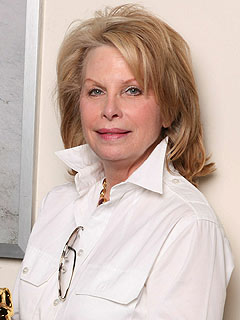 "Chasen [right], 64, was shot multiple times in Beverly Hills while driving her Mercedes-Benz in the early morning hours of Nov. 16 after leaving a party for the Burlesque premiere. No motive or official suspects have been revealed so far by police. "Source

Initially, Beverly Hills police and the public alike were stunned to imagine that such a crime could be perpetrated in the upper-scale neighbourhood as crime rates there were low and security was relatively ubiquitous.
That the initial findings pointed to a professional hit man rocked the public further.

'Person of interest' in Hollywood death kills self when approached by police:


Police haven't released a possible motive in her slaying, and they remained tightlipped about progress in the investigation.

Earlier Wednesday, a retired investigator who saw a preliminary coroner's report on Chasen's shooting said the killer was an expert shot who was able to squeeze off multiple rounds in a tight and deadly formation.
Gil Carrillo, who recently retired as a lieutenant after 38 years with the Los Angeles County Sheriff's Department, said he reviewed the document after it was obtained by KTTV Fox 11 News.

"The thing that stands out is the shots — where they were and the lack of hits anywhere else," Carrillo told The Associated Press. "It's a good shot group."

The close grouping suggests the shooting was carried out by a hit man and was not the result of a gang attack or road rage, Carrillo told the AP.
KTTV said it appeared Chasen was shot three times in the right chest area and twice in the right shoulder.

"Whoever was shooting was aiming for center mass, and they got center mass," Carrillo said.
Coroner's spokesman Ed Winter would not confirm the authenticity of the document cited by Carrillo, which apparently was written by an investigator before Chasen's autopsy. But Carrillo said he was certain it was genuine.

The document says a hollow-point, 9-mm bullet was recovered from Chasen's body, though Carrillo cautioned that ballistics tests could reveal the slug was a different caliber.




No shell casings were found at the scene, leading investigators to conclude that the weapon had been fired inside a vehicle. The tight formation of the wounds suggested that it was apparently a professional hit on the publicist.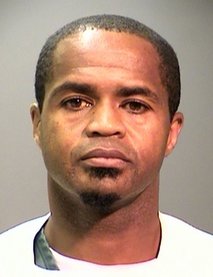 The story took a startling turn when it was reported that when police approached a 'person of interest' Harold Martin Smith [left], 43, to "ask him some questions" about Chasen's murder, he promptly took out a gun and shot himself in the head in the middle of a hotel lobby.


"Police armed with a search warrant approached him, told him to take his hands out of his pockets and said they were there to talk to him about Chasen's killing.
That's when Smith pulled a gun from one of those pockets and shot himself in the head.
Without Smith to talk to, police looked to the gun for evidence that would tie him to Chasen's killing."


Find more information on that report here.

Smith's suicide and the reported claims of him having been hired to kill Chasen are what lead police to say that Smith was a lone gunman in this case; He was an ex con with a long track record of robberies and jailtime - that he was desperate and Chasen's death was a robbery gone wrong. When discovered, Smith killed himself so as to avoid going back to jail.

Was the 'Suspect' in Publicist's Murder a Hit Man?


The man wanted for questioning in the murder of Hollywood publicist Ronni Chasen bragged about killing her in the weeks after her death, neighbors say.

The man, known as "Harold" around his home in the low-income Harvey Apartments in Hollywood where he lived for about three months, said he was paid to shoot her.

"I heard Harold brag a few weeks ago that he killed Ronni Chasen," Terri Gilpin, a resident at the apartment complex since last December, tells PEOPLE. "He said 'You know that publicist they're talking about on TV? Yeah, I killed her. I'm getting $10,000 for killing her. I did it, I did it' he said."

[...]

At least one person who says he knew Harold doesn't believe he was the perpetrator. Sammy Zamorano, who owns a music studio next door, says the man was "weird" but didn't seem like a killer.

"He used to hang out on the street here for hours," Zamorano tells PEOPLE. "He told a friend of mine that he was gonna rob someone. But there's absolutely no way [he murdered Chasen]. I don't think he had the intelligence to pull it off, he wasn't professional enough, no one would've wanted to hire this guy to commit a murder. This guy was just off. I don't think he was capable of it."

Gilpin, too, admitted it was difficult to sift through Harold's stories for the truth.

"My husband said Harold was always telling different stories about himself, that Harold's nutty and crazy and to keep away from him, so I was always trying to avoid him," Gilpin says. "He was always talking crazy stuff. So my husband just brushed it off. My husband would say 'This guy's just talking out of his ass.'"

She added that he was moody, would "wring his hands a lot" and appeared to be "mentally ill" or perhaps a drug addict.




Firstly, witnesses describe Smith as a 'crazy', not entirely stable and certainly not 'professional' enough to pull off either a hit or the tight-formation shots that killed Chasen.
Secondly, police have claimed that Smith pulled up to Chasen's car on a bicycle in the night in order to rob Chasen - but nothing was stolen from the publicist. And there are no witnesses to a man on a bicycle at the scene or in the area around the time of the slaying.
Not only that, but if no shell casings were found at the scene, Harold Smith must have been very diligent in picking them up off the ground, and that doesn't mesh with the investigator's theory that he botched the robbery and fled in panic (again, without taking anything).
Investigators on Wednesday claimed they have forensically matched Smith's gun with the Chasen murder weapon.

It's not known if CCTV video footage of either the initial killing or of Harold's suicide exist - if so, they are not being released or commented on.

The consequence of Smith's death is that he cannot give a defense for the crimes accused or name the person who was going to pay him for the killing.

If Smith's claims of being paid to kill Chasen are true, surely the investigation should head in that direction. Was Harold Smith a dangerous, mentally ill man who attempted to rob Ronni Chasen from his bicycle and shot himself to avoid returning to jail? Or was he a patsy who is now conveniently disposed of? Who might have been willing to pay Smith $10,000, and who benefited most from Chasen's death?

Truly a strange case, and perhaps it is a hint at what Randy Quaid and his wife claim is going on in California with their fleeing from "Hollywood Star Whackers"?

Nevertheless hopefully these newest developments don't mark the closing of the case, as many questions still remain unanswered.

~E


---



Police: Ex-con acted alone in publicist slaying


By Thomas Watson and Greg Risling | YahooNews.com

Hollywood's whodunit about the wealthy publicist gunned down driving home from a movie premiere now appears to be more of a garden-variety crime gone wrong.

Police on Wednesday said preliminary ballistics tests showed the gun a man used to kill himself as officers went to talk to him about Ronni Chasen's killing was the same weapon that was used to kill her.

Harold Martin Smith, 43, a down-on-his-luck ex-convict with a rap sheet spanning at least 25 years, had apparently ridden his bicycle to a dark intersection on Sunset Boulevard then attempted to rob Chasen.

"This was a random act of violence. With Mr. Smith's background, we believe that it was most likely a robbery gone bad," Beverly Hills police Sgt. Mike Publicker said. "Through the interviews and the information we received, that leads us to believe that he was at a desperate point in his life, and was reaching out and doing desperate measures."

Smith committed suicide Dec. 1 as police, acting on an anonymous tip left with the TV show "America's Most Wanted," went to speak with him at a seedy Hollywood apartment building from which he had recently been evicted. Before police could talk to him, he pulled out a revolver and shot himself in the head.

Though police said that gun appeared to be the same one used to kill Chasen, they cautioned that ballistics tests were preliminary and a final analysis could take two weeks.

Smith and Chasen's lives could hardly have been more different. She left at least a $6 million estate; he had a long criminal record that included two felony strikes. She drove a luxury car; he rode a bicycle. Chasen was well known among Hollywood's power players and helped actors, directors and composers win Oscars; Smith's former neighbors recalled him as being mentally unstable.

Police provided no information about who had phoned in the tip that cracked the case but, according to at least one of his former neighbors, Smith had bragged about the killing.

Terri Gilpin, who lived along the hall from Smith on the third floor of the apartment building, said Smith had also boasted that he was going to get paid $10,000 for carrying out the killing.

Police Chief David Snowden disputed that, saying there appeared to be no broader plot.

"We believe that Mr. Smith acted alone. We don't believe it was a professional hit," Snowden said, though he added that the investigation was ongoing .

Chasen, 64, was an influential behind-the-scenes player in Hollywood with a long track record in promoting films such as "Driving Miss Daisy," "On Golden Pond" and the sequel to "Wall Street" and their stars for Oscars.
Police said it didn't appear that Chasen knew Smith or that any of her property had been taken. No shell casings were found at the scene, and investigators did not reveal if there was any video evidence of the attack.

The tipster who led detectives to Smith might be eligible for a $125,000 reward. Steve Katz, a co-executive producer of "America's Most Wanted," said staff notified the tipster about the latest developments.

"When he heard that his tip helped resolve this case, he was very emotional," Katz said. "This is really a perfect example of how an average person can make a difference."

Documents obtained by The Associated Press revealed Smith was a two-strike felon who had been convicted of burglary twice and most recently had been released from prison in 2007 after serving time for robbery.

Smith told neighbors at the apartment building where he shot himself that he would never return to prison. Police armed with a search warrant approached him, told him to take his hands out of his pockets and said they were there to talk to him about Chasen's killing.

That's when Smith pulled a gun from one of those pockets and shot himself in the head.

Without Smith to talk to, police looked to the gun for evidence that would tie him to Chasen's killing.


---
Visit msnbc.com for breaking news, world news, and news about the economy