Chelyabinsk Meteorite Pulled From Russian Lake, Breaks Into Pieces
Russian divers have retrieved the famous Russian meteorite from Lake Chebarkul, but the extraterrestrial rock broke into pieces during attempts to weigh it.

One can only guess at the reaction of the members of the Church of the Meteorite at this occurrence.

In our article, "Church of the Meteorite" Set to Worship Massive Russian Space Rock we reported:

Breyvichko's kindred souls regard the data stored inside the meteorite as the "testimonies", urging local authorities to give them the rock, which they want to be placed in a temple to be later built in Chelyabinsk.

The founder of the cult of the meteorite church is strongly against the operation to bring the chunk out of the lake, claiming that as long as the meteorite stays at the bottom of the lake, it is "in a positive environment".

"Contact with outsiders, who treat it as an average stone, can violate the information contained in it. We already see the perturbation of the noosphere from constant attempts to lift the meteorite in fomenting international instability around Syria," Breyvichko told the First Regional Channel.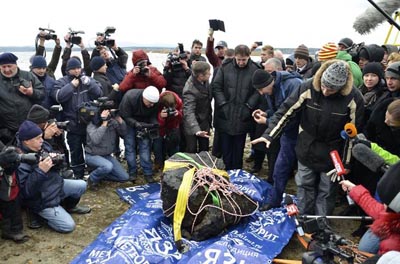 NBC reports ...

---
Oops! Huge Russian meteorite breaks after it's pulled out of lake
By Becky Oskin | NBCNews

Divers raised a coffee-table-size chunk of the Chelyabinsk meteorite from its muddy home at the bottom of Russia's Lake Chebarkul on Wednesday.

The massive boulder is the largest fragment recovered so far from the Feb. 15 Russian meteor explosion over the city of Chelyabinsk, which injured more than 1,600 people.

The blast scattered meteor shards across the region and left holes in the ice-covered Lake Chebarkul, so it was assumed that big lumps fell into the lake. Later surveys revealed rocks of potentially extraterrestrial origin, buried beneath the bottom mud.

Recovery crews have since pulled five meteorite chunks from the lake, RT.com reported.

The 5-foot-long (1.5-meter-long) rock dragged from the depths Wednesday was 65 feet (20 meters) below the surface. After it was pulled to the surface with cables, the meteorite fragment fractured into three pieces, shown live on Russian television.

Together, the dark, craggy stones weighed more than the scale brought to the lake could read, tipping in at more than 1,250 pounds. (570 kilograms). Preliminary tests confirmed that the rocks are from the Chelyabinsk meteorite.

[...]

Read the full article at: nbcnews.com




---

"Divers working at a Russian lake have recovered a half-tonne chunk of the space rock that exploded over Chelyabinsk earlier this year. The object plunged into Lake Chebarkul in central Russia on 15 February, leaving a 6m-wide hole in the ice. Scientists say that it is the largest fragment of the meteorite yet found"