China, Russia, Saudi Arabia Elected to U.N. Human Rights Council in Controversial Move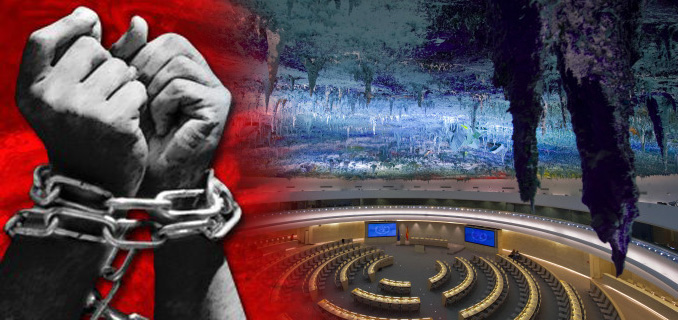 HAHAHA! Wait, what?....

While it's a laughable concept to designate a position on the United Nations Human Rights Council to well-known human rights violators such as China, Russia and Saudi Arabia, it's equally as absurd to see other countries already on the roster that have been violating rights for some time with seeming impunity.

During the Syrian 'Chemical Weapons' crisis the UN attempted to keep its distance from the big players - namely France, the UK and the US against Syria, Russia and China. The UN investigation on chemical weapons use in Syria provided few answers to the questions of whether chemical weapons were used, and who ultimately used them.

[Inspectors In Syria Forbidden From Finding Out WHO Used Chemical Weapons, Only IF They Were Used]

Could these new controversial additions of Russia and China bring a potential 'balance' to the Council so that the push for military strikes or occupation under the banner of "Right to Protect" on countries that are accused of human rights violations, can be slowed or prevented?

Seats on the council are allotted to regions, and countries from those regions select candidates for those seats. Sometimes the elections are contested and sometimes not. All 193 members of the General Assembly can vote on Tuesday.
Source

Could it be that these countries, voted in by secret ballot, simply got lucky as they ran for seats unopposed? That seems unlikely given the nest of politics that is the United Nations.

Is this just the UN 'playing nice' with the hopes of working towards better global respect for human rights, or is this about political intrigue, power plays, world government, military occupation, and the fates of countries like Libya and Syria?

We can only speculate on the narratives and governance plans the are being devised and implemented behind closed doors.

The following articles outline the concern over the new appointments:

---
China, Cuba, Russia, Saudi Arabia elected to U.N. Human Rights Council
By Louis Charbonneau | Reuters

China, Cuba, Russia and Saudi Arabia on Tuesday won three-year seats on the Geneva-based Human Rights Council, the United Nations' top rights body, despite concerns about abuses and restrictions on freedoms in all four nations.

Also winning seats on the 47-nation council were Algeria, Britain, France, Mexico, the Maldives, Morocco, Namibia, South Africa, Vietnam, and the former Yugoslav Republic of Macedonia.

The annual election for one-third of the council's membership was held in the 193-nation U.N. General Assembly.

South Sudan and Uruguay failed to win election to the council in competitive slates for their respective regional groups. The other regions had uncontested ballots.

The newly elected countries will be on the council from 2014 through 2016.

U.S. Ambassador to the United Nations Samantha Power said the newly elected members of the council include "some that commit significant violations of the rights the council is designed to advance and protect" and that the election itself was a reminder that the council's work remains unfinished.

Power did not specify which countries she was referring to. Peggy Hicks of Human Rights Watch was more specific.

"With the return of China, Russia, Saudi Arabia and Cuba, human rights defenders will have their work cut out for them at the Human Rights Council next year," said Hicks, an expert at the New York-based advocacy group.

[...]

Read the full article at: reuters.com

---
Rights groups criticise China, Cuba, Russia, Saudi seats on UN Human Rights Council
From: DW

China, Cuba, Russia and Saudi Arabia have been listed among 14 new members of the UN Human Rights Council despite concerns over their human rights records. Rights groups have contested the appointments.

The 193-nation UN General Assembly appointed 14 new members to the 47-seat Human Rights Council on Tuesday in its annual election.

[...]

Meanwhile Geneva-based UN Watch, an advocacy group that monitors the United Nations, listed Britain, France, Macedonia and Mexico as the only candidates qualified to be members of the council on the basis of their human rights records.

One third of the UN Human Rights Council's membership is appointed by region annually. This year competition in their respective regional groups meant South Sudan and Uruguay were denied seats. The other regions had uncontested ballots.

The newly elected countries will hold seats on the council from 2014 to 2016.

Iran and Syria had been planning to run for seats but pulled out over criticism of their rights records.

Saudi Arabia runs uncontested

Until last week, Jordan had also been a candidate for the Human Rights Council, but stepped aside in order to allow Saudi Arabia to run uncontested.

Jordan is vying to become a member of the UN Security Council in place of Saudi Arabia, which rejected its seat for 2014-2015 in an unprecedented move last month.

Read the full article at: dw.de

---
UN elects most polarised human rights council ever
From: Jamaica Observer

[...] Rights groups such as HRW and UN Watch strongly condemned the presence of countries such as China, Russia, Saudi Arabia and Cuba in the run-up to the vote.

Algeria, China, and Russia each have 10 or more unfulfilled requests for visits by UN rights investigators, according to HRW. Saudi Arabia and Vietnam each have seven outstanding requests.

But many experts say the increasingly aggressive campaigning for seats shows the rights council's increasing importance.

"Since its inception, the Human Rights Council has included a lot of repressive regimes. A few years ago nobody would have taken much notice of these elections," said Richard Gowan, a director of New York University's Center for International Cooperation.

"But the Council has been unusually active during the Arab Spring and passed a series of resolutions condemning the Syrian regime while the Security Council has been paralysed by Russia and China," he added.

He said Russia, China, Cuba and Vietnam could use their seats on the Human Rights Council to oppose further resolutions attacking Syria's President Bashar al-Assad.

Read the full article at: jamaicaobserver.com




---
Seats, allotted by region, are sometimes contested and sometimes not. All 193 members of the General Assembly can vote by secret ballots, which were collected in wooden ballot boxes from delegates.

Geneva-based UN Watch, a frequent critic of UN rights practices, denounced what it considered the worst new members.

"China, Cuba, Russia, and Saudi Arabia systematically violate the human rights of their own citizens, and they consistently vote the wrong way on UN initiatives to protect the human rights of others," said UN Watch executive director, Montreal-born Hillel Neuer.

"For the UN to elect Saudi Arabia as a world judge on human rights would be like a town making a pyromaniac into chief of the fire department.

"Regrettably, so far neither the U.S. nor the EU have said a word about hypocritical candidacies that will undermine the credibility and effectiveness of the UN human rights system. By turning a blind eye as human rights violators easily join and subvert the council, leading democracies will be complicit in the world body's moral decline."

UN Watch and other groups have also criticized the Human Rights Council for its preoccupation with reports and resolutions criticizing Israel over the Palestinian issue. By contrast, Neuer said that the council has never adopted a resolution critical of Russia, China or Saudi Arabia.
Source
---
---

What the Council on Foreign Relations Wants You To Think:

Council on Foreign Relations: R2P in Crisis Following UN Syria Vote


The Council on Foreign Relations' View on the UN Human Rights Council:






---

Tune into Red Ice Radio and hear guests speak on the United Nations, Right to Protect (R2P), human rights, Syria, Libya, politics, global governance and more:

Russ Baker - Hour 1 - Michael Hastings, Libya Repeating in Syria & JFK

Tjeerd Andringa - Hour 1 - Bureaucracy, Cognition & Geopolitics: Authoritarians vs. Libertarians

William Engdahl - War in Syria & Manufactured Conflicts

G. Edward Griffin - The Collectivist Conspiracy

Pepe Escobar - Invasion of Libya, Arab Spring, R2P & The Arc of Instability

Marc Stevens - Hour 1 - Government Violence & The Stockholm Syndrome

Henry Makow - Free Speech Threatened in Canada, Zionism, Elite Satanic Bankers, WWII & The Rothschilds

Radio 3Fourteen:

Curt Flowers & Damon Charles - The Business of Life