"CIA still testing drugs on people" (Video)
"American author Hank Albarelli spent over ten years researching the CIA and drug experiments conducted by the clandestine organization. In an exclusive interview with RT's Marina Portnaya, Albarelli details the secret tests that began in the 1950's and continue today."


Video from: YouTube.com


---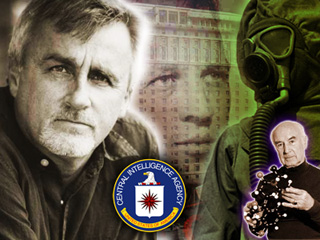 H.P. Albarelli Jr. - Germ Warfare, CIA, LSD and the Murder of Dr. Frank Olson

We have H.P. Albarelli, Jr. with us to talk about Biological Warfare, the CIA's experimentation with LSD and the murder of microbiologist Dr. Frank Olson. We talk about the U.S. army and Frank Olson who specialized in germ warfare, aero biology and the delivery of deadly viruses and infectious microorganisms through spray's and aerosol cans. Hank Albarelli works in the legal profession and was a member of the Carter administration. He is the author of "A Terrible Mistake: The Murder of Frank Olson and the CIA's Secret Cold War Experiments". Join us for a fascinating and informative program about LSD and the origins and experimentation of drugs and mind control. Topics Discussed: Hank's background, LSD, Spring Groove Hospital, Biological Warfare, Militaries Biological Warfare Research and Development Program, special Operations Division, CIA, Mk-NAOMI, LSD disseminated on University campuses, BZ, Jacob's Ladder, Vietnam War, L Wilson green, First Earth Battalion, Jim Channon, Jon Ronson, Men Who Stare at Goats, Mk-Ultra, Project Artichoke, Artichoke Committee, Chemtrails, 1952 France, of Pont St. Esprit, Ergot, Albert Hofmann and his relationship to the CIA, Sandoz, Merck, The Death of Frank Olson and more.

Stay tuned for hour two with this interesting guest!