Colorado Batman shooting shows obvious signs of being staged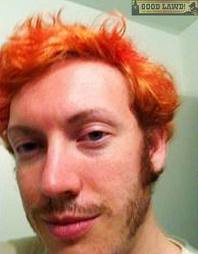 James Holmes, the Aurora, Colorado shooter who reportedly opened fire at a Batman movie premiere, was a medical student at the University of Colorado, pursuing a PhD in neuroscience, reports ABC News.

As part of the attack, Holmes painted his hair red and referred to himself as "The Joker," one of the arch enemies in the DC Comics-inspired Batman movie series.

According to news reports, this sudden violent rampage was completely out of character for James Holmes, who was described as "shy."

The New York Times is now reporting:
Billy Kromka, a pre-med student at the University of Colorado, Boulder, worked with Mr. Holmes for three months last summer as a research assistant in a lab of at the Anschutz Medical Campus. Mr. Kromka said he was surprised to learn Mr. Holmes was the shooting suspect. "It was just shocking, because there was no way I thought he could have the capacity to do commit an atrocity like this," he said.

"He spent much of his time immersed in the computer, often participating in role-playing online games..."

There is already conjecture that James Holmes may have been involved in mind-altering neuroscience research and ended up becoming involved at a depth he never anticipated. His actions clearly show a strange detachment from reality, indicating he was not in his right mind. That can only typically be accomplished through drugs, hypnosis or trauma (and sometimes all three).

His behavior doesn't add up

His behavior already reveals stark inconsistencies that question the mainstream explanation of events. For example, he opened fire on innocent people but then calmly surrendered to police without resistance. This is not consistent with the idea of "killing everyone."

Furthermore, he then admitted to police that his apartment was booby-trapped with explosives. If you were really an evil-minded Joker trying to kill people (including cops), why would you warn them about the booby trap in advance? It doesn't add up.

"Holmes was taken into custody shortly after the shooting, police said, adding he didn't resist when he was arrested," reports a local CBS news affiliate.

Holmes was clearly provided with exotic gear (and bomb-making skills)
Continuing from CBS:


"He said pictures from inside the apartment are fairly disturbing and the devices look to be sophisticated, adding the booby-traps were 'something I've never seen.' One rifle, two handguns, a knife, a bullet proof vest, a ballistic helmet, a gas device, a gas mask, military SWAT clothing and unidentified explosives were also found in Holmes' car, a law enforcement source told CBS News. Oates said Holmes wore a gas mask, a ballistic helmet and vest as well as leg, groin and throat protectors during the shooting."


Added on July 22nd: "He allegedly wore a helmet, a throat guard, a ballistic vest, ballistic leggings and gloves and was dressed in black."

In other words, this guy was equipped with exotic gear by someone with connections to military equipment. SWAT clothing, explosives, complex booby-traps... c'mon, this isn't a "lone gunman." This is somebody who was selected for a mission, given equipment to carry it out, then somehow brainwashed into getting it done.

"Aurora Police Chief Dan Oates said Holmes' apartment is booby-trapped with a 'sophisticated' maze of flammable devices. It could take hours or days for authorities to disarm it," reports Yahoo News.

UPDATE: (This section added to the story Saturday at 2:30 pm central, July 21, 2012). It is now being reported that exotic, advanced booby-traps have been disarmed at the apartment of James Holmes. The Denver affiliate of CBS News is now reporting.


Officials say they have removed all major threats at the booby-trapped apartment of the Aurora movie theater shooting suspect on Saturday. They have used a robot to go inside James Holmes' apartment. ...They were able to disable a trip wire that was set to go off when the apartment door was opened.

"This is some serious stuff that our team is dealing with..."


[...]

Read the full article at: naturalnews.com





---


Ed Note:

From ABCNews:

The man in custody for allegedly killing 12 people at the screening of the latest Batman movie in Aurora, Colorado told authorities after the shooting that he "was The Joker," NYPD police commissioner Ray Kelly said today.

Kelly told reporters the suspect, identified by federal officials as 24-year-old James Holmes, had dyed his hair like The Joker. The Joker is a well-known villain in the fictional Batman universe. The attack took place at a screening of "The Dark Knight Rises," the final movie in a Batman trilogy, following "The Dark Knight" in which The Joker was the principal villain.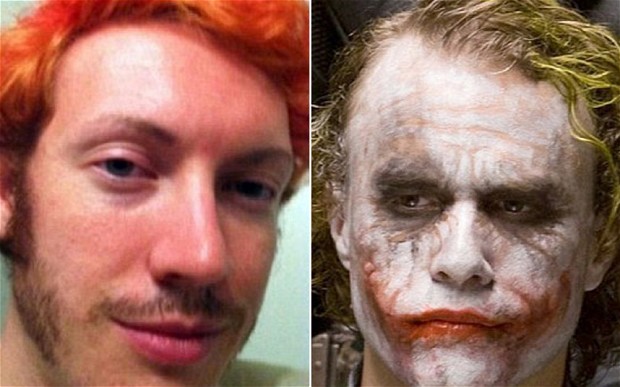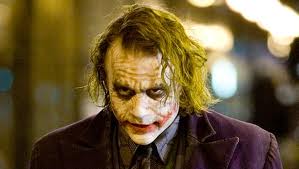 Strange that he would call himself 'The Joker', and dye his hair red, when the Joker character clearly has green hair.
A Batman comicbook character with red hair is Jason Todd - " a fictional character that appears in comic books published by DC Comics".

The character is known for "eventually becoming the second Red Hood and assuming a new role as an antihero who resembles Batman in many ways, except with a willingness to use lethal force and weapons."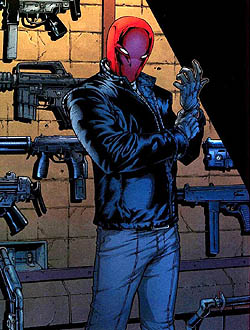 "Red Hood" Jason Todd



"With the goal of making the very concept of Batman obsolete, he puts a lot of effort into public relations: he drastically alters his Red Hood costume to look more like a traditional superhero outfit, recruits his own sidekick, Scarlet, and uses Twitter to report on his crime-fighting activities. In their war on crime, Red Hood and Scarlet freely kill criminals, villains, and anyone who gets in their way, even the police. He leaves behind a calling card which states "let the punishment fit the crime." He describes his vendetta
... as "the revenge of one crazy man in a mask on another crazy man in a mask.""

***

Whether James Holmes fancied himself The Joker, or took on any other number of wild personas, we should still seek answers to these disturbing questions - (funding, expertise, motives, etc). If all we do is memorialize the victims and 'move on to closure' without examining what happened, we'll never get any closer to understanding and preventing these terrible events in the future.

~Elizabeth





---
Super Soldiers: DARPA Launches Batman and Robin Projects