Davos police commander found dead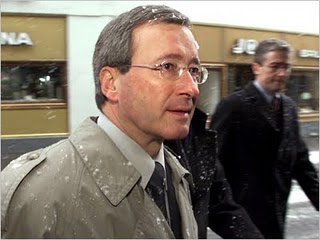 The police commander in charge of security at the World Economic Forum in Davos has been found dead in his hotel room, local authorities have said.

Markus Reinhardt, 61, had been head of police in the Swiss canton of Graubunden since 1984.

"All indications point to a suicide," local police said in a statement.

Police captain Marcus Suter will take over the security operation in Davos, where the five-day forum starts on Wednesday.

Some 2,500 business and political leaders from around the world are expected to attend.

Article from: news.bbc.co.uk

---




Davos security chief's suicide leaves Swiss media with questions



By Ellen Wallace | GenevaLunch.com

The apparent suicide of Markus Reinhardt, police chief for canton Graubuenden and head of security operations for the World Economic Forum in Davos, has Swiss-German media doggedly pushing for more information. Reinhardt was found dead in a Davos hotel room Tuesday morning 26 January. Cantonal officials said that signs pointed to suicide, that it was a personal tragedy, and they would not share further information out of respect for his family.

But journalists have been pursuing the story, insisting on more information, as details of problems Reinhardt has had in the past 10 years, including alcoholism, according to Blick magazine, have surfaced.

The magazine says he was stopped for drunk driving two days before his death. Other media recall that he was given a clean slate in an unusual court case, where he was investigated for possibly ordering the death of someone held by police. Officials and police have not said if there was a suicide note nor have they explained the circumstances surrounding the discovery of his body.