Detroit schools offer class in how to work at Walmart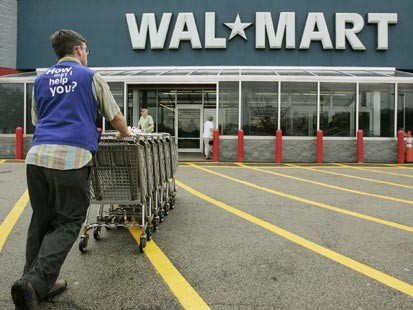 Walmart has been widely condemned for offering its employees only low-paying, dead end jobs. Even President Obama criticized Hillary Clinton during the 2008 presidential campaign for having served on Walmart's board and stated that the firm ought to pay "a living wage."

In inner-city Detroit, however, where the unemployment rate is estimated at an astonishing 50%, the prospect of a Walmart job may appear far more attractive.

Four inner-city Detroit high schools have decided that employment with Walmart is an opportunity worth training their students to pursue. The schools have a href="http://www.freep.com/article/20100211/NEWS01/100211049/1319/-Walmart-offers-job-training-via-DPS" target="_blank">teamed up with the giant merchandiser to offer a for-credit class in job-readiness training that also includes entry-level after-school jobs.

According to the Detroit Free Press, the principal at one of the schools optimistically suggested that "the program will allow students an opportunity to earn money and to be exposed to people from different cultures -- since all of the stores are in the suburbs."

The announcement of the program outraged Donna Stern, the Midwest coordinator for the Coalition to Defend Affirmative Action, Integration & Immigrant Rights And Fight for Equality By Any Means Necessary (BAMN). "They're going to train students to be subservient workers" she told the Free Press. "This is not why parents send them to school."

Detroit area schools have cooperated on projects with Walmart in the past. Last summer, Walmart sponsored a letter-writing contest in which students could win classroom supplies, and at Christmas Walmart donated presents to needy students in a Detroit suburb.

Neither of those acts of corporate generosity, however, carried the same racial overtones as training inner-city students for a career as suburban Walmart store clerks. The fact may be that Detroit's schools are now desperate enough to accept help wherever they can find it.

The school district has been running badly in the red, and though emergency financial manager Robert Bobb has already closed 29 schools as a cost-cutting measure, it was a href="http://www.clickondetroit.com/education/22518424/detail.html" target="_blank">reported this week that "the 84,000-student Detroit Public Schools could face additional layoffs and about 40 more school closings."

Detroit's teachers have also been chafing at a contract accepted by their union that forces them to make involuntary long-term loans to the school district out of their paychecks. A Detroit Federation of Teachers union meeting on Thursday broke down in chaos after members tried to put the question of recalling the union president on the agenda.

Article from: RawStory.com


---



Walmart Targets Low-Income Students for Job Trainings



By Charlotte Hill | USPoverty.change.org

When you were in high school, what career did you look forward to having in the future? Teacher? Scientist? NFL quarterback? Whatever you aspired to become, chances are it wasn't a Walmart employee. But that's the future that students across the city of Detroit are currently being trained for.

With an unemployment rate of almost 50 percent, Detroit's work opportunities are practically nill, leading four inner-city schools to partner with Walmart to offer a course in job-readiness. Student participants earn school credit while learning how to hold down one of the superstore's infamously low-paying positions. When the bell rings at 3:30, off the students go to their new entry-level jobs, where they work for minimal pay.

Normally, I'm a huge fan of in-school vocational training, since high schools obviously aren't doing enough to properly prepare their students for employment in the "real world." Especially during times of sky-high unemployment, when teenage unemployment is especially troubling, it's essential for graduating high schoolers to have some useful skills under their belts.

But when Walmart decides to offer 11-week training to low-income high school students, my initial reaction is one of concern. What sort of work conditions are these Detroit students being prepared for? Walmart is notorious for its low wages, discriminatory treatment of female employees, mass lay-offs and refusal to acknowledge, much less support, employee unions. I doubt Detroit parents would want these values instilled in their children. The question remains, then, why four schools have moved forward with the Walmart partnership.

The answer boils down to money. WDIV Detroit reports that the city's public school district is struggling to make ends meet after being hit disproportionately hard by the recession.
"We are still under water ... deep red water," said Robert Bobb, the district's emergency financial manager. Bobb ordered 29 schools to close this past fall and about 40 more are expected to shut their doors in the coming year. In this financial climate, the district appears to be taking whatever help it can get, even if financial need -- not educational integrity -- is driving the decision.

At the end of the day, Walmart is the true winner in this partnership. According to the Department of Labor, "Employees under 20 years of age may be paid $4.25 per hour during their first 90 consecutive calendar days of employment with an employer." From my calculations, 11 weeks of training amounts to just under 90 days of employment.

Looks like whichever Walmart executive made the decision to partner with Detroit schools was just living by the corporation's own slogan: "Save money. Live better."