Did doctors jumpstart the HIV pandemic?
Perhaps it wasn't sex workers and fast-growing cities that launched HIV onto its deadly global rampage, but well-meaning doctors using dirty needles in the first half of the 20th century.

While it's hard to know for sure today, more than 90 years after the virus emerged, two new studies hint that campaigns to eradicate tropical diseases in Africa might have helped HIV gain an early foothold among humans.

"This is sort of an example of good intentions gone wrong," said Dr. Thomas Strickland, an expert in infectious diseases at Baltimore's University of Maryland, who was not involved in the research.

"They were saving lives. They just didn't know that they were also setting up the pandemic of HIV."

The virus jumped from chimps to humans -- morphing from simian immunodeficiency virus, or SIV, to human immunodeficiency virus -- in central Africa in the early 1920s.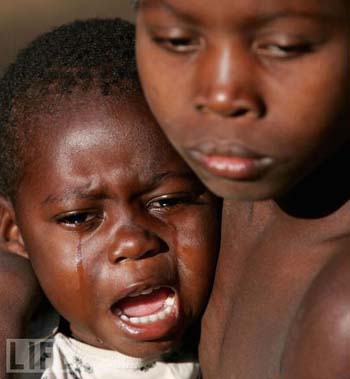 Most likely, scientists speculate, a hunter got infected through a bite or a scratch as he prowled for bush meat and butchered it west of the Ubangi River in what is now the Democratic Republic of the Congo.

What is still a matter of debate is how a blood-borne disease infecting one or a few individuals in a remote area could ever spread to the more than 33 million people who were infected by 2008, and kill two million of them.

To try to answer that question, Dr. Jacques Pepin, of the Universite de Sherbrooke in Montreal, Canada, hopped on a plane to central Africa. His goal was to track the spread of less lethal viruses -- as proxies for HIV -- among villagers who remembered the colonial era.

For one of two studies published this month, Pepin's team knocked on doors in dozens of villages in the Central African Republic to find seniors who'd been exposed to the sleeping sickness epidemic that ravaged the area between 1936 and 1950.

They asked a bunch of questions of more than 900 villagers, including whether or not they'd been treated for sleeping sickness -- at the time a grueling, hard-to-forget series of injections, Pepin said.

The researchers also took blood samples. Because the villagers who first caught HIV would be long dead today, Pepin decided to use the less-deadly hepatitis C virus as well as another blood-borne virus (human T cell lymphotropic virus 1, or HTLV-1) as models for how HIV could have been inadvertently transmitted by the French colonial doctors treating sleeping sickness.

What they found was striking: if a person had been treated for the sleeping disease before 1951, the chances that he or she had been infected with hepatitis C tripled. And HTLV-1 showed a similar pattern.

"What happened is that for a long time, the needles and syringes used to administer the intravenous drugs were not single-use," Pepin told Reuters Health. "There were a lot of patients and not a lot of needles, so the sterilization of needles was not very efficient."

"If HIV was present in one of these patients 50 years ago, we can assume that they probably transmitted HIV," he said. "It is exactly like intravenous drug users who share needles."

According to Pepin, that would also explain why the number of people 65 years and older who'd been treated for sleeping sickness was six times lower than would be expected from historical data: the missing seniors could have died of AIDS, the immune system breakdown caused by HIV.

"Everybody now is getting infected from having sex," said Strickland, who wrote an editorial about the new findings, published in the journal Clinical Infectious Diseases.

"But that is not very good transmission. You can have heterosexual sex ten or fifteen times without getting infected. But if you get injected with a contaminated needle, the risk is much higher."

Pepin's other study shows that in Cameroon, a neighboring state that also used to be under French rule, massive outbreaks of hepatitis C in the first half of the 19th century were related to malaria treatment with the drug quinine.

More than half the hundreds of graying heads he rounded up had traces of an earlier hepatitis C infection in their blood.

"The most important mode of infection was the intravenous treatment of malaria," said Pepin. "If we put all of this together, it shows that there was a lot of transmission of different viruses through different interventions for tropical diseases."

"Probably HIV was transmitted as well," he argues.

But nobody is left to bear witness of what really happened, and not all scientists believe Pepin's explanation.

"It is a wonderful study on the hepatitis C virus," said Michael Worobey, a biologist at the University of Arizona in Tucson who studies the origins of HIV. "I'm not so convinced it should have been sold on the HIV/SIV angle."

His version of what happened follows the traditional line of argument among scientists: as colonial powers began building cities and railroads, they transformed former woodlands into densely populated towns rife with prostitution -- perfect hotbeds for blood-borne diseases.

Eventually an infected villager made his way to the city, setting off the HIV epidemic like a spark falling on a dry savanna.

"I think a train is a much better way to get a virus to a city than a needle," Worobey told Reuters Health.

He said the idea that doctors kicked off the HIV pandemic has been around for years. And while the new experiments are probably the first to test it, he added, they don't settle the question.

To Pepin, the two explanations aren't mutually exclusive. Dirty needles "played a substantial role that was probably as important as prostitution," he said.

Although single-use needles are now commonplace in most of the world, and unprotected sex is the major reason people get HIV, Pepin said some wisdom might still be gleaned from what he found.

"Hopefully it will make doctors a bit more prudent about novel medical interventions," he said.

Article from: torontosun.com


---

Also tune into:

Dr. Leonard Horowitz - The Pharmaceutical Industry, Vaccines & Frequency 528

Dr. Leonard Horowitz - AIDS, HIV, Vaccines & The Properties of Water