Drones May Be Our Only Hope! Manhunt Causes Mayhem, Suspends Reason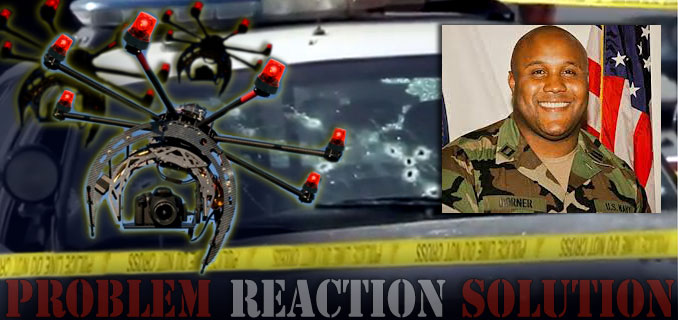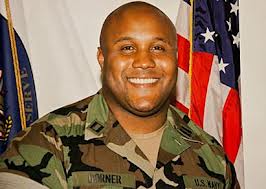 Christopher Jordan Dorner (born June 4, 1979) is a former LAPD police officer and ex-United States Navy reservist. He is a named suspect in the 2013 Southern California shootings, a series of shooting attacks on civilians and police officers from February 3 to February 7 that left three people dead, including one police officer, and two police officers wounded. He is currently the subject of one of the largest manhunts in history, now spanning four U.S. states (California, Nevada, Arizona, New Mexico), and Mexico.
Source
---



'Drones May Be Our Only Hope of Finding Him'


By Eric Blair | ActivistPost.com

How many laws, procedures, and civil liberties can the LAPD break in their crazed manhunt for Chris Dorner? It seems there is no end.

Their shoot first tactic that resulted in two injured parties and likely a massive lawsuit for the taxpayers is the most obvious. Then you have warrantless checkpoints and house-to-house searches which most sleeping Americans consider normal operating procedure in our rights-deficient post-9/11 world.

But as many people predicted, this manhunt for the alleged corruption-fighting cop killer is now justifying the use of drones over American skies for police use.

According to the Express:


A senior police source said: 'The thermal imaging cameras the drones use may be our only hope of finding him. On the ground, it's like looking for a needle in a haystack.'

Asked directly if drones have already been deployed, Riverside Police Chief Sergio Diaz, who is jointly leading the task force, said: 'We are using all the tools at our disposal.'

The use of drones was later confirmed by Customs and Border Patrol spokesman Ralph DeSio, who revealed agents have been prepared for Dorner to make a dash for the Mexican border since his rampage began.

He said: 'This agency has been at the forefront of domestic use of drones by law enforcement. That's all I can say at the moment.'


No mention of whether the drones being used to find Dorner are armed, but considering the LAPD's shoot-on-sight policy, and Obama's precedent for killing Americans without due process, it would not be surprising if this manhunt ends with a missile strike. But given their track record so far, they'll likely kill an innocent snow boarder at Big Bear in another case of "mistaken identity".

[...]

Read the full article at: activistpost.com




---

LAPD are pulling out all the stops in this manhunt. And while there exists a wealth of incriminating evidence against Dorner, the LAPD seem intent on eliminating the accused before any trial can take place.







---



LAPD counter-attack on innocent civilians rivals killer's carnage


From: GSL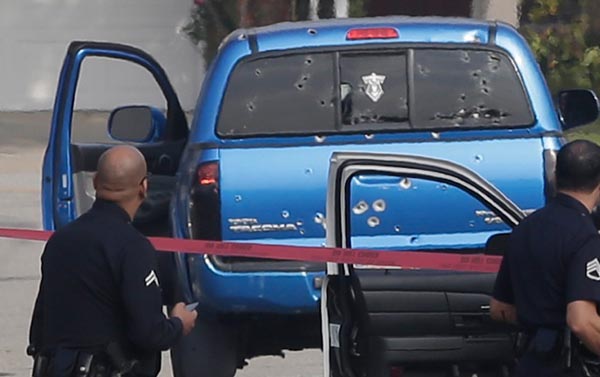 A shot up pickup truck containing two older females mistaken for a black Nissan pickup truck driven by the accused.



LAPD's members are scared for their lives. Unfortunately, in their hair-trigger nervousness, they are opening up, without provocation, on pickup trucks they fear might contain Dorner.

First, they shot up a blue pickup truck with two Hispanic women, one in her 70s.

So far, Dorner has killed three and wounded a fourth.

Thus far, LAPD has shot and wounded two innocents in their search for Dorner. They've also killed a half-dozen plus cars, a few houses, trees and lord knows what else.

[...]


Dorner manhunt: LAPD gunfire hits Torrance homes, cars

Los Angeles (LA Times) - Residents in the quiet Torrance cul-de-sac where Los Angeles police mistakenly fired on two women delivering newspapers reported hearing a barrage of gunfire and discovered bullets that pierced cars, trees, roofs and garage doors.

…On Friday, Kathy Merkosky, 53, was outside her stucco home pointing out the six bullet holes that pierced the bumper and grille of her silver Acura MDX. She knew her SUV was damaged when she spotted it on television and "saw fluid flowing into the street." Her radiator was busted, she said.

Her Ford Focus had two bullet holes as well — one bullet shattered the windshield and another penetrated her front left tire. Police officers told her husband to file a claim with the department, she said.

…Merkosky said she was in the shower when she heard what she thought were her kids banging on the bathroom door. She came out, only to realize that it was gunshots. She estimated hearing about 60 shots.

…Next door, Richard Goo, 62, heard the same noise.

"When I heard all the pop-pop-popping, I dropped to the ground, crawled around and pulled my wife out of the bed and I got on top of her," he said.

Goo said he could hear the bullets hitting the door, and he feared the gunmen were coming through the house. He called 911 and was told that police were already there.

After the incident, police ordered residents to stay indoors, but from his window Goo could see dozens of yellow markers on the ground used to mark the stray bullets. While out surveying the damage, he counted five bullets in his entryway, a bullet hole in his garage door, two bullets hits his silver Lexus and another bullet grazed the hood of his Oldsmobile.

"We are lucky because our cars are drivable, unlike our neighbors'," he said.

…"How do you mistake two Hispanic women, one who is 71, for a large black male?" he asked.


Read the full article at: gunssavelife.com




---


In all, we must be careful that in our duty and desire to protect and ensure justice, we do not throw out the measures and laws that brought protection from injustice.

A problem has arisen, but we must take care to not overreact and allow unchecked police/governmental powers, drone surveillance, warantless searches, and elimination of due process. That solution is no solution at all, but a slope upon which all our rights and protections will slip away.