Ex-Files: British military unplugs its UFO hot line after 50 years of reports


The truth - and the UFOs - may be out there, but nobody in the British military is listening anymore.

The Defence Ministry has quietly shut down its UFO hot line as a cost-cutting measure and will no longer investigate any sightings. Veterans of such investigations more worthy of "The X-Files" say it will end work on one of the biggest mysteries of all time.

No longer will Britons who think they've seen flying saucers be able to enlist the services of Her Majesty's armed forces.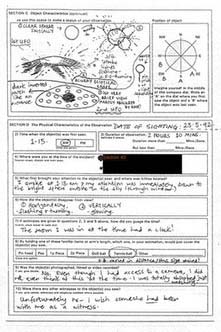 This week's closing of the ministry's hot line and its email account, as well as its statement that it "will no longer respond to reported UFO sightings or investigate them," has angered many Britons who believe such research is vital.

"I think it's a stupid thing to do because this could create a threat to national security," said Roy Lake, founder of the London UFO Studies group. "We take this quite seriously. We know that sometimes things can be explained as natural phenomena, but there could be that one thing that's not. I think the government knows damn well what's going on up there, and they're covering it up."

The hot line has been operating, on and off, since 1959. That's longer than "Doctor Who" - British TV's time-travelling, monster-fighting alien - has been on the airwaves.

The military is taking no position on the existence or nonexistence of UFOs but has concluded that in 50 years none of the more than 12,000 reported UFO sightings turned out to be a national security threat.

"None of the thousands of UFO sightings reported over the years have ever provided substantiated proof of the existence of extraterrestrials," a Ministry of Defence spokesman said, speaking on condition of anonymity in line with government policy. "There is no defence value in investigating UFO reports."

The spokesman said closing the UFO inquiry unit would save about 44,000 pounds ($73,000) a year and would not add to the security threats that Britain faces. He added that the money saved would be better spent helping British troops in Afghanistan.

He said no one has lost a job because of the closure of the UFO portfolio, which over the years had detailed sightings - including many with fanciful illustrations about purported alien encounters.

Some view the decision to end the hot line a sacrifice of mystery and romance in the name of cold financial logic.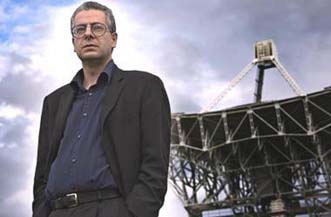 Nick Pope, who helped the British military with its UFO inquiries for years, said the decision is wrongheaded.

"It's a great shame," he said. "This is the end of over 50 years of research and investigation into one of the biggest mysteries of our time."

Pope said the decision will also hurt British national security. He said that if commercial airline pilots and other experts no longer report suspicious activity, it will leave the country more vulnerable to terrorist activity and to espionage.

"That's one thing we learned in the 9/11 attacks, the threat of incoming aircraft with transponders turned off," he said.

In a 1996 lecture, famed British physicist Stephen Hawking discounted suggestions that UFOs "contain beings from outer space."

"I think any visits by aliens would be much more obvious and probably also much more unpleasant," he wrote, according to his Web site. "Meeting a more advanced civilization, at our present stage, might be a bit like the original inhabitants of America meeting Columbus. I don't think they were better off for it."

Hawking also said he prefers to think that "there are other forms of intelligent life out there, but that we have been overlooked," and he lamented the demise of federal funding for the U.S. SETI project that listened for any signals from alien civilizations.

The U.S. Air Force says it has not investigated UFO sightings since 1969, when it ended Project Blue Book, which examined more than 12,600 reported UFO sightings - including 700 that were never explained.