Experiment to Show Comets Brought Life To Earth
claimed that the seeds of life probably originated from off planet, in reference to the theory of 'panspermia' - "[...]the hypothesis that life exists throughout the Universe, distributed by meteoroids, asteroids, comets and planetoids." Source

Benner argued the that "one particular element believed to be crucial to the origin of life" would have only been available on the surface of Mars, and a localized meteorite was the triggering event to life on Earth.

In a corroboration of that theory, results from a study are being revealed. The outcomes of the experiment raise the possibility that life came from outer space.

UPI.com reports...

---
Experiment raises possibility life came to Earth from outer space
From: UPI

An international team including a U.S. scientist says it has confirmed life could have come to Earth from space, carried by comets.

To simulate the collision of a comet and the Earth, the researchers shock-compressed an icy mixture similar to what is contained in comets and found the shock created a number of amino acids, the building blocks of life.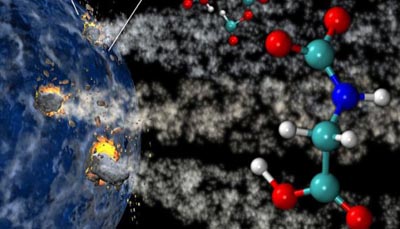 The experiment confirmed something Lawrence Livermore National Laboratory scientist Nir Godlman first predicted using computer simulations on the lab's supercomputers.

Goldman's work had predicted simple molecules found in comets, such as water, ammonia, methanol and carbon dioxide, could have supplied the raw materials, and a collision with early Earth would have yielded an abundant supply of energy to drive this prebiotic chemistry.

Collaborators in Britain conducted experiments recreating Goldman's simulations in which a projectile was fired at high speed into a typical cometary ice mixture, with the result that several amino acids were formed, an LLNL release reported Sunday.

[...]

Read the full article at: upi.com




---
READ:
Professor: We have a 'moral obligation' to seed universe with life - Panspermia