False Flag warning NYC: Full-scale 'Ebola' pandemic drill to go live Nov. 13,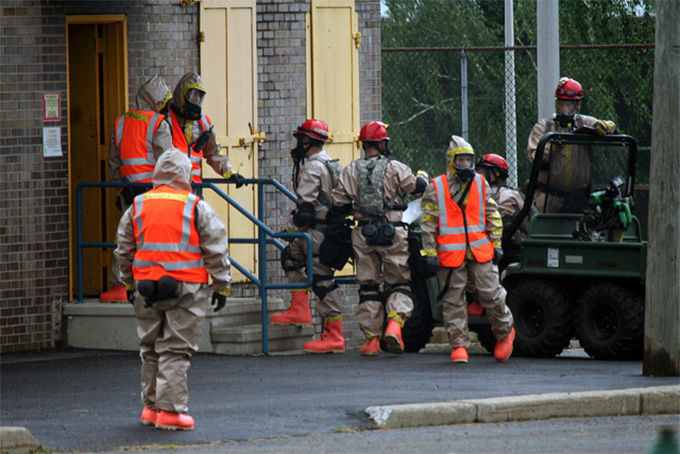 Obama admin and media to Hype "Ebola Outbreak" simultaneously as full-scale FEMA pandemic excercise is carried out Nov. 13 in NYC, NJ — crisis actors, role players to be used.

A massive 2-year long pandemic "continuity exercise" is nearing "stage three" of five on November 13th, going live in "New York City" and "other locations", according to new documents and audio/video recordings uncovered by Intellihub News.

Shockingly, in a jaw dropping admission, a FEMA official was caught telling role players during a live webinar session that FEMA plans to use people's fears of "Ebola" and what has "been reported in the news" to "drive" this realtime "full-scale" event.

"I will also take the time to say now, we were very aware of all the responses we are getting that Ebola is very high on people's attention list. And so rest assured we have taken a lot of the things that are actually happening with the Ebola crisis and factored them into the exercise. They are just under the cover of you know, what would happen during a pandemic. So we have actually taken things that we have seen, things that have been reported in the news, things that we've heard from partners and made sure that we are going to get a chance and deal with those actions.", stated a FEMA official conducting a pandemic "master scenario" webinar presentation for role players, i.e. crisis actors, privy to details of the exercise.

THE AGENCIES INVOLVED

According to FEMA, "The Federal Executive Boards in New York City and Northern New Jersey in partnership with FEMA Region II, The Department of Health and Human Services Region II, Securities Industry and Financial Markets Association (SIFMA) and the Clearing House Association are sponsoring" the drill.

The exercise objectives are to mitigate vulnerabilities during a pandemic influenza outbreak; to identify gaps or weaknesses in pandemic planning or in organization pandemic influenza continuity plans, policies, & procedures; and encourage public and private organizations to jointly plan for, and test, their pandemic influenza plans.

Other key players involved with planning and research may be but are not limited to the following people/organizations:


Wendy Panella/Robert Desiato, AT&T
Andrew Chen, US Department of Health and Human Services (HHS)
Eugene Buerkle, National Grid
Lance Plyler, MD, Samaritan's Purse – Africa Based NGO
Nicholas V. Cagliuso, Sr., PhD, MPH, New York City Health and Hospitals Corporation
Interestingly, a "final planning meeting" for agency and firm "lead controllers" and "evaluators" will be held just one week ahead of the live full-scale event at 26 Federal Plaza, New York, NY, conference room, starting at 9 am on Nov. 6-7.


The remaining dates of the 2-year long exercise will play out as follows:


November 13, 2014: Pandemic Influenza Wave 1 Full Scale Exercise
9:00am EST StartEx / 3:30pm EST Endex
Location: Your Agency / Firm
November 20, 2014: Pandemic Influenza Wave 2 Full Scale Exercise
9:00am EST StartEx / 3:30pm EST Endex
Location: Your Agency / Firm
December 1-3, 2014: Pandemic Influenza Recovery / Reconstitution Tabletop Exercise and Pandemic Accord Hotwash (to also include feedback on Wave 1 and Wave 2) – The same session will be repeated over 3 consecutive days to accommodate the number of participants. The event layout is similar to the 2013 Pandemic Accord Exercise, dial-in/WebEx capabilities will be made available to those that are unable to attend live. (Please attend only 1 date)
8:30am EST Registration
9:00am EST StartEx / Hotwash 2:30 pm / 4:00pm EST Endex
Location: 26 Federal Plaza, New York, NY Conference Room A/B or Conference Call 800-320-4330; pin 528585#


It is also worthy to note that the Department of Homeland Security (DHS) is concerned about how telecommunications will hold up if such a pandemic outbreak were to actually occur as they expect phone lines to be jammed up by bedridden and quarantined people along with health workers trying to do their jobs. This hypothetical is also set to be included and evaluated in the exercise and may in fact be what prompted the recent unannounced takeover of various television sets followed by an "emergency alert" announcement from the White House on Oct. 24 as reported by Paul Joseph Watson, Infowars.com.

In the report titled White House Emergency Alert Interrupts Viewers Across America, Watson wrote:

Americans watching television across the country were puzzled earlier today when an alert from the White House interrupted their viewing, told them to stand by for an emergency message and warned them not to use their phones.

TV channels automatically changed to local news stations but no White House message ever came, prompting confusion and concern, especially given heightened tensions amidst the Ebola crisis.



Sources:

FEMA Pandemic Exercise Series – PANDEMIC ACCORD: 2013-14 Pandemic Influenza Continuity Exercise Strategy — sifma.org

Pandemic Influenza Impact on Communications Networks Study (PDF)

From: intellihub.com