FBI: Men unknowingly put fake bombs at Ohio bridge
Five men charged with plotting to bomb a bridge linking two wealthy Cleveland suburbs placed what they thought were real explosives at the site and repeatedly tried to detonate them using text messages from cellphones, according to an FBI affidavit filed in court.

Federal authorities on Tuesday described the men as anarchists who are angry with corporate America and the government and unknowingly worked with an FBI informant for months as they crafted and carried out their plan.

The FBI said suspects bought fake explosives from an undercover employee and put them at the base of a highway bridge over the Cuyahoga Valley National Park, about 15 miles south of downtown Cleveland, on Monday. After leaving the park, they tried to initiate the explosives using a text-message detonation code, and they called the person who provided the bombs to check the code when it failed, according to the FBI affidavit.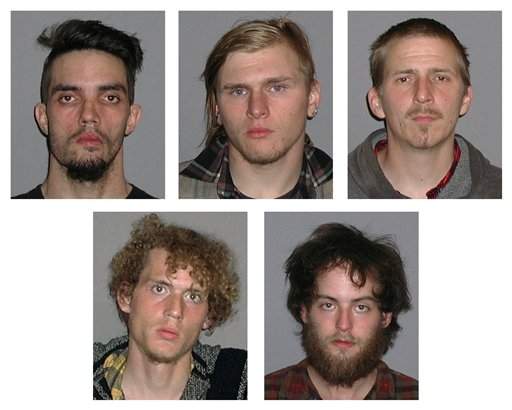 "Photos provided by the FBI show five men arrested Monday and accused of plotting to blow up a bridge near Cleveland, Ohio, the FBI announced Tuesday. Top row, from left, are Douglas Wright, Brandon Baxter and Anthony Hayne. Bottom row, from left, are Joshua Stafford and Connor Stevens. There was no danger to the public because the explosives were inoperable and were controlled by an undercover FBI employee, the agency said Tuesday."Photo: Associated Press/FBI



Their arrests that night marked the latest case in which FBI agents planned fake terrorism plots alongside targeted suspects, an indication it continues to be a top strategy for the government in preventing terrorism.

"They talked about making a statement against corporate America and the government as some of the motivations for their actions," U.S. Attorney Steven Dettelbach said Tuesday.

Court documents detail conversations the FBI secretly recorded in which its informant discussed bomb plans with some of the suspects. In one, Brandon L. Baxter, 20, of Lakewood, allegedly said, "Taking out a bridge in the business district would cost the ... corporate big wigs a lot of money" because it would cause structural damage and prevent people from going to work.

The alleged conversations depict Douglas L. Wright, 26, of Indianapolis, as a sort of group leader who recruited others, scouted out the bridge site and participated in buying the fake explosives.

The other suspects were identified as Joshua S. Stafford, 23, and Anthony Hayne, 35, both of Cleveland, and Connor Stevens, 20, of suburban Berea.

All five are charged with conspiracy and trying to bomb property used in interstate commerce. They appeared Tuesday in U.S. District Court and were ordered jailed without bond pending a hearing Monday.

The charges carry possible penalties of more than 20 years in prison.

Similar arrests in the last few years — including in Massachusetts, Oregon, New York and Texas — offer a glimpse into sting operations by undercover FBI agents trying to catch possible terrorists in the act.

Defense attorneys in those cases have accused federal authorities of conducting overblown operations that entrapped their clients. Authorities have defended the practice, saying it's prevented countless terrorist attacks.

Christopher Banks, an associate professor at Kent State University who has written on terrorism, defended the tactic as one of many the federal government uses in fighting terrorism. He said each case involving a possible terrorist threat is different, but after 9/11, caution weighs more on the side of government than the individual citizen.

[...]

Read the full article at: freep.com


Video from: YouTube.com





---


Ed Note: How many times must we see this same scenario play out before we start holding the FBI accountable for these so-called 'terrorism' plots?
Would these men have done anything more than be disgruntled and 'talk big' unless they'd been given access to explosives (fake) , education and guidance, and means/motive/opportunity from these FBI contacts?

"Authorities have defended the practice, saying it's prevented countless terrorist attacks."
What an audacious, unsupportable statement. Which 'countless' terror attacks have these theatre productions prevented? Seems like the only terror attacks we hear about these days are the very ones in the news being dreamed up and carried out by the authorities!

In the above video, the authorities become very loud pointing out how the 'defendents' were solely responsible for everything that occurred leading up to, and on the day of, the incident. But they HAVE to be loud in order to drown out any practical questions and independent thought on the subject.

Thank goodness this situation didn't end in something unthinkable, like the 'drill going live' - and the explosives being real. (This time).


Video from: YouTube.com


Video from: YouTube.com


Video from: YouTube.com

~E





---
Clueless Patsy Set-up by FBI in Christmas Tree Bombing Plot?
Underwear Bomber Calls Haskell As Defense Witness
Major Hasan Of Fort Hood: A Patsy In A Drill Gone Live?
The Colossal Deceit Known As The Underwear Bomber Case
"Security slip" let suspect on plane, near takeoff
Times Square bomb plot suspect video threatens US
Man Who Sailed Breivik to Island Mistook Shootings for Drill