Fifteen years holed up in an embassy
Wikileaks founder Julian Assange has said he may remain in the Ecuadorean embassy in London for up to a year - but even that would leave him far short of the record holder, a Hungarian cardinal who spent 15 years in the US embassy in Budapest.

The Cold War drama began in the cold pre-dawn of 4 November 1956. An anti-communist uprising was under way, but the head of the Catholic Church in Hungary, Cardinal Jozsef Mindszenty, had just learned of the arrival of Soviet troops in the city to put it down. He faced a stark choice - flight or arrest.

Imprisoned by the pro-Nazi authorities during World War II, Cardinal Mindszenty had then become an outspoken critic of the post-war communist government. As a result, he had spent eight years in prison on treason charges. He had been freed only a few days earlier by the anti-government forces involved in the uprising.

He decided to flee.

Not far away, at the American legation, Sgt Gerald Bolick, a US Marine guard, was finishing his morning rounds when he looked out of the window and saw four people approaching: two in army uniforms and two in clerical black. "I saw that one was Cardinal Mindszenty," he says.

"I ran up to talk to my detachment commander, and said 'The cardinal's on his way to our legation, what should I do?' He said, "Do your duty.' So I did an about-face, ran back down the stairwell, and opened up the door."

At around the same time, Bolick says, the legation received a coded message from Washington: "'If the cardinal shows up, give him shelter' was the gist."

But for Bolick and the small team of US Marines responsible for protecting the legation, there was a new problem.

"The Soviets had taken over Magyar radio. They broadcast that they were going to come to our legation and take the cardinal away. And that would happen at high noon."

[...]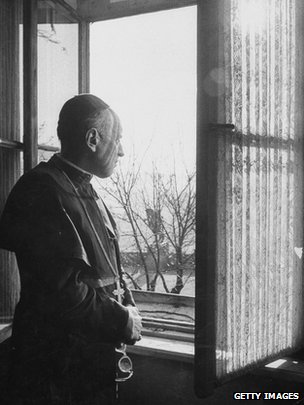 Cardinal Mindszenty worked on his memoirs during 15 years of political asylum in the US embassy



Read the full article at: bbc.co.uk





---
---
The Venerable József Mindszenty (29 March 1892 – 6 May 1975) was a cardinal of the Catholic Church as the Archbishop of Esztergom in Hungary.

He supported Church freedom. He was an opponent of communism and the Stalinist persecution in his country. As a result, he was tortured and given a life sentence in a 1949 show trial that generated worldwide condemnation, including a United Nations resolution.

Freed in the Hungarian Revolution of 1956, he was granted political asylum and lived in the U.S. embassy in Budapest for 15 years.

He was finally allowed to leave the country in 1971. He died in exile in 1975 in Vienna, Austria.
Source