French officials ban access to sacred mountain which believers claim will be refuge from 'Mayan apocalypse'
Fears the end of the Mayan calendar predicts the end of the world this coming December have run rife on the internet in recent years.

Less well known is the rumour that one particular mountain in south-west France will burst open on that day revealing an alien spaceship which will carry nearby humans to safety.

Well, if you were counting on that possibility to save you from the apocalypse, prepare to be disappointed. French officials have banned access to the Pic de Bugarach to avoid a rush of New Age fanatics, sightseers and, above all, journalists.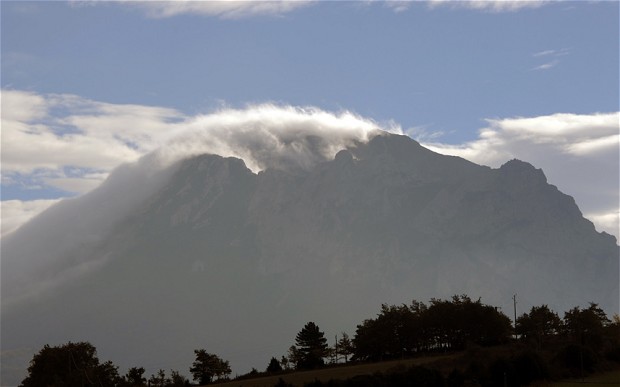 Local press reports say one landowner is offering to rent out his four-bedroom house on the slopes of Bugarach for 1500 euros a night next month.



A hundred police and firefighters will also control approaches to the tiny village of the same name at the foot of the mountain, and if too many people turn up, they will block access there too.

Believers say the world will end on December 21, 2012, the end date of the ancient Mayan calendar, and they see Bugarach as one of a few sacred mountains sheltered from the cataclysm.

Eric Freysselinard, France's top official in the area, told AFP: 'We are expecting a few visionaries, a few people who believe in this end of the world, but in extremely limited numbers.

'We are expecting greater numbers of people who are just curious, but in numbers we cannot determine. Above all, we are expecting lots of journalists.'

Films, documentaries and websites have promoted the idea that the ancient Mayan calendar, which is made up of 394-year periods called baktuns, predicts that doomsday is on December 21.

Experts estimate the system starts counting at 3114 B.C., and will have run through 13 baktuns, or 5,125 years, around December 21.

They say 13 was a significant number for the Maya, and the end of that cycle would be a milestone — but they have been keen to stress that it does not mark an end.

Conspiracy theorists nonetheless believe the Maya may have been privy to impending astronomical disasters that would coincide with 2012, ranging from explosive storms on the surface of the sun that could knock out power grids to a galactic alignment that could trigger a reversal in Earth's magnetic field.

The culture ministry in Guatemala - where half the population are of Mayan descent - is hosting a massive event in the capital just in case the world actually does end, while tour groups are promoting doomsday-themed getaways.

But the country's Maya alliance Oxlaljuj Ajpop accuses the government and tour groups of perpetuating the myth that their calendar foresees the imminent end of the world for monetary gain.

It issued a statement last month saying that the new Maya time cycle simply 'means there will be big changes on the personal, family and community level, so that there is harmony and balance between mankind and nature.'

In September Mexican government archaeologist Alfredo Barrera said that the Maya tried to make predictions, but perhaps about more humdrum events like droughts or disease outbreaks.

'The Mayas did make prophecies, but not in a fatalistic sense, but rather about events that, in their cyclical conception of history, could be repeated in the future,' said Barrera, of the National Institute of Anthropology and History.

Experts have stressed that the ancient Maya, whose 'classic' culture of writing, astronomy and temple complexes flourished from the year 300 to 900, were extremely interested in future events, far beyond Dec. 21.

[...]

Read the full article at: dailymail.co.uk





---
Due to the mountain's unusual geology, a number of New Agers (called "esoterics" by local residents) believe that the mountain contains aliens living in a spacecraft. This group also believes that the upcoming end to the Mesoamerican Long Count calendar will result in some form of apocalypse. They believe that on December 21, 2012, the aliens supposedly living in the mountain will emerge to save them.[4]

As a result, some members of the group have taken to living on or near the mountain, and The Independent reports that up to 100,000 people may be planning a trip prior to the believed apocalypse date.[4] The mayor of the nearest town, Bugarach, said that over 20,000 visitors had arrived between January and July 2011, a significant increase over previous years. He also reported that a number of groups have been taking part in what he called strange rituals.[5] A French parliamentary committee has expressed concerns that the esoterics may be planning a mass suicide or other significant events.[5] French police have recently blocked access to the mountain.
Source: Wikipedia
---
Tune into Red Ice Radio:
Drunvalo Melchizedek - Hour 1 - The Mayan Ouroboros
Carl Johan Calleman - The End of the Mayan Calendar & Transparent Consciousness
Geoff Stray - Beyond 2012: Catastrophe or Ecstasy
John Major Jenkins - Galactic Alignment 2012 & Mayan Cosmology
Ian R. Crane - The New World Order's Quest for Zion in 2012