Gladiator graveyard unearthed in northern England
Archeologists in Britain believe they have found the world's best-preserved gladiator cemetery, they announced Monday.

They unearthed skeletons in York, northern England, that suffered the kind of violent injuries usually sustained in a Roman amphitheatre.

The York Archeological Trust dug up 80 skeletons that date from between the first and fourth centuries AD.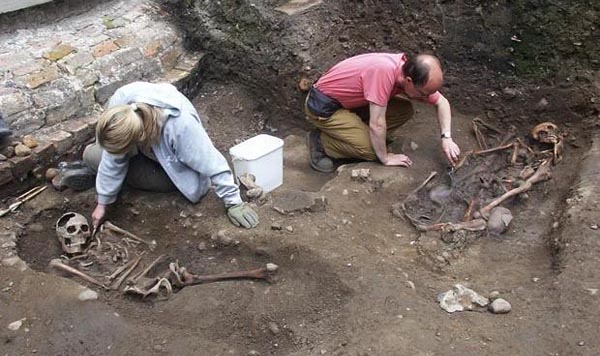 Archaeologists unearth Roman skeletons thought to be gladiators at a site in York in this undated handout photo. Archaeologists believe they may have found the world's best-preserved gladiator cemetery after noticing animal bite marks and combat injuries on some of the 80, mainly headless, Roman skeletons.
Photograph by: Handout, York Archaeological Trust


Forensic tests found that the majority were male, very robust and mostly above average height.

Most of the skeletons were decapitated and appeared to have been buried with some respect.

Gladiators -- famously depicted in Hollywood films by actors Kirk Douglas and Russell Crowe -- were trained fighters who entertained Roman crowds in savage clashes against other warriors and ferocious animals.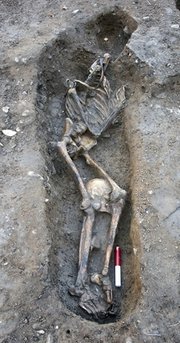 One of the biggest clues that the deceased might have been gladiators came through bite marks found on one of the skeletons.

"One of the most significant items of evidence is a large carnivore bite mark -- probably inflicted by a lion, tiger or bear -- an injury which must have been sustained in an arena context," said Kurt Hunter-Mann, who is leading the investigation.

Many of the skeletons also had one arm that was stronger than the other, consistent with the frequent handling of a weapon.

"At present our lead theory is that many of these skeletons are those of Roman gladiators," Hunter-Mann said. "So far there are a number of pieces of evidence which point toward that interpretation or are consistent with it. But the research is continuing and we must therefore keep an open mind."

Article from: montrealgazette.com