Haiti cholera likely from UN troops, expert says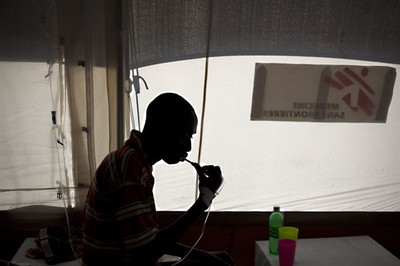 A contingent of UN peacekeepers is the likely source of a cholera outbreak in Haiti that has killed at least 2,000 people, a French scientist said in a report obtained Tuesday by The Associated Press.

Epidemiologist Renaud Piarroux concluded that the cholera originated in a tributary of Haiti's Artibonite river, next to a UN base outside the town of Mirebalais. He was sent by the French government to assist Haitian health officials in determining the source of the outbreak, a French Foreign Ministry official said Tuesday.

"No other hypothesis could be found to explain the outbreak of a cholera epidemic in this village ... not affected by the earthquake earlier this year and located dozens of kilometres from the coast and (tent) camps," he wrote in a report that has not been publicly released.

The report also calls for a further investigation of the outbreak, improved medical surveillance and sanitation procedures for UN peacekeeping troops and better support for Haitian health authorities.

The AP obtained a copy of the report from an official who released it on condition of anonymity. Piarroux confirmed he had authored the report but declined in an email interview to discuss his findings. Copies were sent to UN and Haitian officials, the foreign ministry confirmed.

UN spokesman Martin Nesirky told reporters in New York that there is still no conclusive evidence that its base was the source of the outbreak. He said the organization "remains very receptive to any scientific debate or investigation on this."

The report's revelation comes on a day of high tensions in Haiti, as people anxiously await the results of the disputed Nov. 28 presidential election and potential resulting violence.

Piarroux could not prove there was cholera inside the base or among the soldiers, a point the UN has repeatedly used to deny its soldiers brought the disease to Haiti or that its sanitation procedures were responsible for releasing it into the environment. He writes that military doctors said there were no instances of cholera within the unit.

But he also hinted strongly at a coverup.

"It can not be ruled out that steps have been taken to remove the suspected fecal matter and to erase the traces of an epidemic of cholera among the soldiers," he wrote.

The report also notes that septic tanks and pipes that would have helped to confirm sanitation problems and the presence of the bacteria were no longer at the base when he visited.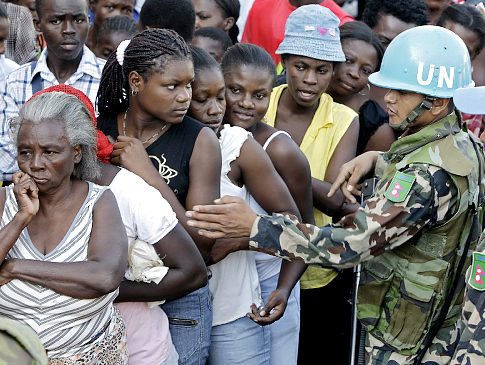 Nepalese troops earlier confirmed they had replaced a leaking pipe, which contained a foul-smelling runoff that the UN denies was human waste, between two visits by an AP reporter in October. The AP also found the local contractor dumped waste into overflowing pools dangerously close to a hillside that drains into the river.

Piarroux's is the first scientific report linking the base to the epidemic, though many other epidemiologists and public health experts have said for weeks that the soldiers are the most likely source of the infection.

Other scientists and experts say it is possible that ocean currents or other climate-related events carried the bacteria to Haiti. Further studies on bacterial samples that could address those questions are ongoing.

The U.S. Centers for Disease Control and Prevention confirmed in October that the strain of cholera bacteria in Haiti matched one from South Asia, a region that includes Nepal, but said it had no further information about the cause of the outbreak at the time.

Many Haitians have long suspected the Nepalese base was the source of the disease, and anger at the troops sparked a week of riots in which UN soldiers were injured and several Haitians were killed.

The report says that the first cases of the disease were from the village of Meille, where the base is located. The first confirmed case, a 20-year-old man from the village, developed symptoms on Oct. 14 and was found by Cuban doctors at a hospital in nearby Mirebalais.

Haitian investigators "indicated that the first patients were obtaining drinking water from a tributary of the Artibonite River flowing just below the (UN) base," he said.

It notes that the rotation of soldiers began arriving days before those first cases from Nepal, where there were cholera outbreaks over the summer.

It goes on to describe how the disease flowed into the Aribonite River before "exploding" in the delta where the river meets the sea. Hundreds of cases were reported within days, before the outbreak spiralled out of control to infect the entire county.

Until this outbreak there had not been a diagnosed case of cholera in Haiti as far back as records go in the mid-20th Century, Claire-Lise Chaignat, head of the global task force on cholera control at the World Health Organization, said in October. There were suspected cases a century before, but experts say it would have likely been a different strain than the ongoing El Tor pandemic.

The disease was totally unknown to today's Haitians, who had developed no immunity against it and had no information on how to fight it until aid workers mobilized after the outbreak. Terror over its fast-killing power has triggered attacks on cholera treatment centres and a witch-hunt in rural Haiti. At least 12 people were killed on accusations they used magic to spread the disease.

For the first critical month of the outbreak, the United Nations, U.S. Centers for Disease Control and Prevention, World Health Organization and others said that an investigation into how the disease arrived in Haiti was not necessary and could in fact be harmful. Those who asked questions about it were accused of playing "the blame game."

Read the full article at: metronews.ca