Higgs Boson hunt over: CERN scientists at Large Hadron Collider find 'God particle' - Or Did They?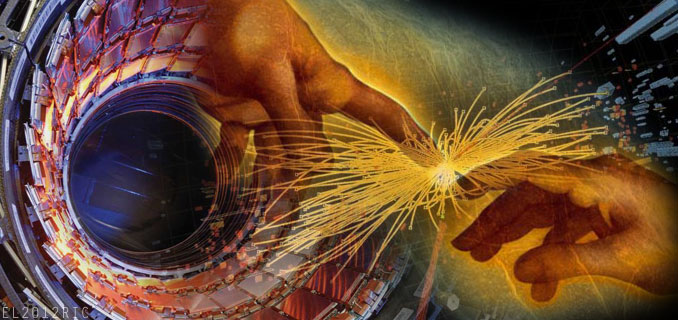 Stereotypes of scientists as stern-faced and emotionless were tossed aside on Wednesday when physicists reacted with joy and tears to CERN's announcement about the Higgs boson.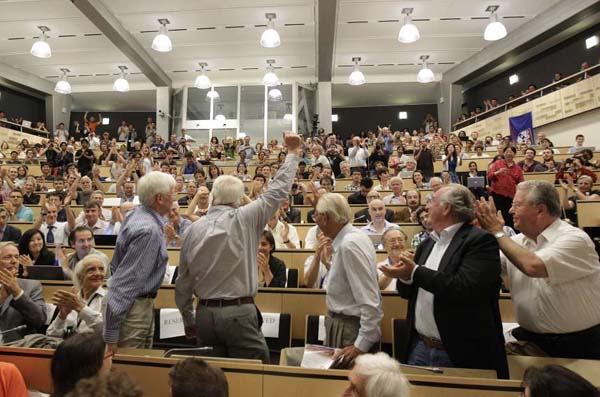 AP Photo/Denis Balibouse, Pool



After a quest spanning nearly half a century, physicists said they had found a new sub-atomic particle consistent with the elusive Higgs which is believed to confer mass.

Rousing cheers and a standing ovation erupted at the European Organisation for Nuclear Research (CERN) after scientists presented astonishing new data in their search for the mysterious particle.

Many hailed it as a moment in history, and white-haired veterans of the quest shed tears of joy.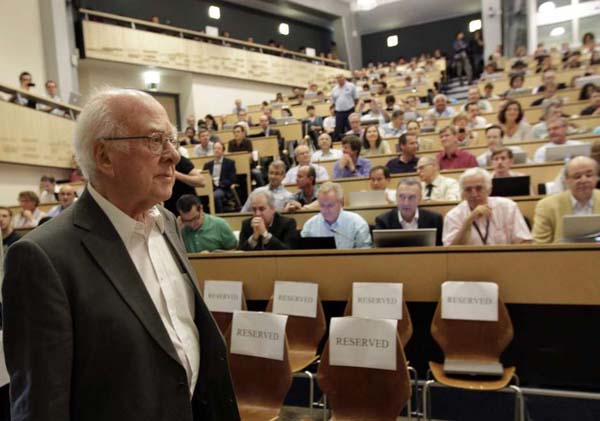 British physicist Peter Higgs arrives for a scientific seminar to deliver the latest update in the search for the Higgs boson at the European Organization for Nuclear Research (CERN) in Meyrin near Geneva, Switzerland. AP Photo/Denis Balibouse, Pool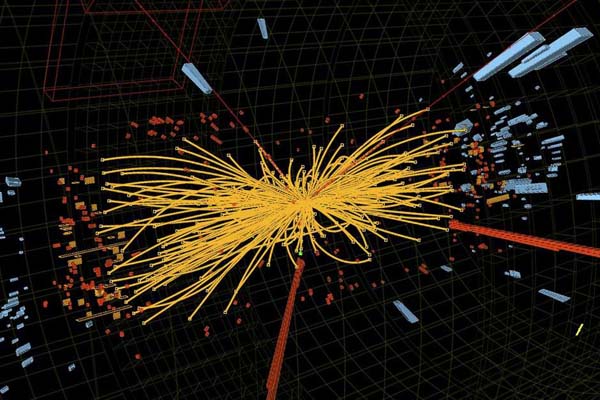 An undated handout graphic shows a representation of traces of traces of a proton-proton collision measured in the Compact Muon Solenoid (CMS) experience in the search for the Higgs boson. AFP PHOTO / CERN



The new find is "consistent with (the) long-sought Higgs boson," CERN declared in a statement.

"We have reached a milestone in our understanding of nature," said CERN Director General Rolf Heuer.

He and others cautioned, though, that further work was needed to identify what exactly had been found.

"As a layman I would say we have it, but as a scientist I have to say, 'what do we have?'" Heuer told a press conference.

"We have discovered a boson, and now we have to determine what kind of boson it is."

[...]

History was then feted with beer and champagne.

Scientists began to pore over what the find could mean.

"(The Higgs) has been anticipated for more than four decades and were it not there theorists all over the world would have been back to their drawing boards in desperation," said Anthony Thomas at the University of Adelaide in Australia.

CERN physicist Yves Sirois agreed.

"This could the Higgs boson that has been found, which may shed light on how matter came into being at the very start of the Universe, a thousandth of a billionth of a second after the Big Bang," he told AFP.

"It may be the Higgs boson, but it may also be something far bigger, which opens the door towards a new theory that goes beyond the Standard Model."

[...]

Read the full article at: nationalpost.com





---


"God particle" almost certainly exists

Video from: YouTube.com


Video from: YouTube.com





---
---

Also tune into Red Ice Radio:

Holger Bech Nielsen - Quantum Theory, String Theory, Time Travel, Higgs Boson & "god"

Holger Bech Nielsen - CERN & the Large Hadron Collider 'Being Sabotaged from the Future'

Nassim Haramein - The Schwarzschild Proton