Hikers flee from bear? Bigfoot?
Hikers take flight when what they thought was a bear resembles Bigfoot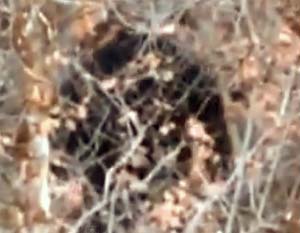 When the black bear you think you're looking at from a safe distance suddenly stands and begins to resemble bigfoot, and that creature stares directly at you, how do you react? The hikers who captured the accompanying footage recently in Utah's Provo Canyon seemed to act appropriately: They bolted through the woods, with the camera still running, to get as far away from the creature as possible. "We ran straight to the car after that, leaving our tent and everything behind. It's probably all still up there," states Beard Card, the YouTube user who posted the video. This is one of the more realistic Bigfoot escapades in some time.



Naturally, skeptics are analyzing the video in the hopes of finding an explanation. Yet even healthy cynics are pretty impressed with what they see.

[...]

Card told Roth how they were standing there for a good chunk of time even before recording what they believed to be a bear at the time, while he was trying to get the camera to work. During their exchange, Card hit on their reaction. Here are a few excerpts.


CARD: "But when it stood up and looked at us--and we assumed it was a bear up to that point--but, when it stood up and looked at us, it was this massive animal. We don't know what it was. I mean, none of us believe in Bigfoot, so. ...We've talked about it over and over again since Monday when it happened and all of us are positive that thing wasn't a bear."

ROTH: "You're not a Bigfoot guy?"

CARD: "Nope...none of us have ever believed in that kind of thing."

ROTH: "So what do you think it was?"

CARD: "I don't know!...We don't know what it was...I don't know if Bigfoot exists or not but that was a huge animal."


Read the full article at: grindtv.com





---
Enhanced, Slowed
Analysis