IMF head Strauss-Kahn pulled from plane, questioned by NY police over sex assault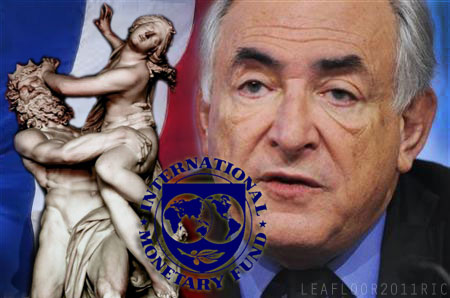 IMF chief Dominique Strauss-Kahn was charged on Sunday with trying to rape a New York hotel maid in a scandal that appeared to wreck his hopes of becoming France's next president.

The sexual assault charges throw the IMF into a leadership crisis just as it is trying to help ease an escalating euro zone debt crisis, and they turn France's presidential election campaign upside down when polls had made Strauss-Kahn a clear front runner.

The charismatic 62-year-old, who led the International Monetary Fund through the 2007-09 global financial meltdown and has been central in galvanizing Europe to tackle its debt woes, for long had the reputation of a womanizer. But the charges he faces are in another realm.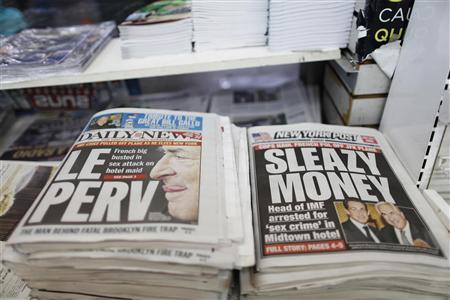 A maid, 32, said he emerged naked from the bathroom and sexually assaulted her inside his $3,000-a-night suite at the Sofitel hotel in New York's Times Square on Saturday afternoon. He was there on private business, the IMF said.


Video from: YouTube.com

Strauss-Kahn was expected to go before a state court later on Sunday. His lawyer said he will plead not guilty.

Police say he fled the hotel after the alleged assault and a few hours later they pulled him out of his first-class seat on an Air France plane 10 minutes before it was to take off for Paris.

He was charged with a criminal sexual act, unlawful imprisonment and attempted rape, moving him from luxurious hotel suite and a glittering public career to scandal and a bare holding cell in New York's tough Harlem neighborhood in the space of a few hours.

The contrast could barely have been more dramatic. At the Sofitel, Strauss-Kahn's suite had a conference room, living room, foyer, spacious marble bathroom and a bedroom with a sumptuous king-sized bed and feather and down duvet.

Police say Strauss-Kahn does not have diplomatic immunity from the charges, which if proven could carry a prison sentence of 15-20 years. They have collected DNA evidence from the hotel suite, The New York Times reported.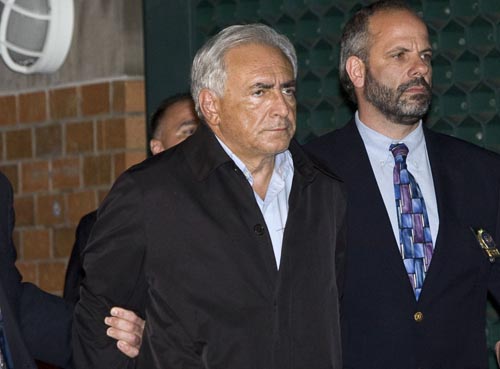 International Monetary Fund (IMF) Managing Director Dominique Strauss-Kahn (2nd R) leaves New York Police Department Special Victims Unit headquarters in Harlem May 15, 2011. Strauss-Kahn was charged on Sunday with trying to rape a New York hotel maid in a scandal that appeared to wreck his hopes of becoming France's next president.Photo: REUTERS / Allison Joyce


Strauss-Kahn has hired New York lawyer Benjamin Brafman, a seasoned defense attorney famed for striking deals or winning not-guilty verdicts for pop stars and a football player.

The IMF chief's wife, well-known French television personality Anne Sinclair, jumped to her husband's defense.

"I do not believe for a single second the accusations leveled against my husband," she said in a statement..

IMF CRISIS, ELECTION 'THUNDERBOLT'

The IMF tried to fill its leadership vacuum by naming its No. 2 official, John Lipsky, as acting managing director. But the charges against Strauss-Kahn are a huge embarrassment for an institution that oversees the global economic system and has authorized hundreds of billions of dollars of lending to troubled countries as well as playing a major role in the euro-zone debt crisis.

The allegations immediately threw France's presidential race wide open.

He had not yet declared his candidacy but Strauss-Kahn was widely expected to run for the Socialist Party and early opinion polls showed him with a big lead over the conservative incumbent, Nicolas Sarkozy, who is seeking a second term at the election next April.

"The news we received from New York last night struck like a thunderbolt," said Socialist leader Martine Aubry, appealing for party unity.

France's government as well as Strauss-Kahn's political allies and rivals called for caution and respect for the presumption of innocence, but his presidential ambitions appeared to be dead in the water unless the case against him quickly unravels and he is shown to be innocent.

"All this is completely astounding, immensely troubling and distressing. If the facts prove true ... it's something degrading for all women. It's terrible for the image of France," said Francois Bayrou, a centrist opponent.

Far-right leader Marine Le Pen said her rival's presidential hopes had been crushed.

Christine Boutin, president of the Christian Democrat Party, suggested Strauss-Kahn may have been set up.

"I think it's very likely a trap was set for Dominique Strauss-Kahn and he fell into it," she told France's BFM television. "It's a political bomb for domestic politics."

French voters are famously tolerant of political leaders' extra-marital affairs but the allegations against Strauss-Kahn are entirely different, and much more serious.

If they are proven, Strauss-Kahn's fall from power in a scandal would be one of the most dramatic of any high-profile international figure in decades.

[...]

Read the full article at: reuters.com