Is the Quest for the Holy Grail Over?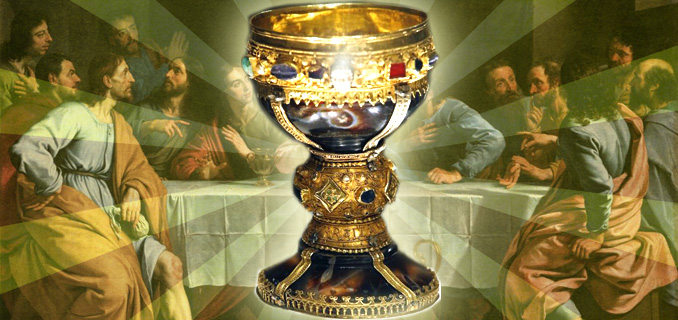 For centuries, the quest for the elusive Holy Grail has consumed Crusaders and archaeologists, inspired Arthurian legends and Hollywood blockbusters and sparked both the pen of Alfred Lord Tennyson and the comedy of Monty Python. Now, a pair of historians claim they have discovered the sacred relic inside a Spanish basilica. Does it mean that history's greatest treasure hunt is over?

In their newly published book "Los Reyes del Grial" ("The Kings of the Grail"), medieval history lecturer Margarita Torres and art historian José Miguel Ortega del Rio claim the Holy Grail rests inside the Basilica of San Isidoro in the northern Spanish city of León. The historians say that a three-year investigation led to their conclusion that the hallowed cup that Jesus Christ supposedly drank from at the Last Supper and that was used to collect his precious blood is a jewel-encrusted goblet that has long been known as the chalice of the Infanta Doña Urraca in honor of the daughter of King Ferdinand I, ruler of León and Castile from 1037 to 1065.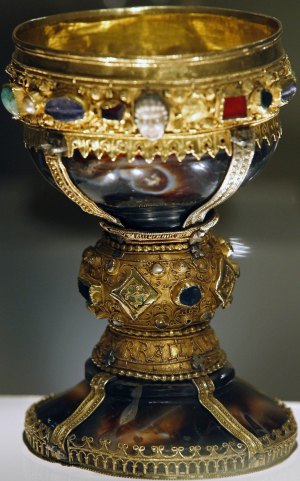 The goblet of the Infanta Dona Urrace in Spain's Basilica of San Isidro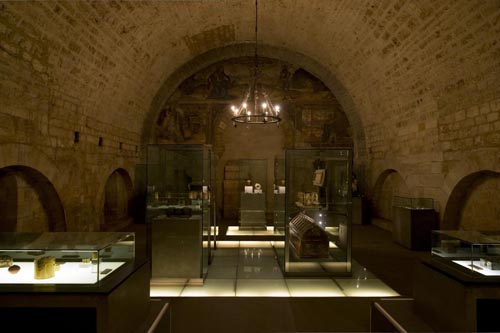 The San Isidro Basilica in the northwestern Spanish city of Leon.


The researchers had been investigating Islamic remains in the Basilica of San Isidoro when they came across medieval Egyptian parchments that mentioned that the holy chalice had been taken from Jerusalem to Cairo and then given to an emir who ruled an Islamic kingdom on Spain's Mediterranean coast in return for the help he gave to famine-stricken Egypt. The emir then gifted the chalice as a peace offering to the Christian King Ferdinand. The goblet has been in the basilica's possession since the 11th century and in plain sight in the church's basement museum since the 1950s.

The chalice, made of gold and onyx and sprinkled with precious stones, is actually two goblets fused together, one turned up, the other down. Torres and del Rio say the upper half is made of agate and missing a fragment, exactly as described in the Egyptian parchments. The co-authors report that scientific dating has placed the origin of the cup between 200 B.C. and 100 A.D. As the Irish Times reports, the co-authors concede they cannot definitively prove that the chalice actually touched Jesus's lips, only that it is the vessel that early Christians revered as the one used at the Last Supper. "The only chalice that could be considered the chalice of Christ is that which made the journey to Cairo and then from Cairo to León—and that is this chalice," Torres told the newspaper. Since the book's publication last week, the basilica has been inundated with visitors, forcing curators to remove the relic from display until they can find a larger exhibition space to accommodate the crowds.

This, of course, is not the first time that the Holy Grail has been "found." For while the Holy Grail has proven elusive, it is also strangely ubiquitous. From Latvia to Scotland, more than 200 goblets in Europe alone have been posited as being the holy relic. Some claim the cup rests in the sewers of Jerusalem while others believe that the medieval Knights Templar took the goblet from Jerusalem during the Crusades and eventually secreted it away in New World locations ranging from Minnesota to Maryland to Nova Scotia. Some theorize it is even hidden inside Fort Knox.

[...]

Read the full article at: history.com




---



Graham Hancock presents the updated lecture on the enigmatic "Search for the Lost Ark of the Covenant, Holy Grail & Solomon's Temple" at the Earth Keeper Wesak 2013:








---
Tune into Red Ice Radio:
Randall Carlson - Hour 1 - Cosmic Origins of the Holy Grail & Cycles of Catastrophe
Laurence Gardner - The Royal Bloodlines, The Annunaki & Mono-Atomic Gold
Hugh Montgomery - The God-Kings: Babylon, Ulvungar, Oden & Jesus
Jordan Maxwell - New Man and New Age, Wisdom, Occult Philosophy, Mystery & Symbols
Philip Gardiner - Secret Societies, the Knights Templar, Symbolism & Myth
William Henry - The Apotheosis is at Hand, NWO, COP15, Norway Blue Spiral & Star Gates
Kenneth Humphreys - Jesus Never Existed, Judaism & Christianity
Dennis Price - The Missing Years of Jesus & The Dark Side of Stonehenge
Joseph Atwill - Caesar's Messiah, The Roman Conspiracy to Invent Jesus
Acharya S - The Christ Conspiracy