ISIS Beheads Russian Spy? In New Video, Islamic State Fighter Vows Attacks Against Russia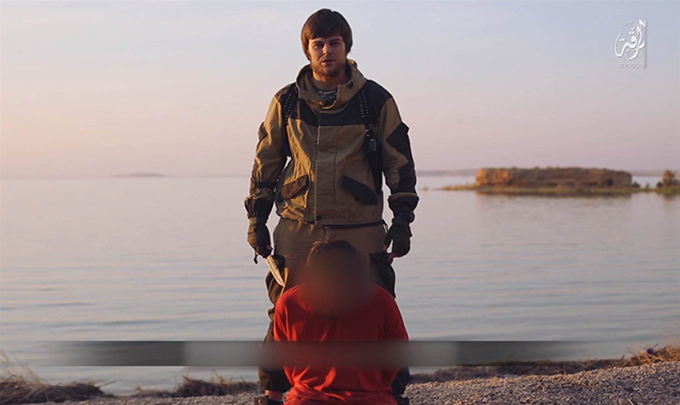 ISIS media office in Raqqa, Syria, released a new video titled "You Shall be Disappointed and Humiliated O Russians," showing the interrogation and beheading of an alleged Russian spy in Syria.



The Islamic State group has released a video showing a militant beheading an alleged Russian spy, NBC News reported Wednesday. The video shows an ISIS fighter brandishing a knife as an unidentified captive is seen kneeling in front of him.

The video comes as Russia has continued a bombing campaign in Syria. While much of the campaign has been aimed at bolstering the Syrian dictator Bashar Assad by weakening rebels, including those supported by the West, Russia has also stepped up its targeting of ISIS in recent weeks.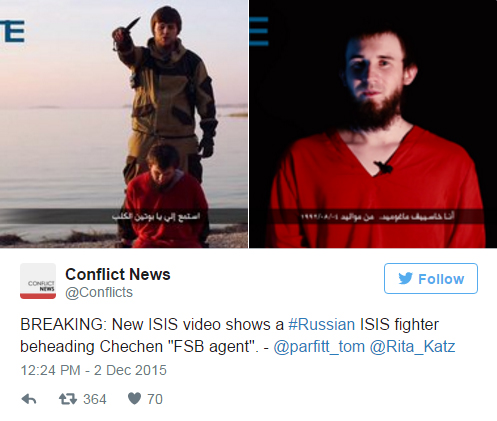 The video, titled, "You Shall be Disappointed and Humiliated O Russians," shows a Russian-speaking captor threatening Russia before slitting the prisoner's throat. The video is eight minutes long and has been circulated by pro-ISIS social media users, Agence France Presse reported.

The detainee confesses to being recruited by Russian intelligence to gather information on the Syria and Iraq based militant, and to hand off information about its members who joined from the Caucus region.

In the past, ISIS and its affiliates have released videos showing their fighters beheading journalists, aid workers and members of minority groups. Mohammed Emwazi, also known as "Jihadi John," who frequently beheaded captors and issued threats on video, was believed to have been killed in a U.S. airstrike last month in the de-facto ISIS capital of Raqqa. Unlike the militant featured in Wednesday's video, Emwazi did not show his face.

Since Russia began its airstrike campaign in September, ISIS has threatened to stage attacks against Russia. An ISIS affiliate in Egypt's Sinai region claimed responsibility for the downing of a Russian airliner in late October, which resulted in the deaths of all 224 people on board. ISIS later released a video showing its fighters handing out bowls of candy in a stronghold in Iraq, celebrating the terrorist attack.

ISIS continues to maintain control over large swaths of Iraq and Syria. The militant group has seen some setbacks in recent years, including the loss of territory, due to an anti-ISIS bombing campaign.

Source: ibtimes.com