Israeli Embassy Trolls White House, Exclusively Gifts Settlement Goods
All of this year's presents were made in the occupied West Bank and Golan Heights..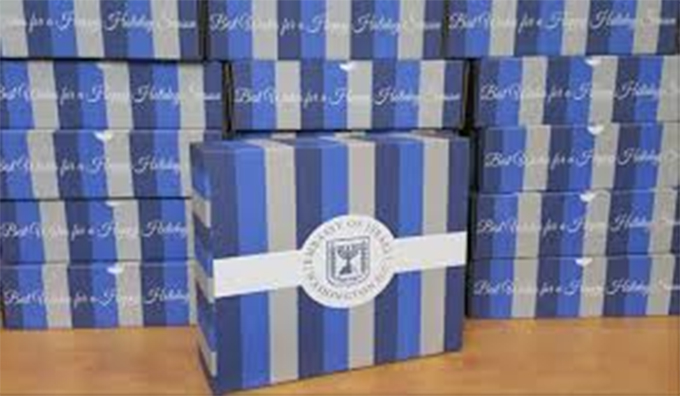 This year's holiday gifts from the Israeli embassy come with a politically charged message: the occupied Palestinian territories are part of Israel.

Israel's ambassador to the U.S., Ron Dermer, tweeted on Monday that all of the presents he is sending this holiday season will be products produced in the occupied West Bank and Golan Heights. The gifts will include wine, olive oil, body cream, and halva, the Israeli embassy told The Huffington Post.

In a letter to gift recipients, Dermer described his decision as an effort to "combat the latest effort by Israel's enemies to destroy the one and only Jewish state," specifically referencing the recent European Union decision to label goods originating in the occupied Palestinian territories to differentiate them from products made within Israel's 1967 borders.

Dermer accused the EU of supporting the broader Boycott, Divestment, and Sanctions movement, which targets all of Israel, not just the occupied territories. The BDS movement, wrote Dermer, is led by "fanatics who actively seek to eliminate Israel" and promote "a new anti-Semitism."

"Unfortunately, they are occasionally joined by fools who naively believe that in promoting BDS, they are advancing peace between Israelis and Palestinians," Dermer added, referring to the EU.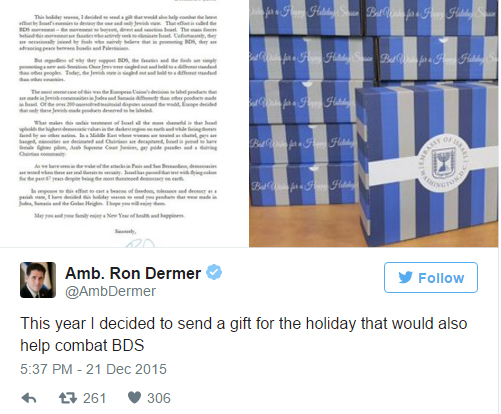 The EU rejects the suggestion that anti-Semitism or a desire to harm Israel motivated its decision to label goods produced in Israeli settlements. The politico-economic union already required member states to label the origin of some food products. "'Made in Israel' used for the products coming from Israeli settlements would mislead the consumer and therefore is inconsistent with existing EU legislation," a European Union factsheet explained at the time of the decision in November.

Israeli officials challenged the EU's logic, pointing to other land disputes in which it has not applied labeling guidelines on disputed territories. "Of the over 200 unresolved territorial disputes around the world, Europe decided that only these Jewish-made products deserved to be labeled," Dermer wrote in his holiday letter.

Dermer's aggressive defense of settlement products is a direct rebuke to the White House, which earlier this year, rejected an amendment to a trade bill from Congress, which instructed the administration to pressure the EU against differentiating between Israel and "Israeli-controlled territories" during ongoing free trade negotiations.

The Obama administration opposes the broader BDS movement against Israel, but it argued in June that "conflating Israel and 'Israel-controlled territories'" ran counter to longstanding, bipartisan opposition to Israeli settlement activity. President Barack Obama signed the trade bill into law, but indicated it would not enforce the amendment related to Israeli settlement goods.

A White House spokesman declined to comment on whether they'd received a holiday present from the Israeli embassy.

Source: huffingtonpost.com