Lee Circle no more: New Orleans to remove 4 Confederate statues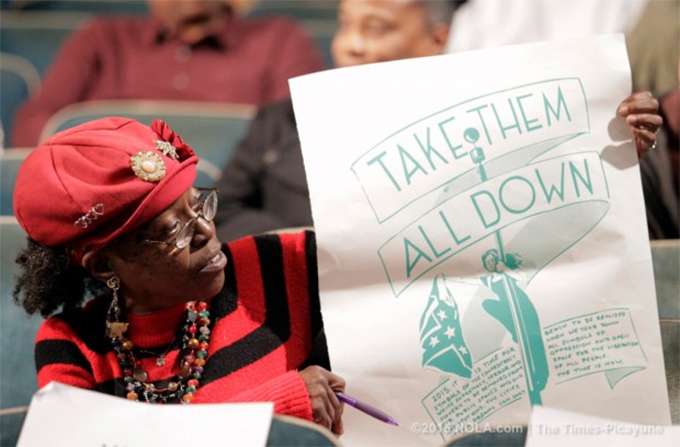 Lee Circle will lose the statue of its namesake after the New Orleans City Council voted 6-1 Thursday (Dec. 17) to remove four monuments related to the Confederacy from their prominent perches around the city.

Besides Gen. Robert E. Lee, statues of Gen. P.G.T. Beauregard at the entrance of City Park and Confederate president Jefferson Davis in Mid-City and the obelisk dedicated to the Battle of Liberty Place at the foot of Iberville Street will all come down.

"The time surely comes when (justice) must and will be heard," Mayor Mitch Landrieu told the council as he called for the statues to be put in a museum or a Civil War park. "Members of the council, that day is today. The Confederacy, you see, was on the wrong side of history and humanity."

The decision did not come lightly after months of public shouting matches, penned op-eds and rhetorical firefights on social media enveloped Landrieu's request in June that the statues be displayed in a museum, mothballed or discarded as vestiges of New Orleans' racist past.

"We, the people of New Orleans, have the power and we have the right to correct these historical wrongs," Landrieu said Thursday.

"I am happy and impressed that we have a white mayor who understands a little bit what it means to be an African American and he's on our side on this," said Councilman James Gray, who is black. He called the statues homages to "murderers and rapists."

Councilwoman Stacy Head voted against the removal, saying she thought it would do nothing to break down the social and economic barriers New Orleanians struggle with.

"I asked for a compromise multiple times," she said. "But that compromise was not given any chance."

She put it forth again Thursday, proposing an amendment to keep the Lee and Beauregard statues while adding explanatory plaques to them. But the motion failed to get a second.

In her remarks before the vote, Head asked Landrieu to explain his plans for other monuments, including Gen. Andrew Jackson in the French Quarter, should these four come down.

"Every time there is direct non-violent action, the first accusation is why are you being divisive," Landrieu said, somewhat testily, to Head.

"I didn't create this division nor did i create this tension," he said. "You may be knowledgeable of the fact that slavery did and the Civil War created the tension ..."

Head tried to interrupt him: "I asked a very clear question."

"I speak English, council member," he answered. "You started this, so we're going to finish this."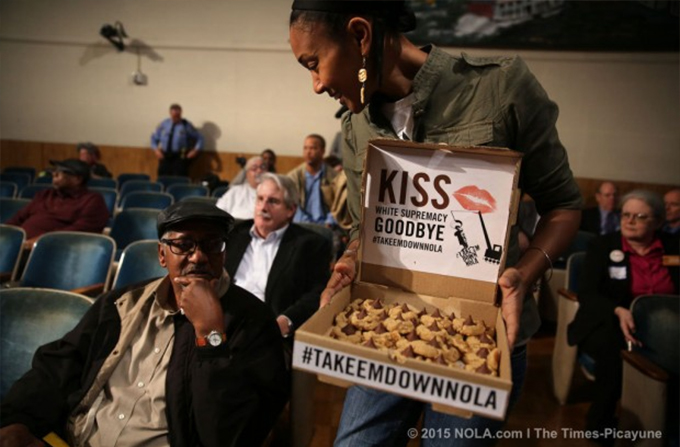 Landrieu said he would like to see a commission put together to create a park that commemorates New Orleans' history. He said he decided to choose those four because he felt at this time they had the greatest significance.

"I think it is important to know how we move forward because there is a lot of fear out there," Head said.

"There is no need to be afraid of anything. I have no question in my mind that the people of New Orleans are up to the task of appropriately commemorating who we are as a people and where we come from." Landrieu said, calling the monuments a "perversion of history."

Councilwoman Susan Guidry said the statues would be stored until a place could be found to display them in proper context.

And Lee Circle may soon be called something else. The ordinance the council approved called it by its original name: Tivoli Circle.

Landrieu invoked a city law that permits the removal of any statue deemed a "public nuisance" to make his case. The council, with its vote, agreed.

Despite her vote to remove the monuments, Councilwoman LaToya Cantrell said she was offended that the proposal came from the mayor's office rather than including the council from the beginning.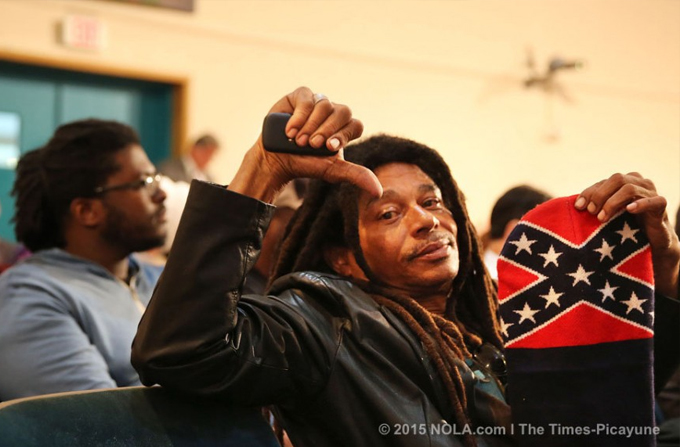 She also asked to know who would pay for the monuments' removal.

"I have to be honest with you, when this process stated, when it began with a man ... when it began with a man of privilege coming out saying, apologizing for slavery and seconds later making it public that he was going to come to this body for the removal of four monuments selected by him, I felt disrespected by that," she said.

The four statues were erected between 1884 and 1915, after Reconstruction and during the era of Jim Crow. While three depict figures deeply influential within the Confederacy, the fourth, the Battle of Liberty Place, honors an 1874 insurrection of mostly Confederate veterans who battled against the city's police and state militia.

Guidry summed up the tug-of-war that has spanned the last few months and the criticism that now was not the right time to be debating monuments.

"We can argue that the timing was not good, but when would it ever be?"

Source: nola.com