Listen to the Music of the Spheres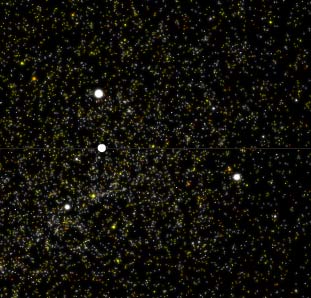 Pythagoras, the Greek mathematician and philosopher, is credited with saying, "There is geometry in the humming of the strings. There is music in the spacing of the spheres." This idea of the "Music of the Spheres" has endured over the centuries, ultimately informing how Kepler visualized the movements of the planets, which led him to formulate his laws of planetary motion. The notion that the stars, planets and galaxies resonate with a mystical symphony is a rather appealing one.

If you've ever been curious about how this music would sound, I'd invite you to watch and listen to The Wheel of Stars. Jim Bumgardner, a software engineer specializing in visualizations who consults out of his home in Los Angeles, created this visualizer that utilizes data from the Hipparcos mission. The program puts the stars in the sky to an ethereal music of their own making.

As he describes on the site:


To make this, I downloaded public data from Hipparcos, a satellite launched by the European Space Agency in 1989 that accurately measured over a hundred thousand stars. The data I downloaded contains position, parallax, magnitude, and color information, among other things.

I used this information to plot the brightest stars, and cause them to revolve about Polaris (the North Star) very slowly, as the stars appear to do. Like the night sky, this is a sidereal time clock — it takes nearly 24 hours for the stars to fully rotate. You'll notice some familiar constellations, such as the Big Dipper in there. As the stars cross zero and 180 degrees, indicated by the center line, the clock plays an individual note, or chime for each star. The pitch of the chime is based on the star's BV measurement (which roughly corresponds to color or temperature). The volume is based on the star's magnitude, or apparent brightness, and the stereo panning is based on the position on the screen (use headphones to hear it better).



[...]

Read the full article at: universetoday.com





---
Tune into Red Ice Radio:
Alex Putney - Messages of Resonance Change in 2012, Betelgeuse & Modern Alchemy
Alex Putney - Human Resonance, Sacred Sites, Pyramids & Standing Waves
Susan Joy Rennison - A New Cosmic Age, Space Weather & Cosmic Radiation
Nassim Haramein - The Resonance Project
Carol de la Herran - Robert Monroe & Altered States of Consciousness