Malcolm X Biographer Dies on Eve of a Revealing Work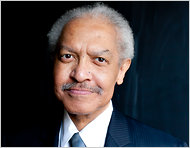 For two decades, the Columbia University professor Manning Marable focused on the task he considered his life's work: redefining the legacy of Malcolm X. Last fall he completed "Malcolm X: A Life of Reinvention," a 594-page biography described by the few scholars who have seen it as full of new and startling information and insights.

The book is scheduled to be published on Monday, and Mr. Marable had been looking forward to leading a vigorous public discussion of his ideas. But on Friday Mr. Marable, 60, died in a hospital in New York as a result of medical problems he thought he had overcome. Officials at Viking, which is publishing the book, said he was able to look at it before he died. But as his health wavered, they were scrambling to delay interviews, including an appearance on the "Today" show in which his findings would have finally been aired.

The book challenges both popular and scholarly portrayals of Malcolm X, the black nationalist leader, describing a man often subject to doubts about theology, politics and other matters, quite different from the figure of unswerving moral certitude that became an enduring symbol of African-American pride.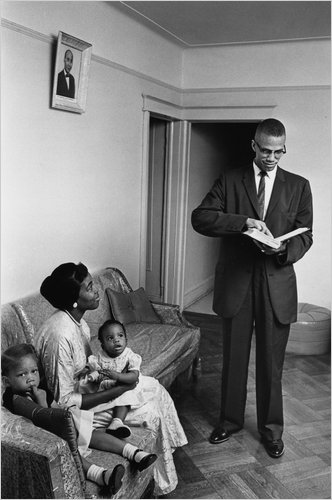 Malcolm X, the black nationalist, with his wife, Betty Shabazz,
and their daughters Attallah, left, and Qubilah around 1962.
Richard Saunders/Schomburg Center for Research in Black Culture /
2011 The New York Times Company


It is particularly critical of the celebrated "Autobiography of Malcolm X," now a staple of college reading lists, which was written with Alex Haley and which Mr. Marable described as "fictive." Drawing on diaries, private correspondence and surveillance records to a much greater extent than previous biographies, his book also suggests that the New York City Police Department and the F.B.I. had advance knowledge of Malcolm X's assassination but allowed it to happen and then deliberately bungled the investigation.

"This book gives us a richer, more profound, more complicated and more fully fleshed out Malcolm than we have ever had before," Michael Eric Dyson, the author of "Making Malcolm: The Myth and Meaning of Malcolm X" and a professor of sociology at Georgetown University, said on Thursday. "He's done as thorough and exhaustive a job as has ever been done in piecing together the life and evolution of Malcolm X, rescuing him from both the hagiography of uncritical advocates and the demonization of undeterred critics."

Over the course of a 35- year academic career, Mr. Marable wrote and edited numerous books about African-American politics and history, and remained one of the nation's leading Marxist historians. But the biography is likely to be regarded as his magnum opus. He obtained about 6,000 pages of F.B.I. files on Malcolm X through the Freedom of Information Act, as well as records from the Central Intelligence Agency, State Department and New York district attorney's office. He also interviewed members of Malcolm X's inner circle and security team, as well as others who were present when Malcolm X was shot to death.

Poor health had slowed his progress, but Mr. Marable remained optimistic. "For a quarter-century I have had sarcoidosis, an illness that gradually destroyed my pulmonary functions," he wrote in the volume's acknowledgments. "In the last year in researching this book, I could not travel and I carried oxygen tanks in order to breathe. In July 2010, I received a double lung transplant, and following two months' hospitalization, managed a full recovery." (An interview with The New York Times was planned, but did not take place.)

The book's account of the assassination of Malcolm X, then 39, on Feb. 21, 1965, is likely to be its most incendiary claim. Mr. Marable contends that although Malcolm X embraced mainstream Islam at least two years before his death, law-enforcement authorities continued to see him as a dangerous rabble-rouser.

"They had the mentality of wanting an assassination," Gerry Fulcher, a former New York City police detective who participated in the surveillance of Malcolm X, told Mr. Marable for the book.

That is why "law-enforcement agencies acted with reticence when it came to intervening with Malcolm's fate," the book asserts. "Rather than investigate the threats on his life, they stood back."

[...]

Read the full article at: nytimes.com


---


Manning Marable: The War on Terror

Video from: YouTube.com