Man Says He Saw Malaysia Air Flight 370 In Flames, Others Suggest it Landed
Is this what could have happened to the missing Malaysian Airlines flight MH370, or is this more speculation, or even a case of misidentification?

An oil rig worker stationed off the coast of Vietnam has claimed in an email dated March12, that he witnessed what he thought was an airplane, in flames on the horizon, plummeting towards the ocean. His message provides coordinates to the location, but it does conflict with new information that the plane turned early on and headed in the opposite direction of its scheduled flight path.

An image of the letter has been circulating on the internet after being shared by ABC's Bob Woodruff (from NYMag.com) :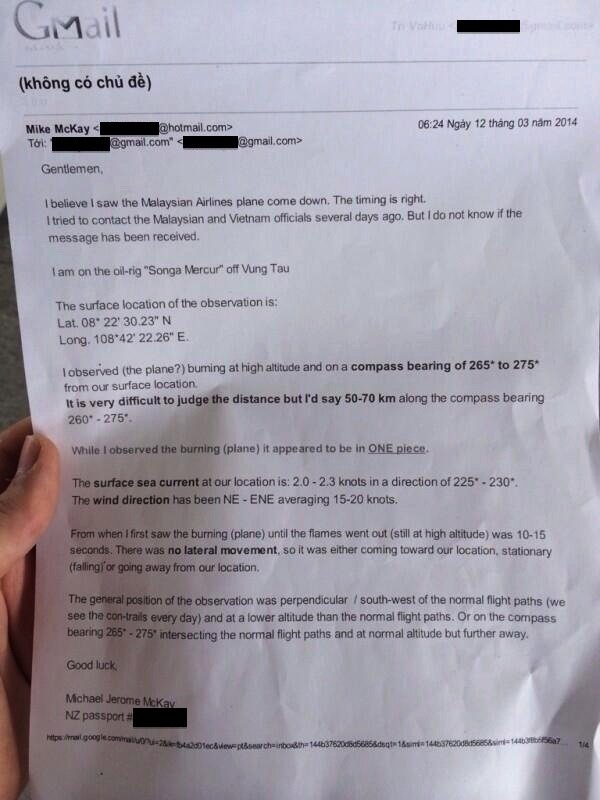 In contrast, and deepening the mystery, reports now suggest that the Flight MH370 may have been 'sabotaged'.

Officials have stated that military radar plotting strongly suggests that the flight was diverted hundreds of kilometres off course purposefully, and that a hijacking of some sort remains a possibility.

CBC reports:


In a far more detailed description of military radar plotting than has been publicly revealed, two sources told Reuters an unidentified aircraft that investigators suspect was missing Flight MH370 appeared to be following a commonly used navigational route when it was last spotted early on Saturday, northwest of Malaysia.

That course — headed into the Andaman Sea and toward the Bay of Bengal in the Indian Ocean — could only have been set deliberately, either by flying the Boeing 777-200ER jet manually or by programming the auto-pilot.

[...]A third investigative source said inquiries were focusing more on the theory that someone who knew how to fly a plane deliberately diverted the flight hundreds of miles off its scheduled course from Kuala Lumpur to Beijing.

[...]The latest radar evidence is consistent with the expansion of the search for the aircraft to the west of Malaysia, possibly as far as the Indian Ocean.

There has been no trace of the plane nor any sign of wreckage as the navies and military aircraft of more than a dozen countries scour the seas across Southeast Asia.

Read more at: cbc.ca

Further theories of the plane's fate abound, including speculation that the flight might have landed on a remote island in the Indian ocean. CNN.com wrote on Friday: "The theory builds on earlier revelations by U.S. officials that an automated reporting system on the airliner was pinging satellites for hours after its last reported contact with air traffic controllers. U.S. investigators concluded that the pings didn't come from other planes, leading some investigators to think the plane flew on for hours before truly disappearing."

Devastated family members grow weary with worry and frustration as the search stretches out beyond a week without answers.

By Red Ice Creations