Matthew and Michael Clark Are Aging Backwards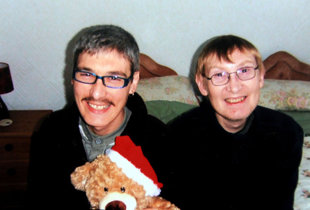 By the looks of their home, Tony and Christine Clark are raising two rambunctious 7-year-old boys. Model train tracks and Monopoly pieces are scattered on tables and cartoons flicker on the TV set.

But the Clarks' two sons are grown men who share only the same interests and emotional fluctuations of little boys. Like the character portrayed by Brad Pitt in the 2008 film "The Curious Case of Benjamin Buttons," Matthew, 39, and Michael, 42, are aging backwards.

Diagnosed with a terminal form of leukodystrophy, one of a group of extremely rare genetic disorders that attack the Myelin, or white matter, in the nervous system, spinal cord, and brain. In the Clarks' case, the condition has not only eroded their physical capacities, but their emotional and mental states as well.
Only six years ago, both brothers were holding down jobs and growing their families. Today, they spend their days in the care of their parents, both in their sixties, playing with Mr. Potato Head, fighting over Monopoly, and in rare lucid moments, struggling to understand why their lives have changed so dramatically.

Before the Clark Brothers were diagnosed, they were living independent lives. Michael served in the Royal Air Force and later became a cabinet maker. Matthew worked in a factory and was raising a teenage daughter. Tony and Christine, meanwhile, had retired and moved from the UK to Spain. Then in 2007, both of their sons fell off the radar. They stopped returning their parents' calls and texts, and as the Clark brothers' conditions developed, their lives fell apart.

Michael surfaced in a soup kitchen, and was referred to medical experts by social workers. After an MRI scan, he was diagnosed with the incurable degenerative disorder. Soon after Matthew received the same news. In the U.S. alone, about 1 in 40,000 children are born with a form of the neurodegenerative disease, according to Dr. William Kintner, President of the United Leukodystrophy Foundation. While some forms of the disorder are potentially treatable if discovered in the earliest stages and not all cause an emotional regression, the brothers are unlikely to be cured. "It's very difficult to do anything once progression has occurred," Dr. Kintner tells Yahoo! Shine.

[...]

Read the full article at: yahoo.com

A preview for the British documentary on the Clark Brothers airing on the UK's Channel 4.