Mattress Toxicity: Killing You Softly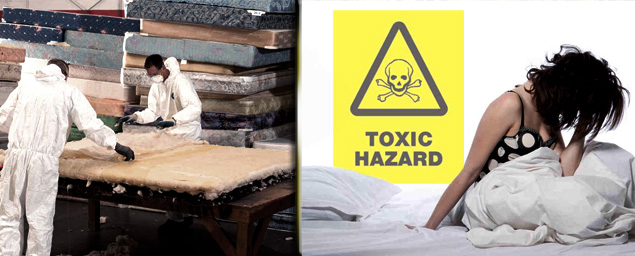 Humanity needs sleep and we quickly realize how much we need it after a night of no sleep. Sleep is vital for health, mood, memory, better thinking, stronger immunity, weight, sex and stress.

Dreams are also important to allow our subconscious to express. Science is now uncovering that dreams play a central role in our emotional health, psychological health, our memory, our learning and as a way to help us to find solutions to our problems. If we are seriously sleep deprived, we actually start to dream while awake.

Sleep also may help the human brain get better organized by filing away important memories and discarding unwanted information.

Scientists at the University of Rochester have found one of the reasons our brain needs sleep to survive. Turns out, when we sleep, our brain takes that time to clean out the build-up of brain junk we accumulate during our waking hours. When cells do their daily cell-type work, they produce waste product. The brain has its own garbage men, carried on the waves of cerebrospinal fluid, who surf the leftovers straight down to your liver for elimination. As it turns out, the brain's garbage men move twice as fast when you're sleeping, because your neurons shrink by half, making the fluid channels wider.

You spend 1/3 of your life on a mattress. You are drooling, sweating, having sex, lounging around and holding children on a mattress. You are making direct contact with a mattress and if you didn't know this already, the vast majority of today's mattresses are made from highly toxic volatile chemicals compounds that are linked to serious health problems. You breathe in these chemicals while you sleep and you absorb them when you sweat through a process of osmosis.

Sleeping disorders in the U.S. are growing at an alarming rate, and have been labeled as epidemic. Is the problem literally staring them in the face at night?

Most people aren't sleeping well and research shows that 95% will go undiagnosed, and 70 million people in the U.S. report that they suffer from sleep-related pain (Time Magazine). And recent studies have linked poor sleep with the growth of many disease states, specifically: diabetes, obesity, stroke, heart disease, allergies, and fibromyalgia.

Since the mid- to late '60s, most mattresses have been made of polyurethane foam, a petroleum-based material that emits volatile organic compounds. Most mattresses sold today contain some polyurethane foam and many contain specialty foams such as latex or memory foam, which consistently break down and release chemicals. The most common toxic materials used in making a mattress include petrochemicals, polyurethane, polyvinyl chloride (PVC), formaldehyde, antimony trioxide, phthalates, and boric acid. These chemicals are used for the foam fillers, material adhesives, and for water-resistance. Most are used to make the mattress flame retardant, per federal law, causing mattress toxicity to increase. All these chemicals individually give off their own noxious fumes, commonly referred to as off-gassing.

Sleepers may report smelling the fumes when the mattress is first bought, which eventually ceases; however, although the off-gas smell no longer is detectable, toxins are still continuously being released and inhaled by the sleeper. Studies show that when a person is sleeping on a mattress with such chemicals, the toxins can seep into the body through the skin. This is supported through scientific research that has shown PCDE's to be found in women's breast milk in the U.S., a fact that has led many to fear that children are more likely to suffer greater than adults from mattress toxicity.

In 2005, Walter Bader, author of the book Toxic Bedrooms, sent several mattresses to an Atlanta-based lab. A memory-foam model was found to emit 61 chemicals, including the carcinogens benzene and naphthalene. But hey, it's ok because its government approved? Right.

But there is another troublemaker in your mattress that you should be aware of and that is pesticide residue lurking in the cotton components of your mattress. Non-organic cotton is grown with pesticides, which are neurotoxins and endocrine disruptors that can cancer and nervous-system disorders. There are 107 active ingredients in pesticides still used in the U.S. that are carcinogenic, and 14 are known to cause reproductive problems in animals, according to the U.S. Environmental Protection Agency. Not "in the mood?" Your mattress may be contributing.

Also, most mattress covers are made with synthetic fabrics that pose more health risks. Man made synthetic fabrics are made of toxic petrochemicals and then sprayed with flame retardants and other dangerous chemical finishes. Using synthetic, non-organic bedding, pillows and blankets also contribute to toxicity.

Researchers are questioning the origin of the increased incidences in pediatric respiratory issues, such as asthma, learning disabilities (specifically Attention Deficit Hyperactivity Disorder), and lower IQ levels. Some have speculated there is a strong correlation between these issues and the materials used in children's mattress and bedding items. Infants, children and pregnant women require more sleep per day in order to develop and function properly, resulting in an increased amount of exposure time.

Another study, utilizing mice, was conducted to measure the effect of breathing the emission (off-gassing) of four types of mattresses on the respiratory system. This study revealed that all mattresses containing synthetic materials caused upper airways irritation in up to 57% of the breaths measured, and saw decreased air flow by 17-23%.

Taking this information into account, it is then no surprise for many who wake up feeling, sick, tired and stuffy. Chemicals in your mattress and bedding are the culprit and they are also interfering with your much needed rest.

Compound mattress toxicity, with environmental toxins, household toxins, toiletry toxins, synthetic fabric toxins and pesticide ridden foods, it is no wonder people are getting cancer at alarming rates! We are drowning in a toxic soup and a "safe amount" every day soon becomes a heavy burden taking its toll.

But organic mattresses and organic mattress pads do exist! They are made with organic cotton, organic wool, organic latex (comes from rubber trees), with no chemicals of any kind. There are companies that sell mattresses that are completely natural and toxin-free, not just a little bit organic. The best companies will provide you with transparency from harvest to factory to showroom.

A sleep study conducted by Peter R. Dickson (1984) examined sleep quality of participants when sleeping on natural wool (participants slept on a wool pad that was placed under their sheet). He found that participants moved (tossed and turned) significantly less in the night. Additionally, participants in the study reported that they had slept better and that they felt better the next day when sleeping on the wool. Wool is hypothesized to increase sleep quality and reduce tossing and turning because 1) it reduces pressure points; and 2) it regulates body temperature.

Wool has an abundance of air spaces between the fibers that cushion the body and alleviate pressure points. This helps to support the spine and eventually distribute pressure to allow for a night free of tension and full of REM sleep. You will feel the difference.

Wools natural ability to wick away moisture and regulate temperature results in calmer heart rates due to lower humidity next to the skin. This provides for an optimal skin temperature that allows for a great nights' rest.

Wool is the only fiber that is naturally flame resistant. Its main component, a protein called keratin, coupled with the moisture collected in its fibers, make it difficult to ignite.

The benefits of an organic, natural fiber mattress include: chemical free, hypoallergenic, provides ventilation, sustainable, biodegradable, durable, safe for children and adults, alleviates pressure, itch free, non toxic, absolute comfort, long lasting and coil free. Coils act as cancer-causing radiation antenna.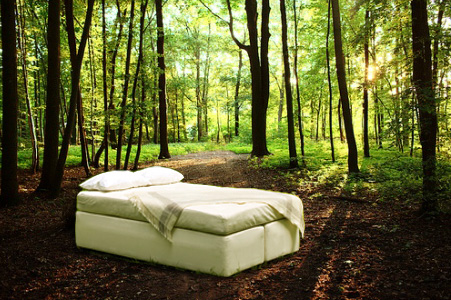 Don't trust your government to protect your health. Take control of your own health. Research. Buy wisely.

By Lana Lokteff, Red Ice Creations

More Health Articles

Recommended:

http://sleepingorganic.com/organic-mattress
http://www.surroundewe.com/
http://www.cozypure.com/

Sources:

Healthy Homosapiens Magazine
Cot Death—Cause and Prevention Experiences in New Zealand
1995–2004 T. JAMES SPROTT

Respiratory Toxicity of Mattress Emissions in Mice SOURCE:
Archives of Environmental Health, 55(1):38-43, 2000

Study: Toxic Chemicals Found in Pregnant U.S. Women
Published January 14, 2011 http://www.foxnews.com/health/2011/01/14/study-toxic-chemicals-pregnant-women/#ixzz27J9JJlMK

Hidden Hazards In The Nursery A report by Washington Toxics Coalition
and Safer States Organization http://watoxics.org/publications/hidden-hazards-in-the-nursery/?searchterm=toxic%20flame%20retardants

Numerous studies on toxicity and the home: www.watoxics.org

Reports of health problems linked to chemicals used in mattresses: http://www.chem-tox.com/guest/guestbook.html

National Sleep Foundation