Migrant crisis: Sweden border checks come into force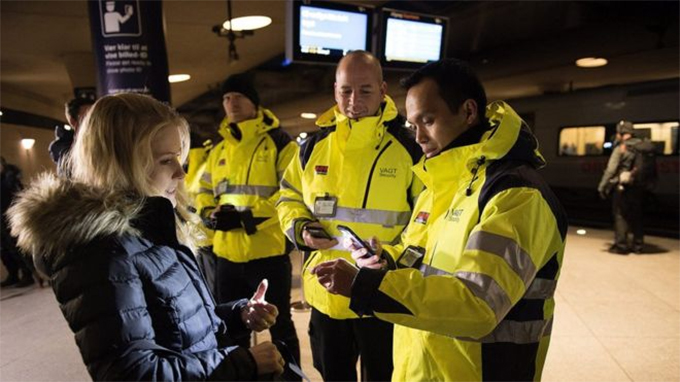 The changes and border checks are expected to add half an hour to commuters' journeys



Sweden has introduced identity checks for travellers from Denmark in an attempt to reduce the number of migrants arriving in the country.

All travellers wanting to cross the Oresund bridge by train or bus, or use ferry services, will be refused entry without the necessary documents.

Rail commuters heading to Sweden will now have to change trains at Copenhagen Airport and go through ID checkpoints.

Sweden received more than 150,000 asylum applications in 2015.

An estimated 20,000 commuters daily cross the Oresund bridge, which connects the Swedish cities of Malmo and Lund with the Danish capital, Copenhagen.

Direct journeys from Copenhagen's main railway station to Sweden will no longer be available and the changes are expected to add around 30 minutes to the current 40-minute commute.

In response, Denmark has stepped up border controls with Germany, its southern neighbour.

Danish Prime Minister Lars Loekke Rasmussen said the new Swedish measures could cause serious disruption to traffic flows from Denmark.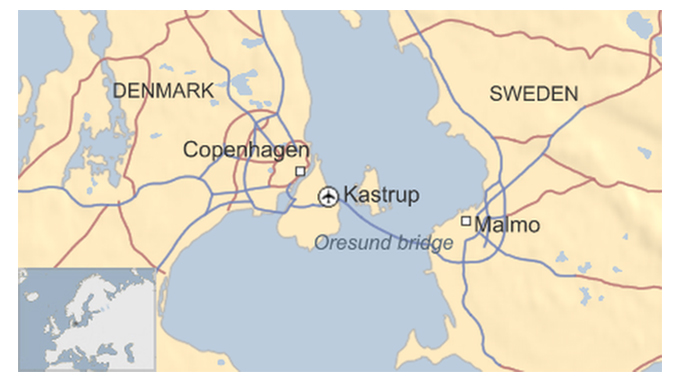 Rail operators have reduced the number of trips to Sweden and have warned that there might be significant delays.

Danish Transport Minister Hans Christian Schmidt said the introduction of checks was sad and "extremely annoying". He suggested the Swedish government should foot the bill for the checks, which Danish rail company DSB has estimated at 1m Danish krone (£100,000; €134,000) per day.

Responding to the developments, Martin Schaefer, a spokesman for Germany's foreign ministry told the AFP news agency: "Freedom of movement is an important principle, one of the biggest achievements [in the European Union] in recent years ... Schengen is very important but it is in danger."

Under the new Swedish law, brought in late last year, transport companies will be fined 50,000 Swedish krona (£4,000; €5,400) if travellers to Sweden do not have a valid photo ID.

The Swedish government secured a temporary exemption from the European Union's open-border Schengen agreement, in order to impose the border controls.

Last month Sweden's state-owned train operator SJ announced it would stop services to and from Denmark because it could not carry out identity checks demanded by the new law.

The vast majority of commuters using the Oresund bridge cross from Sweden, so the changes were expected to hit people hardest as they return from work during the evening rush hour.

To comply with the regulations, fencing has been erected around one of the platforms at the railway station at Copenhagen's Kastrup Airport.

Police have also set up fencing at Hyllie, the first station on the Swedish side of the bridge, amid reports of plans for further ID checks there.

Sweden's SJ train company said it would not have time to check people travelling between Copenhagen and Malmo over the Oresund bridge.

And Ronny Fredriksson of security firm Securitas Sweden told Svenska Dagbladet his company had so far refused requests from travel companies to take on the task because "this is about foreign identification cards that we know nothing about."

Infrastructure minister Anna Johansson told Swedish media that the new rules would be changed if there was a dramatic fall in the number of asylum seekers.

One million migrants arrived in Europe by land or sea in 2015, the International Organisation for Migration says.

Along with Germany, Sweden is one of the main destinations for migrants and takes the most per capita of its population.

In 2013 the then government announced it would offer permanent residence to all Syrians but the high number of arrivals last year prompted a rethink.

In contrast, Denmark expects to receive about 20,000 asylum seekers this year.

Source: bbc.com