More Gigantic Holes Appear in Siberia's 'End of the World'
Is it the end of the world in Siberia's 'End of the World'?

Scientists suspect not, but they're still investigating the strange and alarming holes that are swallowing up the Siberian north.



This week two new holes have been discovered, and with similar characteristics as the first reported hole: a very deep shaft with smooth sides, debris surrounding the rim, and water at the bottom.

The new holes reportedly have snow at the bottoms rather than water, and one witness described them, 'It is not like this is the work of men, but also doesn't look like natural formation,' in SiberianTimes.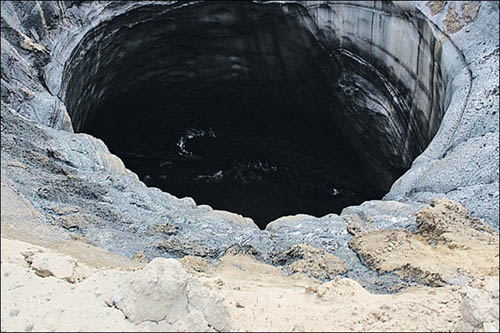 The first 'black hole' was discovered this month in the Yamal Peninsula (known as the "End of the World" for its remoteness) of northern Russia. A team of researchers was sent to examine the giant crater in the earth and find out how it was caused. Although theories ranged from meteorite strike and underground construction, to missiles or government weapons testing, a common speculation is natural gas explosions, or even Pingos - landforms, mounds and craters in permafrost formed by freezing and thawing conditions. However, most pingos appear as mounds with depressions in the top, like small volcanoes, and these Siberian holes seem to be very different, and more closely resemble perfectly formed sinkholes.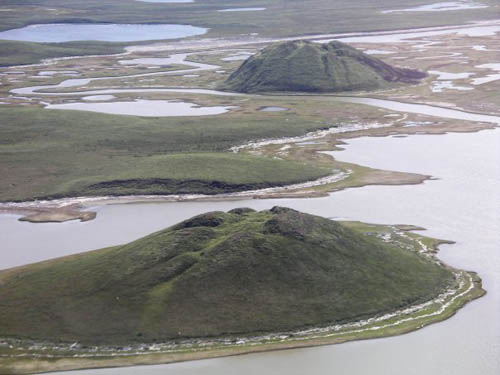 Pingos near Tuktoyaktuk, Northwest Territories, Canada


NBCNews reports:

Scientists have visited the original hole, and although they haven't offered a specific explanation they did say there was "nothing mysterious" about the phenomenon. "It is simply Mother Nature's law with its internal pressure and changes in temperatures," researcher Andrey Plekhanov told the Siberian Times last week. The area is extremely rich in natural gas and the leading theory is that a pocket of the substance combined with water, salt and rising temperatures to produce a significant — but apparently not unique — eruption. The investigation team will likely want to examine the second hole for more data, but no expedition has been announced.

Without definitive answers, the question remains - what exactly is happening at the 'End of the World'?

By Red Ice Creations





---

Tune into Red Ice Radio to hear more from guests on what may be happening underground:

Richard Sauder - Ayahuasca Visions, The AI Machine's Nuclear War on Humanity & Fuk-u-shima

Kathleen McErlain - Too Many Secrets, Humanity's Fight to Expose The Secret Underground Worlds

Richard Sauder - Underground Bases, Tunnels & Richard's Nuclear Missile Silo Protest

Kenn Thomas - JFK & The Maury Island UFO Incident, PROMIS Software & The Octopus

Stephen Ruback - Beware: the Aquarian Age, The Masculine & The Feminine

Peter Lindberg - The Mysterious Baltic Sea Object