Motivated By "Racewar" and Charleston Shooting: Virginia Reporter, Photographer Shot and Killed Live on Air
Vester L. Flanagan II, who police say killed two WDBJ-TV journalists while they were on air, died at a hospital Wednesday afternoon of a self-inflicted gunshot wound, Franklin County, Virginia, Sheriff Bill Overton told reporters.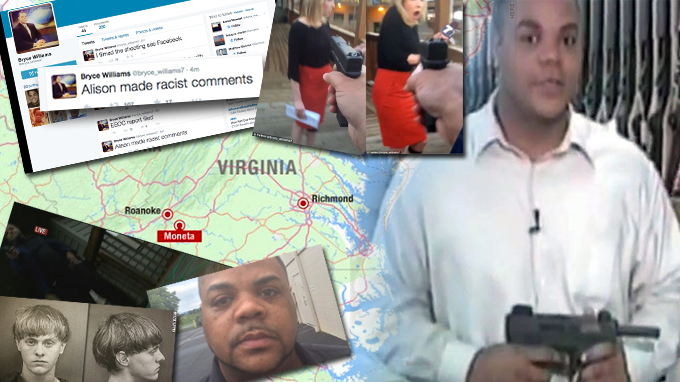 Flanagan, a former WDBJ reporter, killed two of the Roanoke TV station's employees, Alison Parker and Adam Ward, live on air before fleeing in a gray 2009 Ford Mustang to Roanoke-Blacksburg Regional Airport. There, he ditched the Mustang and drove away in a Chevrolet Sonic that he had rented earlier this month, Overton told reporters.

Just before 11:30 a.m., Virginia State Police saw Flanagan's car headed east on Interstate 66. With emergency lights activated, a trooper initiated a traffic stop, police spokeswoman Corinne Geller said.

The driver refused to stop and sped away before running off the road and crashing, Geller told CNN. Troopers found the driver inside. He had suffered a gunshot wound. He was transported to a nearby hospital, Geller said.

Authorities tracked Flanagan's cell phone to locate him, according to federal officials and the Augusta County Sheriff's Department.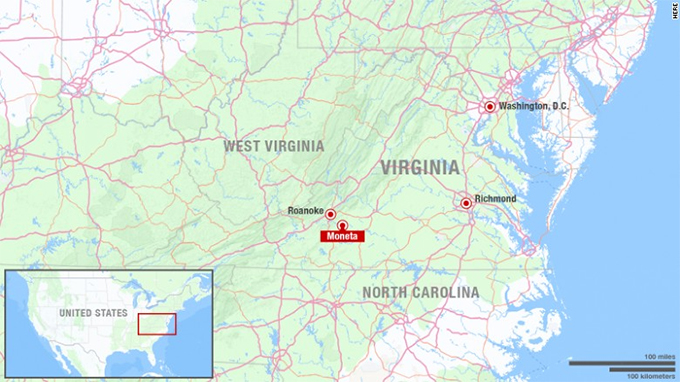 Flanagan was a reporter at WDBJ for about a year using the on-air name, Bryce Williams, according to a former WDBJ employee. He was fired from the station, though the reason was not made public, the ex-employee said.

"Two years ago, we had to separate him from the company. We did understand that he was still living in the area," WDBJ General Manager Jeff Marks said.

Manifesto: Racial Revenge for Charleston church shooting

ABC News reported that it received a fax Wednesday containing a 23-page manifesto from someone named Bryce Williams, according to a tweet. The document was handed over to investigators, ABC said.

The network posted an article reporting some of the manifesto's contents. They show Flanagan alleging that he had been the victim of bullying and discrimination because he is gay and black.

He also said he was compelled to respond to Dylann Roof's massacre at a Charleston, South Carolina, church in June and he was inspired by both Seung-Hui Cho, who orchestrated the Virginia Tech massacre in 2007, and the teens behind the 1999 Columbine High School killings.

"I've been a human powder keg for a while...just waiting to go BOOM!!!!" ABC quoted the manifesto as saying. "You (deleted)! You want a race war (deleted)? BRING IT THEN YOU WHITE ...(deleted)!!!"

Overton told reporters that authorities are still investigating Flanagan's motive and are looking into his past employment.

"This gentleman was disturbed in some way," the sheriff said. "At some point in his life, things spiraled out of control."

He said the manifesto indicates "where the gentleman's mind was the night before, or what was taking place there. There was some forethought given as to the chain of events that would happen."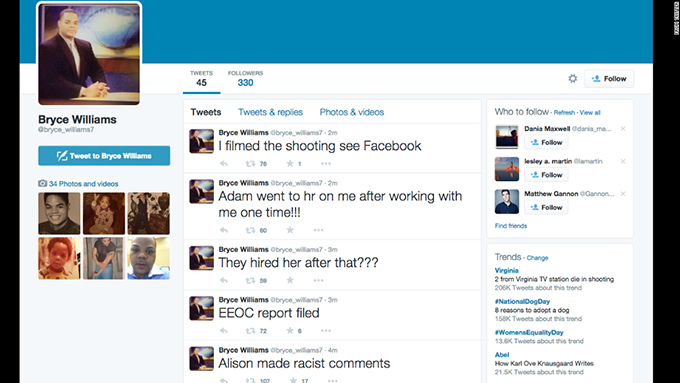 Two videos posted on a Twitter account under the name Bryce Williams show someone walking up to the WDBJ news crew and pointing a gun at them.

Another tweet said, "I filmed the shooting." The Facebook and Twitter account were suspended shortly after the tweets.

Video shows the gunman approaching Parker, a WDBJ reporter, and photographer Ward as Parker conducted a routine interview for a local story outside the town of Moneta.

Ward's back is to the gunman. Parker is in profile, and the interviewee is facing the gunman. The shooter appears to take his time aiming the gun, presenting it and then withdrawing it, before composing the angle of his video. He opens fire on Parker first. Both Parker and the interview subject scream.

Did gunman post executions to social media?

Police are not sure how Flanagan knew Parker and Ward were reporting from Bridgewater Plaza, Overton said.

Shocking morning broadcast

During the live broadcast around 6:45 a.m., TV viewers saw the camera fall to the ground and caught the briefest glimpse of a man who appeared to point a gun toward the downed cameraman. The gunman is believed to have fired six or seven times, Marks said.

The station cut away to a shocked anchor, Kimberly McBroom, back in the studio.

Parker, 24, and Ward, 27, were killed at Bridgewater Plaza, the station reported later.

The woman being interviewed, Vicki Gardner, executive director of the Smith Mountain Lake Regional Chamber of Commerce, was shot in the back, said Barb Nocera, the chamber's special projects manager.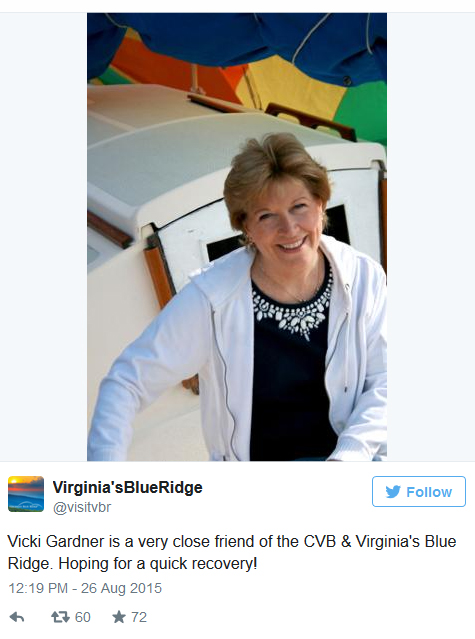 Gardner is recovering from emergency surgery and is in stable condition, according to Carilion Roanoke Memorial Hospital in Roanoke.

Ward's fiancée was in the control room and saw the shooting, Marks, the station's general manager, told CNN.

Though Marks has heard that Flanagan had leveled accusations in the past, he said, "I don't think Alison and that individual even overlapped here."

Marks added he was not exaggerating when he says that Parker and Ward were "the kindest and nicest people who worked here. ... I can't figure out any connection."

According to tweets from the Bryce Williams account, Alison had "made racist comments," while "Adam went to hr on me after working with me one time!!!" There was no elaboration, and CNN was unable to confirm immediately if either claim was true.

Dan Dennison, however, told CNN affiliate KHNL in Honolulu that he was the news director who hired Flanagan at WBDJ in 2012 and then fired him the following year, mostly for performance issues. Dennison did not want to share too many details of the firing but said it was the toughest termination decision he'd ever handled and police had to be called to escort Flanagan out of the building.

"(Flanagan) had a level of a long series of complaints against co-workers nearly from the beginning of employment at the TV station," said Dennison, who is spokesman for the Hawaii Department of Land and Natural Resources.

"That really had nothing to do with his termination, and after a lot of investigation both internally and externally, all of these allegations were deemed to be unfounded. And they were largely under, along racial lines, and we did a thorough investigation and could find no evidence that anyone had racially discriminated against this man," he said.

...

Read the rest: cnn.com



Graphic: Shocking Complete Video Shot From Virginia Gunman's Point of View


Footage shows man point gun at journalists as they continue to film report

From: infowars.com





Source: infowars.com