Muslim Inbreeding: Impacts on intelligence, sanity, health and society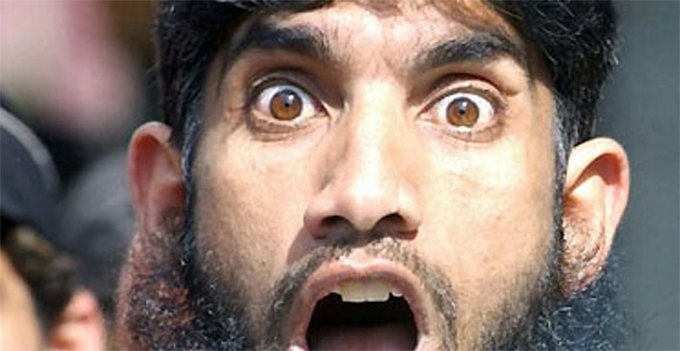 Massive inbreeding within the Muslim culture during the last 1.400 years may have done catastrophic damage to their gene pool. The consequences of intermarriage between first cousins often have serious impact on the offspring's intelligence, sanity, health and on their surroundings

The most famous example of inbreeding is in ancient Egypt, where several Pharaonic dynasties collapsed after a couple of hundred years. In order to keep wealth and power within the family, the Pharaohs often married their own sister or half-sister and after a handful of generations the offspring were mentally and physically unfit to rule. Another historical example is the royal houses of Europe where royal families often married among each other because tradition did not allow them to marry people of non-royal class.

The high amount of mentally retarded and handicapped royalties throughout European history shows the unhealthy consequences of this practice. Luckily, the royal families have now allowed themselves to marry for love and not just for status.

The Muslim culture still practices inbreeding and has been doing so for longer than any Egyptian dynasty. This practice also predates the world's oldest monarchy (the Danish) by 300 years.

A rough estimate shows that close to half of all Muslims in the world are inbred: In Pakistan, 70 percent of all marriages are between first cousins (so-called "consanguinity") and in Turkey the amount is between 25-30 percent (Jyllands-Posten, 27/2 2009 More stillbirths among immigrants"

Statistical research on Arabic countries shows that up to 34 percent of all marriages in Algiers are consanguine (blood related), 46 percent in Bahrain, 33 percent in Egypt, 80 percent in Nubia (southern area in Egypt), 60 percent in Iraq, 64 percent in Jordan, 64 percent in Kuwait, 42 percent in Lebanon, 48 percent in Libya, 47 percent in Mauritania, 54 percent in Qatar, 67 percent in Saudi Arabia, 63 percent in Sudan, 40 percent in Syria, 39 percent in Tunisia, 54 percent in the United Arabic Emirates and 45 percent in Yemen (Reproductive Health Journal, 2009 Consanguinity and reproductive health among Arabs.).

A large part of inbred Muslims are born from parents who are themselves inbred - which increase the risks of negative mental and physical consequenses greatly.

The amount of blood related marriages is lower among Muslim immigrants living in the West. Among Pakistanis living in Denmark the amount is down to 40 percent and 15 percent among Turkish immigrants (Jyllands-Posten, 27/2 2009 More stillbirths among immigrants".).

More than half of Pakistani immigrants living in Britain are intermarried:

The research, conducted by the BBC and broadcast to a shocked nation on Tuesday, found that at least 55% of the community was married to a first cousin. This is thought to be linked to the probability that a British Pakistani family is at least 13 times more likely than the general population to have children with recessive genetic disorders." (Times of India, 17/11 2005 Ban UK Pakistanis from marrying cousins).

The lower percentages might be because it is difficult to get the chosen family member to the country, or because health education is better in the West.

Low intelligence

Several studies show that children of consanguineous marriages have lower intelligence than children of non-related parents. Research shows that the IQ is 10-16 points lower in children born from related parents and that abilities related to social behavior develops slower in inbred babies:

"Effects of parental consanguinity on the cognitive and social behavior of children have been studied among the Ansari Muslims of Bhalgapur, Bihar.

IQ in inbred children (8-12 years old) is found to be lower (69 in rural and 79 in suburban populations) than that of the outbred ones (79 and 95 respectively). The onset of various social profiles like visual fixation, social smile, sound seizures, oral expression and hand-grasping are significantly delayed among the new-born inbred babies." (Indian National Science Academy, 1983 Consanguinity Effects on Intelligence Quotient and Neonatal Behaviours of nsari Muslim Children").

The article "Effects of inbreeding on Raven Matrices" concludes that "Indian Muslim school boys, ages 13 to 15 years, whose parents are first cousins, were compared with classmates whose parents are genetically unrelated on the Raven Standard Progressive Matrices, a nonverbal test of intelligence. The inbred group scored significantly lower and had significantly greater variance than the non-inbred group, both on raw scores and on scores statistically adjusted to control for age and socioeconomic status." (Behaviour Genetics, 1984).

Another study shows that the risk of having an IQ lower than 70 goes up 400 percent from 1.2 percent in children from normal parents to 6.2 percent in inbred children: "The data indicate that the risk for mental retardation in matings of normal parents increases from 0.012 with random matings to 0.062 for first-cousin parentage." (Proceedings of the National Academy of Science, 1978 Effect of inbreeding on IQ and mental retardation"). The study A study of possible deleterious effects of consanguinity concludes, that "The occurrence of malignancies, congenital abnormalities, mental retardation and physical handicap was significantly higher in offspring of consanguineous than non-consanguineous marriages."

Mental and physical diseases and death

The risk of stillbirth doubles when parents are first cousins (Jyllands-Posten, 27/2 2009 More stillbirths among immigrants). One study analyzed the risk of perinatal death (the child dies during its own birth), infant death (child dies while still infant) and autosomal recessive disorders (serious and often deadly genetic diseases such as cystic fibrosis and spinal muscular atrophy):

Perinatal mortality in the Pakistani children was 1.5 times higher than that in the Norwegian children, and infant mortality in the Pakistani children was more than double that in the Norwegian children. Deaths due to autosomal recessive disorders were 18 times more common in the Pakistani children. Similarly, deaths due to multiple malformations, which may be part of unrecognized autosomal recessive syndromes, were 10 times more common.

(BMJ, 1994 Infant death and consanguineous marriage.

There are also evidence suggesting that inbred people has a higher risk of developing mental disorders: "The clinical observations indicated that depression is very high in some communities where the consanguinity of marriages is also high." (Indian Journal of Psychiatry, 2009 "Relationship between consanguinity and depression in a south Indian population".

Another study focused on the relationship between intermarriage and schizophrenia: "The closer the blood relative, the more likely was there to be a schizophrenic illness." (American Psychiatric Press, 1982 The role of genetic factors in the ethiology of the schizophrenic disorders.

The increased risk of insanity among children of marriages between cousins might explain why immigrant patients are stressing the psychiatric system and are strongly overrepresented among insane criminals: "In Sct. Hans Hospital, which has the biggest ward for clinically insane criminals in Denmark, more than 40 percent of the patients have an immigrant background." (Kristeligt Dagblad, 26/6 2007 Ethnic minorities overrepresented among the criminal insane).

Implications for the Western and the Muslim World

The consequences for offspring of consanguineous marriages are unpleasantly clear: Death, low intelligence or even mental retardation, handicaps and diseases often leading to a slow and painful death. Other consequences are:

Limited social skills and understanding, limited ability to manage education and work procedures and painful treatment procedures. The negative cognitive consequences also influence the executive functions. The impairment of concentration and emotional control most often leads to anti-social behavior.

The economic costs and consequences for society of inbreeding are of course secondary to the reality of human suffering.

...

Read the rest: europenews.dk