Mysterious deaths of thousands of migrating birds lost at sea
The RSPB are investigating the mysterious deaths of thousands of common migratory birds out at sea.

Fishermen have reported seeing hundreds of seemingly exhausted and disoriented garden birds dropping from the sky into the waters off England's south coast.

At the same time, the east coast, from Northumberland to Kent, has seen the arrival of many birds, including redwings, fieldfares, bramblings and blackbirds, perhaps numbering in their millions.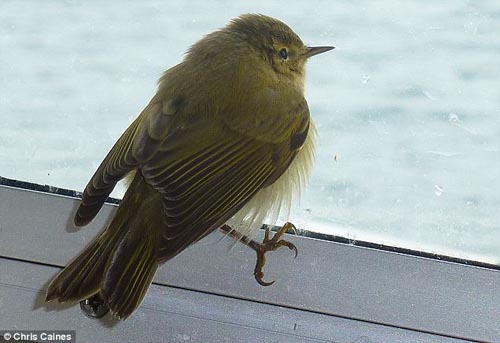 A forlorn chiffchaff peers out from the portholes of a fishing boat: The RSPB are investigating reports of thousands of lost migratory birds dying at sea.



One professional boat skipper told the conservation charity: 'While fishing about 10 miles south of Portsmouth, we witnessed thousands of garden birds disorientated, land on the sea and most drowning.

'Species included goldcrests, robins, thrushes and blackbirds. The sky was thick with garden birds. I estimate I saw 500 birds die and that was just in our 300-yard sphere.

'On the way home we just saw dead songbirds in the water: it was a harrowing sight.'

Martin Harper, the RSPB's conservation director, said: 'The scale of these reports are truly shocking, and it has the potential to adversely affect the status of species which may be declining for other reasons.'

It is believed that the birds fell victim to an appalling combination of fog and heavy winds around England's coasts at the end of last month.

The RSPB suggests that the massive swarms of birds arriving on the east coast may have been the lucky survivors that managed to make it across the North Sea from Scandinavia in difficult conditions.

Many others may have perished before making landfall, the Society said.

[...]

Read the full article at: dailymail.co.uk