NASA's Cassini Discovers Hurricane on Saturn, Meteor Strikes at the Rings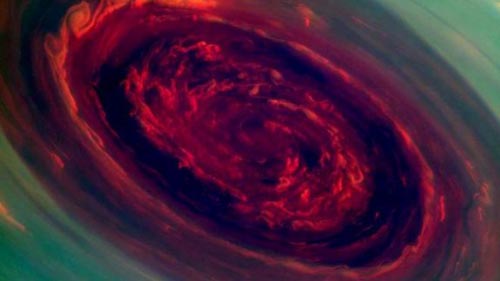 Cassini, the NASA space probe now orbiting Saturn, has returned some stunning images from the iconic ringed planet, including a massive hurricane near the planet's North Pole and meteors colliding with its rings.

Massive hurricane swirling at Saturn's North Pole

According to NASA JPL, the hurricane, located at Saturn's North Pole, has an eye that measures 1,250 miles wide with winds moving at up to 330 miles an hour, making it many times larger and faster than hurricanes on Earth. While terrestrial hurricanes are fed by warm waters in the South Atlantic or the Caribbean typically during the summer months in the Northern Hemisphere, the hurricane on Saturn seems to be fed by very little water vapor in the planet's upper atmosphere. The hurricane on Saturn is similar to its Earth counterparts in that it has an eye with little or no clouds, high clouds forming an eye wall, and clouds spiraling into the wall in a counter clockwise position. The hurricane on Saturn is different because of its enormous size and the fact that it seems to be locked into position at that planet's North Pole. It has likely been in existence for many years.

Meteors hit Saturn's rings

NASA's JPL also reports that Cassini has imaged meteors striking through Saturn's rings. The images of the meteors were taken over several years. The objects were likely one inch to several yards in diameter. Scientists are excited by the fact that the impact rate of meteors in the Saturn system is about the same as that in Earth's vicinity, despite the fact that they are separated by several hundred million miles. There is also an indication of a particularly large meteor strike upon Saturn's innermost ring that occurred in 1983, over 20 years before Cassini arrived in the Saturn system.

[...]

Read the full article at: news.yahoo.com







---



Cassini Catches Meteors Hitting Saturn's Rings


From: NASA

April 29, 2013: NASA's Cassini spacecraft has provided the first direct evidence of small meteoroids crashing into Saturn's rings and breaking into streams of rubble.

These observations make Saturn's rings the only location besides Earth, the moon and Jupiter where astronomers have been able to observe impacts as they occur. The meteoroids Cassini detected range in size from about one-half inch to several yards (1 centimeter to several meters). Scientists scrutinizing images from the probe took years to distinguish tracks left by nine meteoroids in 2005, 2009 and 2012. Details of the observations appear in a paper in the Thursday, April 25 edition of Science.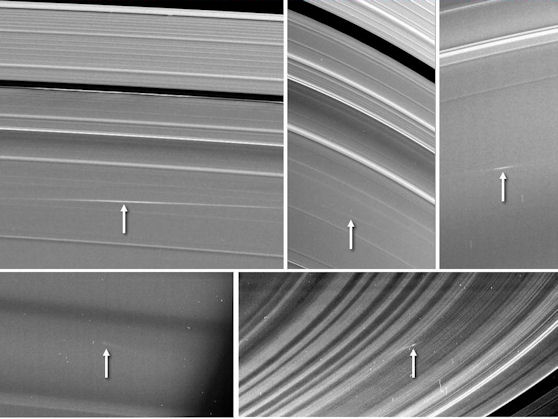 Five images of Saturn's rings, taken by NASA's Cassini spacecraft between 2009 and 2012, show clouds of material ejected from impacts of small objects into the rings.



[...]

Read the full article at: science.nasa.gov