NASA scientist finds evidence of alien life?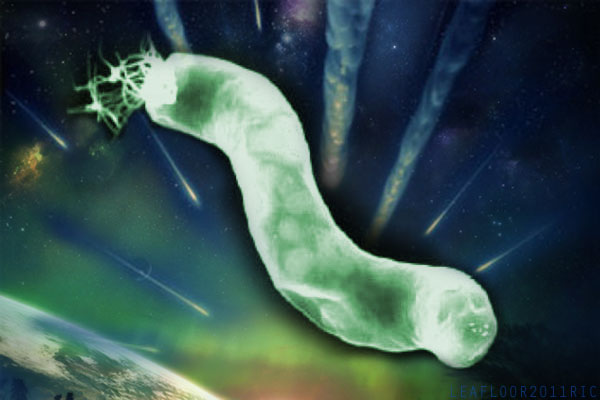 We are not alone in the universe, says NASA astrobiologist Dr. Richard B. Hoover. And he claims to have the extraterrestrial fossils to back it up.

Aliens exist, and we have proof.

That astonishingly awesome claim comes from Dr. Richard B. Hoover, an astrobiologist at NASA's Marshall Space Flight Center, who says he has found conclusive evidence of alien life — fossils of bacteria found in an extremely rare class of meteorite called CI1 carbonaceous chondrites. (There are only nine such meteorites on planet Earth.) Hoover's findings were published late Friday night in the Journal of Cosmology, a peer-reviewed scientific journal.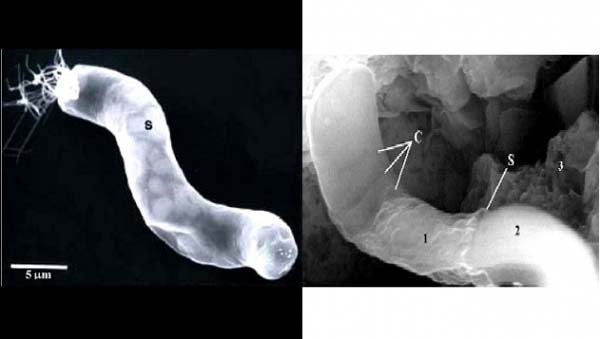 A photograph taken through a scanning electron microscope of a CI1 meteorite (right) is similar in size and overall structure to the giant bacterium Titanospirillum velox (left), an organism found here on planet Earth, a NASA scientist said. Riccardo Guerrero / Richard B. Hoover / Journal of Cosmology


"I interpret it as indicating that life is more broadly distributed than restricted strictly to the planet earth," Hoover, who has spent more than 10 years studying meteorites around the world, told FoxNews.com in an interview. "This field of study has just barely been touched — because quite frankly, a great many scientist would say that this is impossible."

Hoover discovered the fossils by breaking apart the CI1 meteorite, and analyzing the exposed rock with a scanning-electron microscope and a field emission electron-scanning microscope, which allowed him to detect any fossil remains. What he found were fossils of micro-organisms, many of which he says are strikingly similar to those found on our own planet.

"The exciting thing is that they are in many cases recognizable and can be associated very closely with the generic species here on earth," said Hoover. Some of the fossils, however, are quite odd. "There are some that are just very strange and don't look like anything that I've been able to identify, and I've shown them to many other experts that have also come up stump."

In order to satisfy the inevitable hoard of buzz-killing skeptics, Hoover's study and evidence were made available to his peers in the scientific community in advance of the study's publications, giving them a chance to thoroughly dissect his findings. Comments from those who decided to sift through the evidence will be published online, alongside the study.

"Given the controversial nature of his discovery, we have invited 100 experts and have issued a general invitation to over 5,000 scientists from the scientific community to review the paper and to offer their critical analysis," writes Harvard-Smithsonian Center for Astrophysics scientist Dr. Rudy Schild, who serves as the Journal of Cosmology's editor-in-chief. "No other paper in the history of science has undergone such a thorough vetting, and never before in the history of science has the scientific community been given the opportunity to critically analyze an important research paper before it is published."

Needless to say, if Hoover's conclusions are found to be accurate, the implications for human life will be staggering. Here's hoping that he's right.

Update: While the Journal of Cosmology says that "no other paper in the history of science has undergone such a thorough vetting," some highly respected names in the scientific community are challenging the validity of Cosmology, and the findings of Dr. Hoover.

"[The Journal of Cosmology] isn't a real science journal at all," says PZ Meyers in Science Blogs, "but is the ginned-up website of a small group of crank academics obsessed with the idea of Hoyle and Wickramasinghe that life originated in outer space and simply rained down on Earth."

So there you have it — this is either reality-altering news, or the work of kooks. Our hearts believe, but our brains are kind of bummed.

Article from: digitaltrends.com

Ed Note: Hoax? Real deal? The jury is out on this one, folks. RedIce will provide updates as they occur.
~E


---


Origin of Life - Panspermia

Video from: YouTube.com


---

Also tune into:

Peter Levenda - Secret Space Program & NASA's Nazis

Timothy Good - Secret Space Program, UFOs, ET & Coverup

Timothy Good - The Establishment & Aliens

James Gilliland - UFO & ET Contact at the ECETI Ranch

Jeremy Narby - The Cosmic Serpent, DNA, Knowledge & Intelligence in Nature

Richard C. Hoagland - Phobos an Ancient Alien Spaceship, Mars, NASA & Disclosure

Jim Gardner - The Intelligent Universe, Bio-Cosm, ET, AI and Evolution

Michael Mautner - Panspermia, Seeding the Universe with Life

Lloyd Pye - Human Origins, Intervention Theory & Genetic Experimentation