NATO becoming "occupying force": Furious Karzai bans 'house bombing', killing of civilians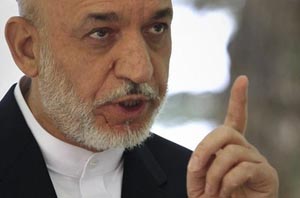 Afghan President Hamid Karzai issued a furious warning over civilian casualties in the war Tuesday, saying the US-led foreign military risks becoming an "occupying force" if fatal air strikes continue.

In some of his strongest remarks yet, Karzai harked back to Afghanistan's long history of "dealing with occupying forces" such as the Soviet Union and reiterated that bombing the homes of ordinary Afghans was now "banned."

The outspoken comments came after he issued a "last warning" to foreign forces over civilian casualties Sunday, following the killing of what he said were 14 innocent Afghans in an air strike.

Karzai's relationship with the West has become increasingly strained in recent years, with the controversy over civilian casualties a key factor, as US-led efforts to put down a nearly 10-year Taliban insurgency intensify.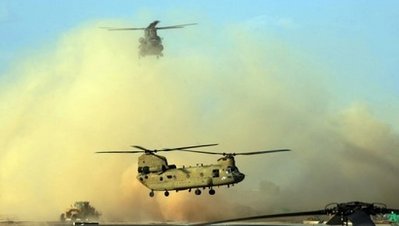 A NATO spokeswoman in Brussels insisted strikes on houses were "necessary" following Karzai's comments, while NATO's International Security Assistance Force (ISAF) in Kabul said it tries hard to limit civilians deaths.

"If after the Afghan government said the aerial bombing of Afghan houses is banned and if it continues, then their presence will change from a war against terrorism to an occupying force," Karzai told a news conference in Kabul.

"And in that case, Afghan history is witness to how the Afghans deal with occupying forces."

This was an apparent reference to historic Afghan defeats of foreign invaders, including the Soviet Union, which entered Afghanistan in 1979 and withdrew 10 years later.

Karzai added: "Bombing Afghan houses is banned."

The incident which triggered Karzai's comments -- Saturday's bombing of a compound in the troubled southern province of Helmand -- left 14 civilians including 11 children dead, according to the president.

ISAF said the death toll was nine and has apologised while saying the strike was carried out after insurgents who had earlier killed a patrolling marine hid in a compound and carried on firing.

Western military figures say that hiding among civilians is a regular Taliban tactic when they are being pursued by international forces.

In the wake of Karzai's comments, NATO spokeswoman Oana Lungescu said such operations would not be halted.

"There will be continued coordination with Afghan security forces on such operations. They are necessary, they continue to be necessary, but they are conducted in coordination and together with Afghan security forces," she told reporters.

Read the full article at: news.yahoo.com