Nestle Puts GPS Devices Inside Candy Bars To Track Winning Customers
RIC Note: What a clever way to appeal to the greed in people so as to make corporate GPS tracking and locating a frivolous, harmless, legal, and acceptable (even profitable) affair.





---


The candy company launched the "We Will Find You" campaign in the United Kingdom where GPS tracking devices were placed inside six candy bars. Once the winning candy bar wrapper is opened, the tracking device will go off and Nestle officials will be able to find the exact location of the customer.

"This will alert a secret control room who will scramble a crack team of highly trained individuals," the commercial states. "They will board a helicopter, find the special bar and give the owner 10,000 pounds ($16,145)."

The six tracking devices will be placed in Kit-Kat, Aero and Yorkie bars in the U.K.

CNET reports that Nestle put up 3,000 posters to help promote the contest.

According to Ad Week, Nestle believes the promotion "will particularly appeal to men."



Article Comment: "Pretty cool. Now when your door gets kicked in in the middle of the night you can think you must have won a prize."

Article from: cbslocal.com





---
"In a first of its kind promotion, KIT KAT is using cutting edge geolocation technology to track down six lucky winners across the UK and Ireland. Inside selected packs there will be a GPS enabled device which, when the winner pulls the tab, notifies the delivery team who will locate them within 24 hours and hand over a cheque for £10,000 (12,000 Euros)," says a Kit Kat press release. "KIT KAT's pioneering We Will Find You promotion means winners won't have to move a muscle to claim their prize, with the expert delivery team ready to overcome all obstacles to ensure they reach the chosen few in time!"

[...]

The GPS Golden Ticket is not activated when the candy bar is opened. The winner has to turn it on. The tracker Nestle is using is "essentially mobile phone technology specifically developed for this project," says a spokesperson. "When a winning bar is found, consumers simply pull on the tab to activate the device."

"Don't take the bar to your workplace, or other controlled areas, if we are unable to come and find you there"

Source: Forbes.com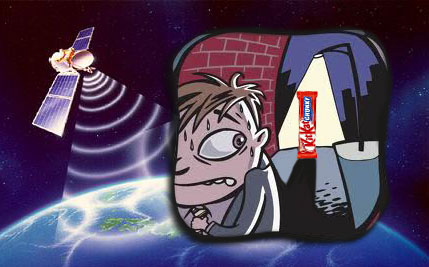 ---
From The Terrible Idea File: Toyota's 'Cyberstalking' Guerrilla Ad Campaign
'Death by chocolate' plot to kill Sir Winston Churchill