Never-before-seen photo shows Neil Armstrong's face as he first walks across the moon
An amazing new photograph showing Neil Armstrong's face through his space suit visor has come to light on the 40th anniversary of the first manned Moon landing.
The image was shot by the movie camera mounted on the lunar lander famously called 'Eagle', but the frame lasts for only a fleeting moment.
It shows Armstrong's face in clear view as he walks across the lunar surface.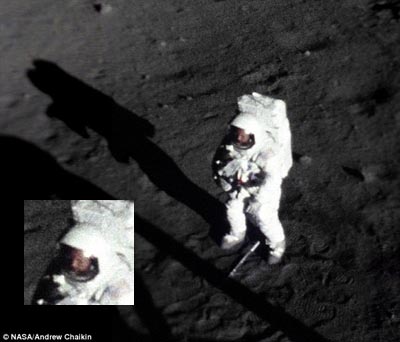 Face first: Neil Armstrong has been presented with a copy of the picture.



He was the first man to walk on the moon, taking that one giant leap for mankind - yet most of the famous shots are of his fellow astronaut Buzz Aldrin, as it was Armstrong who manned the stills camera.
Spacecraft Films, an Ohio-based specialist in historical space footage, has transferred the footage into high definition format and captured the split-second scene as a still image, now released for the first time in a new book, Voices from the Moon, by author Andrew Chaikin.
'This is the first time that the public are seeing it,' said Chaikin, revealing that even Armstrong - despite his modest ways - was quietly impressed to receive one of the new prints of himself as a souvenir.
'All the iconic pictures from the moon are of Buzz...there really hasn't been one of Neil. I gave him a copy and he seemed pleased to have it.'

The moment was captured as Armstrong gathered samples of moon rocks during his 21-hour visit to the lunar surface exactly 40 years ago, on July 20, 1969. They spacemen only spent two and a half hours outside their spacecraft.
'Armstrong raised his outer visor, the gold reflective visor that normally obscures an astronaut's face,' explained Mr Chaikin.
'Right after he collects the sample, he turns towards the lunar module and it's at that time that time, as he's standing there, that we can see his face inside the helmet.'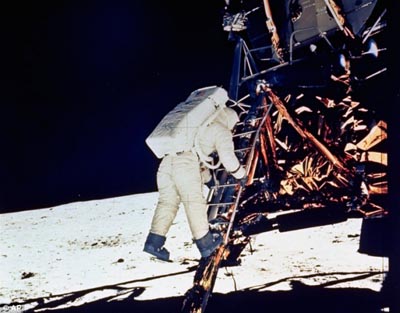 Iconic: Photographs (above and below) taken by Armstrong of fellow astronaut Buzz Aldrin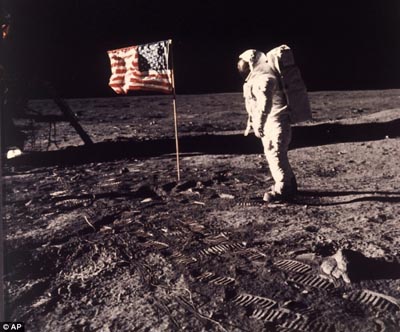 Chaikin first spotted the momentary image while browsing film footage at Nasa's Johnson Space Centre in Houston, Texas, in 1986, during research for his first book, A Man on the Moon.
'I made a mental note of it as being something extremely cool, a really rare glimpse,' he said.

'Now all these years later, for the first time, we have a high definition version as a still image and the world can see the face of the first man walking on the moon.'

As America marks the 40th anniversary of the first moon landing today, Armstrong, Aldrin and third Apollo 11 crewmate Michael Collins will meet with President Barack Obama at the White House to be honoured for their pioneering mission.

It is likely that it could be the last ever reunion of the ageing space heroes, who were all born in 1930 and last met up in 2004 for the 35th anniversary.
Anniversary festivities and ceremonies will be held at Nasa centres and other venues throughout this week, with Armstrong, Aldrin and Collins also due to deliver a joint address on human spaceflight at the Smithsonian Institution's National Air and Space Museum in Washington tonight.

While Aldrin and Collins are expected to advocate sending astronauts on a two-year, 500,000-mile round-trip to Mars, Armstrong, 79, is known to favour the idea of establishing a lunar base first.

Article from: DailyMail.co.uk

---
Astronaut Buzz Aldrin comments on the "Monolith" on Mars Moon Phobos: "God put it there"
Moon landing tapes got erased, NASA admits
Mike Bara - Dark Mission, The Occult NASA Moon Mission
NASA's Smoking Gun?
Richard Hoagland Interview on Dark Mission - Project Camelot - 3 Parts (Video)
Ted Twietmeyer - The Moon & Sun, Time & UFO's
Alan Watt - Moon Landing, UFO's & Fake Alien Threat