New study shows Viking women accompanied men on voyages to colonize far-flung lands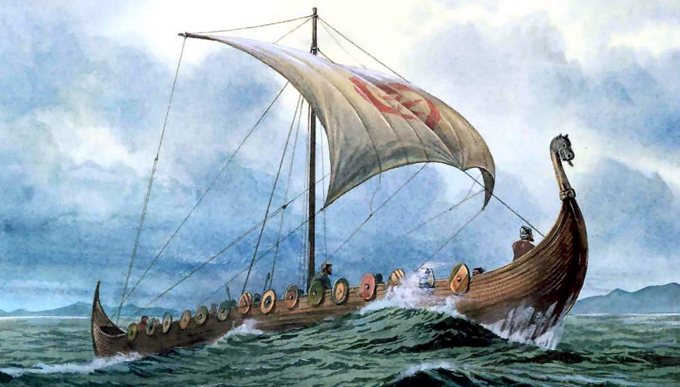 The reputation of the Scandinavian Vikings presents the men as brutal warriors that went off marauding and pillaging from the 800s to 1100s AD along the coasts of the Atlantic Ocean and Mediterranean Sea and up inland rivers, while the women and children stayed home, tending to village life. But new genetic research has shown that Vikings took their families with them on voyages to set up new colonies in far-away lands.

"It overthrows this 19th century idea that the Vikings were just raiders and pillagers. They established settlements and grew crops, and trade was very, very important," Erika Hagelberg told LiveScience.com. Hagelberg is a co-author of a new genetic study of ancient Norwegians' remains. She is evolutionary biologist at Norway's University of Oslo.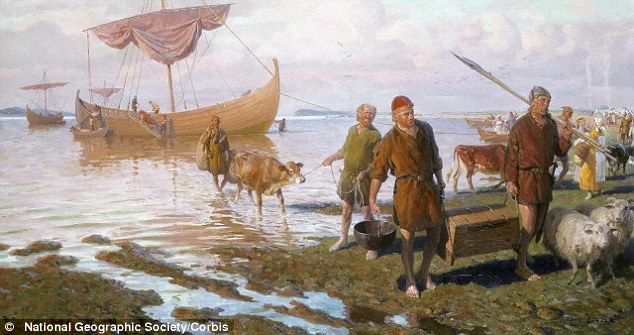 A new study shows the importance of women in the colonisation of the British Isles in the Middle Ages, suggesting that Viking men were family-orientated and not as blood-thirsty as previously thought. This illustration shows viking men and women embarking a ship in Newfoundland with livestock



Hagelberg and her team took teeth and bone scrapings from skeletons of 80 Norse people who lived between 796 and 1066 AD. These remains, which had been unearthed around Norway, are in a collection at the University of Oslo. The team examined mitochondrial DNA, which is passed on by women and can reveal female ancestry. They compared this DNA to more than 5,000 other Europeans to learn more about how the Vikings colonized.

The study found that Vikings are closely related to Swedes, English and Scottish people. But their closest modern relatives are people from the Orkney and Shetland islands off the northern coast of Scotland in the North Sea.

Hagelberg told The Independent, "It seems to support the view that a significant number of women were involved in the settlement of the smaller isles, which overrules the idea that it just involved raping and pillaging by males going out on a rampage."

Vikings ranged as far west as Greenland and maybe even Newfoundland and present-day United States and as far east as Russia. Scientists and historians previously thought they set up colonies in Iceland, the British Isles and the New World first with men, and then brought women and children with them later. But Hagelberg and her team found otherwise.

If Viking men brought their women and perhaps even children with them on trips in their longboats, they could more quickly set up communities on the coastlines of the Northern seas, Hagelberg told Britain's MailOnline.

The range of Viking voyages and territories was enormous, as seen in this map from Wikipedia: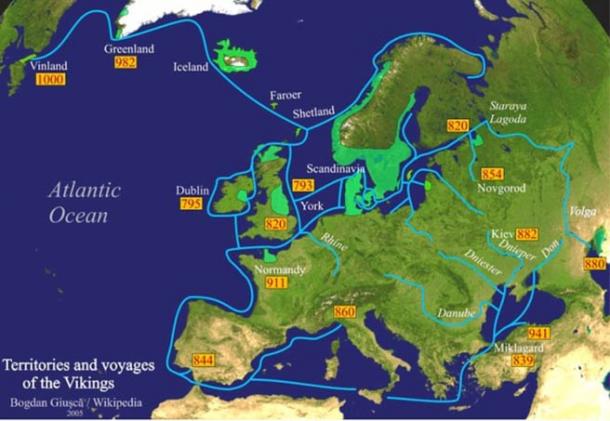 Territories and voyages of the Vikings (Wikipedia). Research shows the Vikings also voyaged far beyond these territories.



Jan Bill, an archaeologist with the University of Oslo's Museum of Cultural History, told LiveScience, "It looks like women were a more significant part of the colonization process compared to what was believed earlier." Bill was not a part of Hagelberg's study.

"This picture that we have of Viking raiding — a band of long ships plundering — there obviously would not be families on that kind of ship. But when these raiding activities started to become a more permanent thing, then at some point you may actually see families are traveling along and staying in the camps," Bill said.

While Viking men did intermingle with local women went they went ranging off to far-flung places, Hagelberg said, the new study shows they also brought along their own women.

"It is true that the Vikings are thought to have taken local women [from the places they landed], but the DNA evidence in this study and the Icelandic study does indicate that Norse women were involved in the colonisation process," she told The Independent. "This somewhat contradicts one of the views about Viking raids, namely that they were driven by a shortage of women at home."

Viking women helped establish communities in new places, grew crops there and were involved in trade, which was important to the Viking economy. Previous discoveries of weapons and armor in female graves also suggest that women sometimes fought alongside the men.

[...]

Read the rest: ancient-origins.net

Other Source: dailymail.co.uk