Nice: ISIS Posts Photo of Their Members Chilling With Sen. John
Remember when Sen. John McCain took that tour of Syria with the rebels? This is what he said about it when he came back:


"It was a very moving experience to meet these fighters who have been struggling now for over two years," McCain said on CNN's "Anderson Cooper 360" on Wednesday night. "And they're very aware of the battlefield situation and they're very disturbed about the dramatic influx of Hezbollah fighters, more Iranians, and of course, stepped-up activities of Bashar Assad."


Here's one of the photos released to Politico: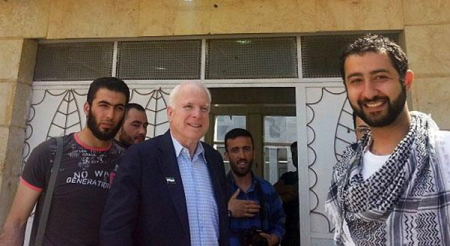 Here's the one ISIS released recently: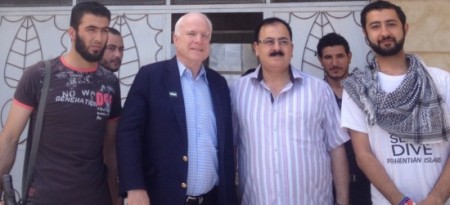 So, who's the new guy?

The man closest to John McCain is General Salim Idris, who was the head of the Free Syria "moderates" at the time.

Idris was booted out.

ISIS is saying some of the men on that photo fight with them now.

Nice work, Senator.

This kind of reminds you when Donald Rumsfeld meets Saddam Hussein doesn't it?


The globalists build up and support these organisations in order to use them for chaos and war. Global war is the goal. It's achieved with war, refugees, asylum seekers and mass immigration (this bring "diversity" and chaos to the streets. The chaos that is created in the wake of these globalists will be the incentive for the global police state.