Obama's interpreter for the deaf was fraud, 'schizophrenic', and accused of brutal murders


---
All signs suggest Obama's interpreter for the deaf was fake
By Nick Miller and Jessica Wright | Sydney Morning Herald

The hunt is on for the fake sign language interpreter who took to the stage during the memorial for former president Nelson Mandela, gesticulating gibberish before a global audience of millions and outraging deaf people across the world.

The South African government says it is trying to get to the bottom of the scandal of the fake sign language interpreter at Mr Mandela's memorial service.

It was like getting somebody off the street and telling them to flap their hands around

While dignitaries were addressing the crowd in the 95 000-seat FNB stadium, the young, suited man stood within metres of US President Barack Obama. He had an official security pass round his neck, but no-one seems to know who he is, raising serious security questions.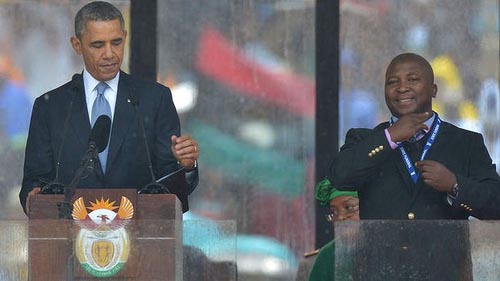 All smiles ... US President Barack Obama delivers a speech next to the fake sign language interpreter during the memorial service for late South African President Nelson Mandela in Johannesburg.


"He was basically gesturing. He didn't follow any of the grammatical rules and structure of the language. He just invented his signs as he went along," said Delphin Hlungwane, an official South African sign language interpreter at DeafSA.

"There was zero per cent accuracy. He couldn't even get the basics right. He couldn't even say thank you," she said.

As Mr Mandela's funeral was streamed live around the world, Wilma Newhoudt-Druchen, the first deaf woman to be elected to the South African Parliament tweeted: "ANC-linked interpreter on the stage with dep president of ANC is signing rubbish. He cannot sign. Please get him off."

Many other members of the deaf community, including the hearing-impaired and qualified interpreters took to social media to express their outrage, labelling the man who was tasked with signing Obama's speech a "charlatan".

It has emerged that this is not the first time the man, so far not identified, has 'translated' for senior figures.

In one example, he stood next to president Jacob Zuma at an ANC conference last year, the Daily Mail & Guardian reported.

As Mr Zuma reinterpreted a traditional resistance song Shoot the Boer, the interpreter gestured with his hands making machine gun actions and running motions.



"He is a complete and utter fraud," Sign Language Education and Development in Cape Town director Cara Loening told the South African Press Association on Wednesday.

"If he values his life he must come clean because the deaf community throughout the world are outraged."

Loening said not one of his signs had anything to do with sign language.

"It was like getting somebody off the street and telling them to flap their hands around," said Loening.

Braam Jordaan, a board member of the World Federation of the Deaf Youth Section and one of the first to raise the alarm, said more work needed to be done to "end communication Apartheid".

Mr Jordaan told the SBS on Thursday the interpreter was definitely a fake and was making up his own signs.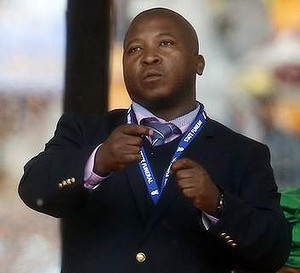 'A complete fraud': the man pretending to be a a sign language interpreter punches the air during a speech being given by India's President Pranab Mukherjee.

"The structure of his hand, facial expressions and the body movements did not follow what the speaker was saying," he said.

"I was really upset and humiliated by the mystery interpreter who was supposed to be signing what Barack Obama, the President of United States of America was saying. He made up his own signs.

"What happened at the memorial service is truly disgraceful thing to see – it should not happen at all."

A government spokesperson told IOL News that they did not know what had happened but "We need time to get to the bottom of this."

Minister in the Presidency Collins Chabane said the government, which was officially in charge of the ceremony, is investigating the matter, but has not finished yet because it has been overwhelmed with work preparing for Mr Mandela's funeral on Sunday in Qunu.

South African Sign Language interpreter Francois Deysel said on Twitter that the interpreter was "making a mockery of our profession".

Deaf news blog The Limping Chicken reported the sign language interpreter at Mr Mandela's service signed with a "strange repetitive rhythm to his movements", and "the structure of his hand and body movements didn't seem to change no matter what the speaker was saying".

It is understood the interpreter has performed duties at several previous ANC events and has had questions raised about his capability.

Article from: smh.com.au




---
---

'Fake' Interpreter allegedly 'burned man to death' according to family and friends
From: LimpingChicken

Thamsanqa Jantjie, the man accused of being a bogus interpreter at Nelson Mandela's Memorial Service last week and caused an international outcry in the process, was allegedly part of a gang of men that burned two men alive in 2003, the Telegraph reports tonight.

Jantjie, according to one of his cousins and three of his friends, was involved in accosting two men who were found to be in possession of stolen goods and then killing them by placing tyres around their necks and setting fire to them. Jantjie didn't stand trial for the crime because he was deemed mentally unfit, according to the four.

Extract:

Their account of the killings matched a description of the crime and the outcome for Jantjie that he himself described in an interview published on Sunday by the Sunday Times newspaper of Johannesburg.

"It was a community thing, what you call mob justice, and I was also there," Jantjie told the newspaper.


[...]

Read the full article at: limpingchicken.com




---
S. Africa evacuation plan: White Afrikaner group fears genocide upon Mandela's death (Graphic)